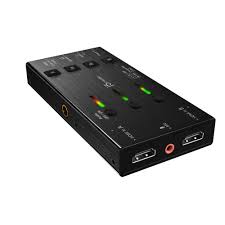 Hardware Info:
j5create JVA06 Dual HDMI Video Capture Adapter
Package includes:
One JVA06 Dual HDMI Video Capture Adapter
One USB-A to USB-C 3.0 Cable (aka 3.1 Gen 1)
One USB-C to USB-C Cable
One HDMI 1.3 cable
Two Cold Shoe Adapters
Instruction Manual

Specifications:
Driver Free on Windows 8.1+, MacOS, Linux
Works with Android
Records most common resolutions between 640x480 and 1920x1080 @ 60 frames per second
USB-C data and power ports with Power Delivery 3.0 compatible up to 60W
Includes camera screws to attach to cold shoe adapter
Full HD video and audio high-performance record/playback through USB-C™ 3.1
Two HDMI 1.3 in ports, with capture resolution up to 1080p @ 60 fps
One HDMI 1.3 monitor out port
Two 3.5mm audio jacks, one for Microphone input and the other for Audio output
Full audio in mixer switches, with any combination of HDMI 1 & 2 or the microphone in
Several HDMI Picture-in-Picture or Picture-by-Picture modes, or it can act as a simple switch box
Aluminum design
MSRP: $239.99
(Amazon Affiliate Link)
Highlights:
Strong Points: No driver needed; works in most operating systems; a lot of functionality in a small box; decent video output latency; very easy to use and powerful picture-in-picture and picture-by-picture modes, as well as audio mixing with multiple inputs and outputs
Weak Points: Chroma subsampling crush observed via OBS video capture; some devices may have a hard time with the EDID detection; less expensive devices exist for just HDMI capture if you don't need the picture-in-picture features
Thank you j5create for sending us this product to review!

Recently, we were blessed with the opportunity to review j5create's JVA02, which is a really simple and powerful video capture card, which you can check out here. One of my complaints with that device is the lack of a passthrough port, but otherwise it's really solid. Hoping to solve that issue, we were given the opportunity to check out the really neat JVA06 - and it does a whole lot more than just have passthrough out! Check out our unboxing video below:
As a streamer, we have a complicated Open Broadcaster Software (OBS) setup, that includes a webcam, various overlays, and of course the game video. Sometimes we even need to use XSplit, depending on the features or game. However, there are times that we don't need all of that complexity; or, we don't have access to a computer than can handle all of that computation. Or maybe we don't want to deal with multiple capture devices at once! What this JVA06 does is allow you to switch between two HDMI inputs at once - or display them together, in multiple picture-in-picture modes, or even with two picture-by-picture modes. I have to say - this thing is really cool. Below is my video review:
As you can see in my video above, there is both video and audio mixing. The video combines in various modes, which are just a button press away. The audio can be switched on and off using three different switches, so you can use a separate microphone if you wish, along with the audio in via HDMI. While I didn't show it in the video, you can either use the mixed analog audio out, or you can use the loop HDMI audio out, or even the OBS audio capture mode via USB 3.1. When it works properly, I've been very pleased with the results. I actually did a separate video review of Fatal Fury: First Contact, and used the j5create JVA06 to do the video and audio mixing (not my voice, but of the games) here:
As you can see, I am able to switch between video and audio sources - in this case, my laptop and Nintendo Switch, with ease. It's just a button and a switch to change each source, and it makes the above comparison video a piece of cake.

From a technical perspective, there is video chroma crush on the OBS captured video, but not on the passthrough video. This is very common and not a major cause for concern. If you would like more information on what this means, please look here:

https://www.rtings.com/tv/learn/chroma-subsampling

There is a small amount of latency between the cloned video and the passthrough video; no more than one frame. Here's a picture to show the delay, taken with my cellphone camera: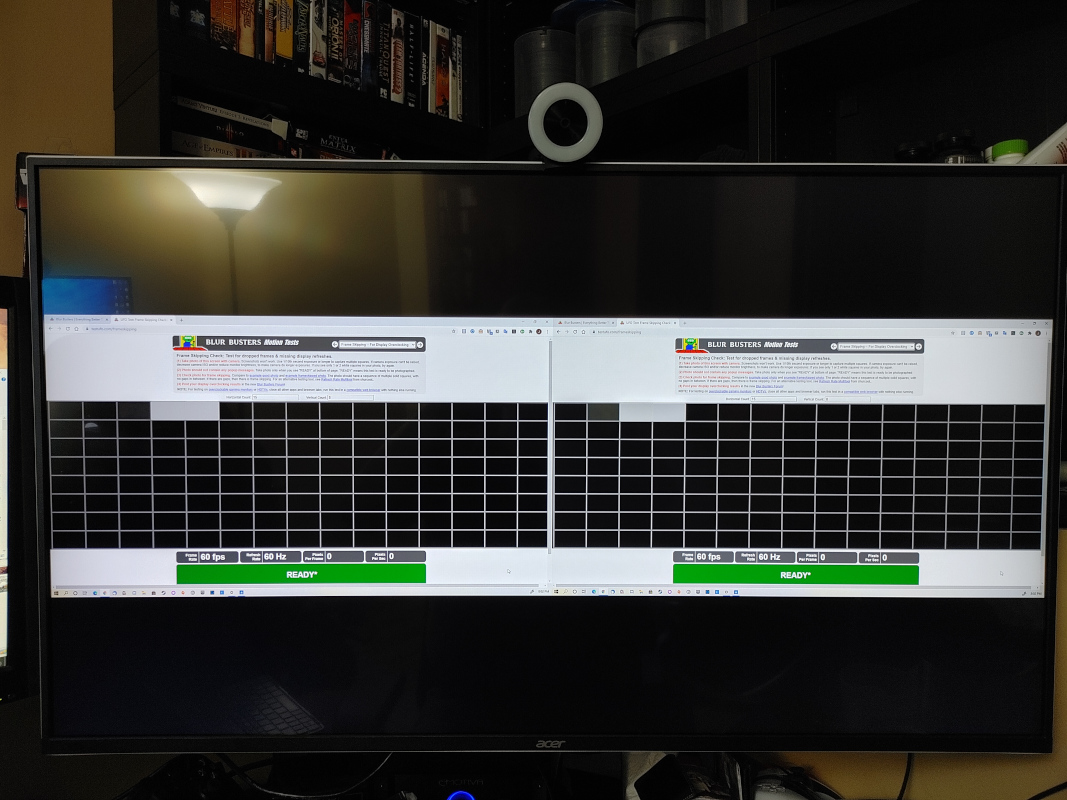 This means that you could easily play games using the passthrough video, or use this device for live video situations, where you want to do a presentation with a camcorder on one side and a laptop on the other, or two videos/games/etc. as necessary. For the OBS capture, the latency between the real-time output and the captured video is approximately 3-5 frames, while it captures at 60 frames per second. So that's approximately a 50ms to 84ms delay. Here's a picture I took to show the delay: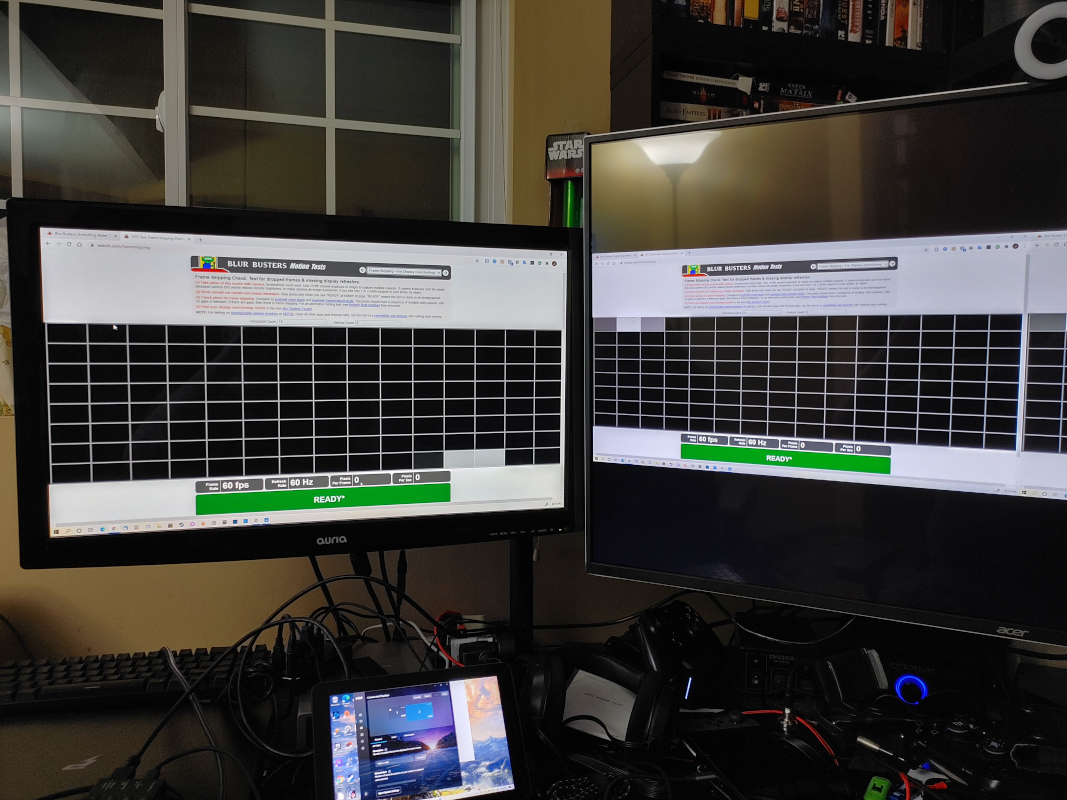 While this means that you might not want to play games directly off of the OBS captured stream, thankfully with the passthrough port, that isn't necessary.

The audio mixing is also really useful. While adjusting volume from the device doesn't appear to be supported, it does display the volume level on each source in an easy to see glowing LED, making it a cinch to visually determine if any of your sources need adjustment, and it's also great for sound checks on the input side. You can also use the speaker out for an analog mixer from there, or just use the direct HDMI or OBS capture. Being able to turn on and off each individual audio source just adds to the flexibility.

The only problems I had with the device was that one of my laptops had a problem with EDID detection when connected to the JVA06 by itself, but my other laptop worked perfectly. I'm not sure what the problem was exactly, but it worked great when it did work. The other issue related to what I mentioned before about audio mixing; pay attention to those LEDs, because thanks to them, I noticed that my laptop's HDMI out was much hotter than my Nintendo Switch's, so when I switched between the sources in my Fatal Fury comparison video above, I had to set my laptop's volume to 50% while leaving the Switch at full volume. Once I did that, it worked great, as you can see above.

The j5create JVA06 is such a cool little device. I have to admit that I may not use its extensive feature set too often, and it is pricey to get that feature set, but when I do need it, it'll no doubt bring a smile to my face. Comparing the same game on multiple platforms, for example, will now be a breeze. I guess my only other desire would be to see a version of this device that supports 4K resolutions. Hopefully this is on j5create's future roadmap!