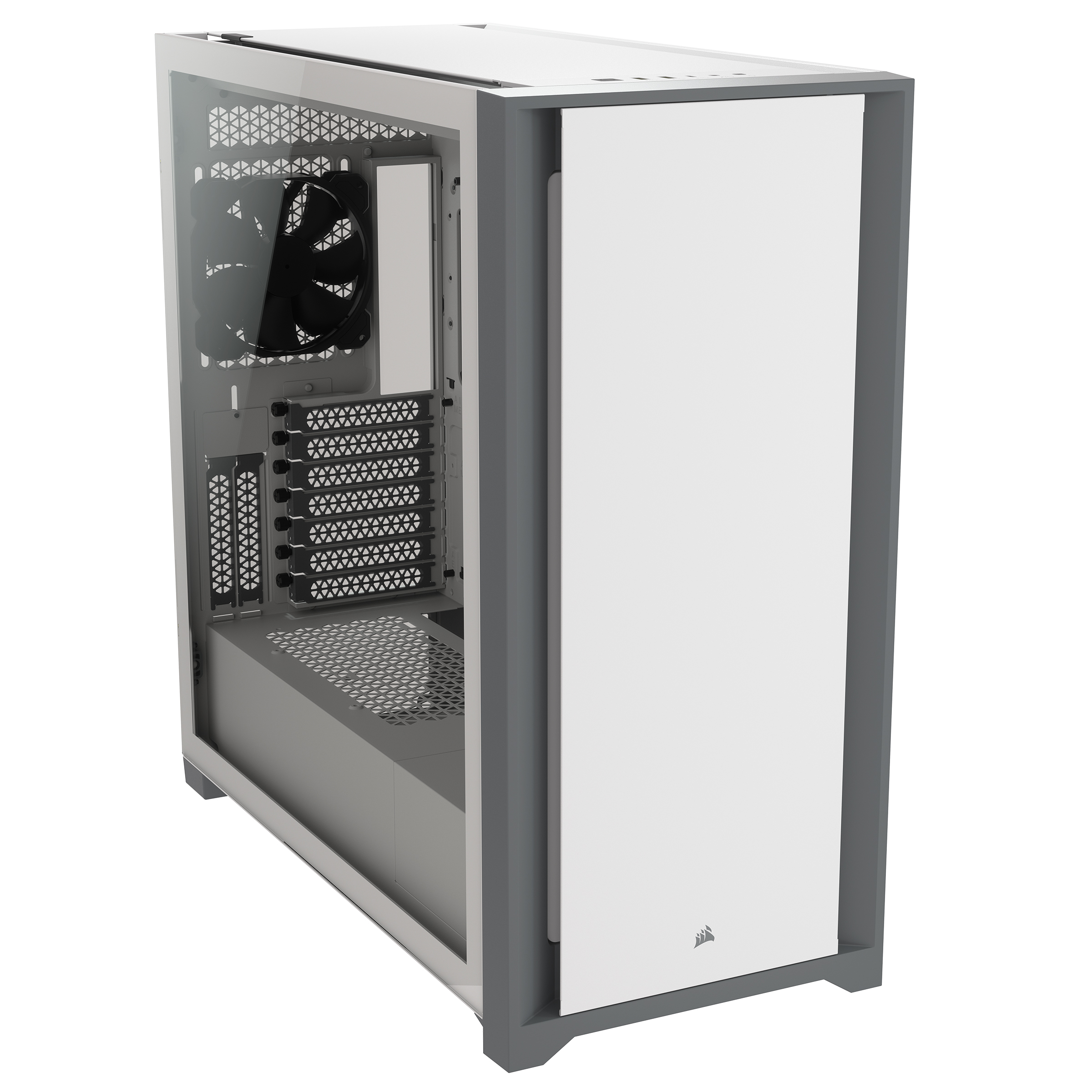 Hardware Info:
Corsair 5000D AIRFLOW Tempered Glass Mid-Tower ATX PC Case 
Specifications:
Dimensions: 520mm x 245mm x 520mm
Maximum GPU Length: 420mm
Maximum PSU Length: 225mm
Maximum CPU Cooler Height: 170mm
Case Expansion Slots: 7 Horizontal + 2 Vertical
Case Drive Bays: 2x 3.5", 4x 2.5"
Radiator Compatibility: 120mm, 140mm, 240mm, 280mm, 360mm
Case Material: Steel, Tempered Glass, Plastic
Weight: 30.51 lbs
Form Factor: Mid-Tower
Warranty: Two Years
Color(s): Black, White (White reviewed)
MSRP: $149.99
(Amazon Affiliate Link)
Thank you Corsair for sending us this case to review!
When I actually think back on it, I've been building PCs for an extremely long time - over twenty-five years! That's longer than many of our readers have been alive. In that time, I've worked with easily dozens of different types of PC cases - especially since I worked as a full-time PC tech for several years. (Nowadays, when I'm not trying to spread the Gospel through this outreach for gamers, I work on servers for my day job.) Over the last decade, we've finally seen the elimination of the 5.25" optical drive bay, and with that, some significant innovations, especially in the area of airflow. Today we take a look at Corsair's latest case, the 5000D AIRFLOW.
The 5000 series comes in three styles: the base 5000D with solid panels, the 5000D AIRFLOW with airflow-optimized panels, and their flagship iCUE 5000X RGB, which is glass on all sides with included RGB fans for showing off the parts inside from any angle. We were sent the 5000D AIRFLOW in white, which my daughter happily used to upgrade her PC from a basic case to something much more modern.
This case is really meant for gamers who desire a no-compromise build for maximum performance. As such, this thing is absolutely loaded with fan locations – it can easily support up to ten 120mm fans. Based on a closer look, it appears that up to six of the fan slots could also hold a 140mm fan, if you truly want to max it out. There are three slots up front, three on top, one in the back, and the truly wild three on the side – it's positioned up front to the right, which is the side rarely used for much. It's an aggressive design, and one that hardcore watercooling enthusiasts will love, since you can put an insane 3x 360mm radiators in there – and even a single additional 120mm, because why not. There is also plenty of room for pumps, reservoirs, or anything else for a maximum performance build. Not to mention today's largest graphics cards can fit with ease.
All of this space for performance-enhancing heat dissipation comes at a cost – this case is a big one. It's certainly one of the larger cases I've seen recently, especially since it doesn't have a single 5.25" drive bay! It does offer 2x 3.25" bays, and four 2.5" drives – which should be more than enough for most modern builds, since mechanical spinners are on their way out. On top of that, the latest drives use the M.2 form factor – which doesn't require a drive bay at all. Regardless, at 520mm x 245mm x 520mm, be sure to set aside a fair amount of desk/floor space for this guy.
Highlights:
Strong Points: Looks great; appears to offer excellent airflow (not tested); holds a lot; brilliant design in many ways; mostly tool-less; everything can be disassembled for serious customization; cable management is top notch; comes with two high-quality fans

Weak Points: 3.5" hard drive cage access could be better with larger power supplies; power supply bay is not removable; only comes with 2 fans; quite large for a mid tower


One of the biggest indicators of quality for computer cases, outside of the design, is the feel and materials chosen. Does it have any sharp edges? Does it feel cheap, or is it made with high-quality materials? Thankfully, this case is excellent in all regards. One of the things I'll never forget is when I had to use a screwdriver to pop out a drive bay cover on a case I was working on for my day job at the time. This inexpensive case had plenty of sharp edges, but if you were careful, it wasn't a problem. But what if you weren't? Then it was three stitches and a workman's comp claim. You can guess how I know this. :) This latest Corsair feels great to work on, and I never felt any concern or danger while working on it.
In many ways, working on this case is almost like playing with Legos. For one thing, almost everything is tool-less - I still needed a Phillips screwdriver on occasion, as some parts do need that to remove, but often it was just because I needed a bit more torque on a combo Phillips/thumbscrew component. From what I can tell, you need tools to install a motherboard, install a power supply (PSU), mount a 2.5" drive to a tray, add/remove a fan, add/remove the side fan bracket or cable guides... and not much more. The rest use thumbscrews.
Opening and closing the sides use really nice thumb screws - they stay in the door, so you can't lose them. The same fancy thumbscrews are used to mount the 2.5" drive/SSD trays. The 3.5" hard drives are pressure mounted into the rail tray, and don't need tools. You can move the 3.5" hard drive case with a couple of thumbscrews. Installing cards in the PCIe slots use the same kind of thumbscrews, so they only need a screwdriver if they are too tight. The same can be said for the front fan tray - you can remove the entire set of three fans and mount radiators or whatever else you need very easily.
If that wasn't enough, there are four sets of dust filters, three of which can be easily accessed without even a thumbscrew in the way. For the rear, you just pull it back, and wipe it down. For the top, you just pull up on the pressure-fitted tray, and then remove the magnetically-attached air filter. (This is extremely cool in practice.) For the main front intake, it's also tool-less; you just pull off the pressure-fitted tray, then pull out the filter with a little lever, then put it back in. It's really, really simple. The final one requires taking off the door on the right side to get to, which is two thumbscrews away.
Speaking of the right side, one of the neatest innovations I've seen is what I call the 'fridge door' hidden back there. For most PC cases, the rear side is where you hide all of the wires - it ain't pretty, and that's just the way it is. But with this case, there is a solid door with a hole in it that magnetically closes hiding all of your wiring! Then, the case's side panel goes over that, practically guaranteeing an easy open/close now and into the future. If that wasn't enough, there are cable guides, and embedded velcro straps to make cable management as simple as possible. They also include an additional dozen branded velcro straps in the box. If you want the cleanest build possible - especially with the motherboard-side cable guides - you cannot possibly get a better case than this.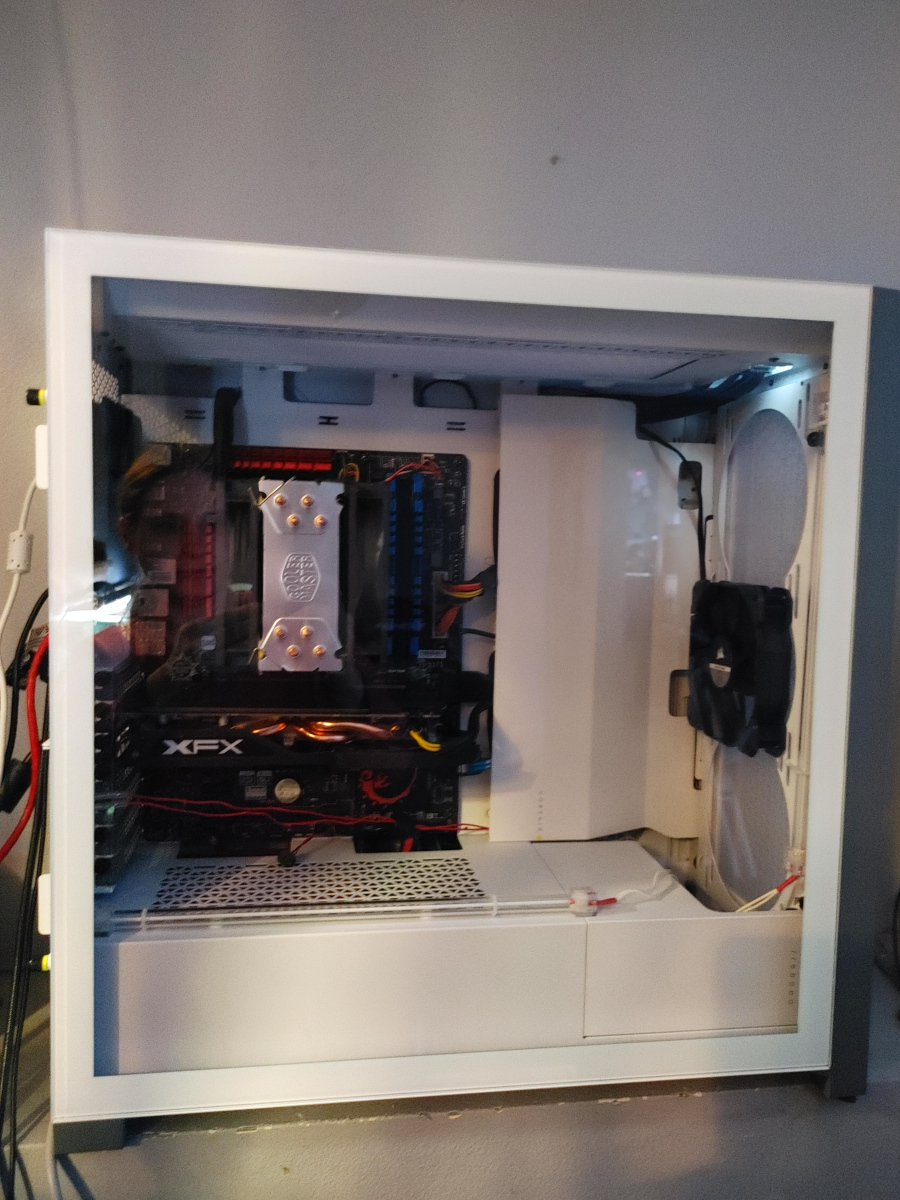 Given such effusive praise, what about downsides? Well first of all, it's a large case. That we can't avoid. I also wish it included RGB fans rather than simple black ones (or at least fans that match the white) but that's a nitpick price point issue; I'm pretty sure the more expensive 5000X does indeed include RGB fans. You can always add them later anyway. Also, after everything was mounted and installed, we had to swap out the power supply. The one I installed was a bit larger than the original, and this meant that we had to not only line up the PSU with the back plate (I've worked with cases that make PSU swapping easier, as they had a removable tray), but we also had to move the HDD cage. In order to move this, we ended up having to remove the entire cable management shroud, and even the side fan panel, in order to get in there. Also, pulling drives out or putting new ones in, if the drive cage is not in the closest to the back original position, basically requires you to take the tray out, twist it, then slide/remove as needed. It is far from fun, and a small blemish on a case where it seemed like they thought of everything else.
One other thing to point out is that this case is not specifically designed for noise suppression; it instead takes the 'brute force' approach. In other words, fans won't spin up to high RPMs if the temperatures are low and there is plenty of airflow. We did not notice any temperature or noise issues while we had it, but my daughter's computer is no longer considered high-end, either. (She's running my old i7 This email address is being protected from spambots. You need JavaScript enabled to view it., and an RX 480. Her CPU cooler is a push/pull Hyper 212.) I have no reason to believe that the configuration and layout on offer could not support components that generate a lot of heat well, but if they make a lot of noise, I don't expect the case to silence it much.
Once everything was all together, my daughter and I were beyond pleased with how wonderful her PC looks now. The white contrast with the black motherboard and fans is quite striking, and I must say I'm a fan. The cable management system is superb, and one of the best I've ever seen. Not only do they have the more common back panel for routing wires, but the rear door, the cable hiding tray, and other parts really add up to a wonderfully clean build. And with nothing in the way, airflow and temperatures should almost certainly never be an issue. My wife found some classic 10+ year old compact cathode fluorescent lights (CCFLs) that are ultraviolet in color, and together with the white case, simply looks awesome. We were able to easily hide the ballast and power connectors behind the shroud, and we connected the on/off switch to one of the two vertical PCIe slots. It looks so great! I even did some rigging to hold the tubes in place, using white zip ties along with some white nylon standoffs. With it all together, it looks simply stunning.
The Corsair 5000D AIRFLOW Tempered Glass Mid-Tower ATX Case in White is such a well-designed case, and my daughter is so proud of it that she even posted it on Reddit here.
While there is always room for improvement, this case brings a huge smile to my daughter's face every time she turns on her PC. I don't know how much bigger of a compliment I can give it. Thank you again, Corsair, for sending us this case to review!