Thank you Toast for sending us a customized bamboo Xbox One X cover to review!
Toast began in 2012 after a successful Kickstarter campaign that enabled them to buy their first laser. They're a small company that's dedicated to quality products and the quality of life. Toast cares about our planet and only uses responsibly grown, rainforest friendly wood and bamboo. Their leather products come from American cattle, and everything is manufactured in Portland, Oregon. The company runs 100% on renewable energy and donates 1% of their net sales to environmental non-profits like: Native Fish Society • 350.org • Trees, Water, and People • Heifer International • Trees for the Future • charity:water.
There's a wide variety of items that they customize ranging from phones, tablets, consoles, laptops, and pint glasses. Even styluses can be customized by them! Not every item offered has reviews on it, but those that do have five-star ratings. After seeing the quality and simplicity of installing the Xbox One X cover, I can see why!
Highlights:
Strong Points: Easy to install; looks great
Weak Points: None!
Moral Warnings: The word d*mn is on the packaging
There are four wood types to choose from. If you want to maintain the dark appearance, you'll want the ebony. Ash is the lightest option, with bamboo not being too much darker. If you want a classic brown wood, walnut is your best bet. The picture gallery shows off all of the color options and you can't go wrong with any of them. In my opinion, the ebony is the hardest one to see any etchings on though.
Applying the cover is simple and the whole process took me less than 10 minutes. An alcohol cleaning wipe is supplied so you can remove any dust and debris on your console beforehand. The trickiest part is a tossup between removing the tape backing and aligning the edges. I like how the corners have serrated edges that wrap around a little bit.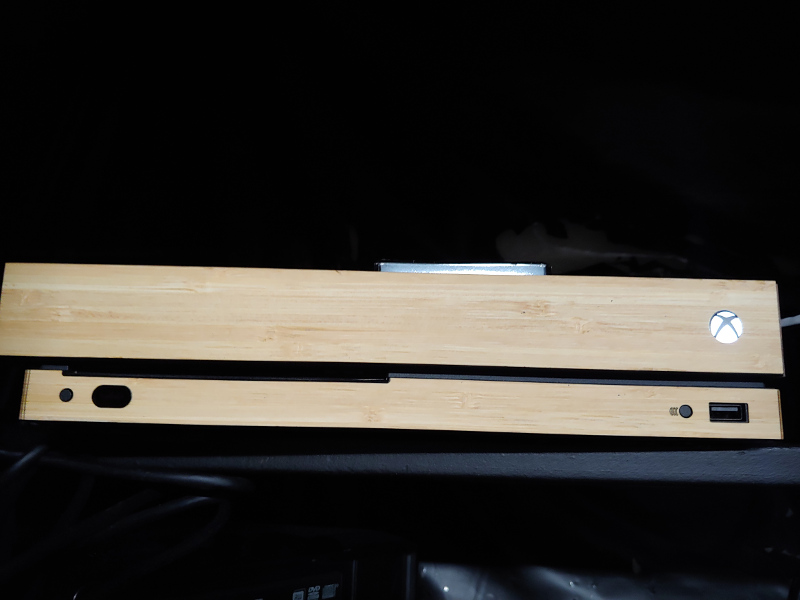 All of the vents are open so you won't have to worry about any air flow issues. Everything is aligned perfectly and easy to figure out for the most part. It was a little tricky determining which vented side went where, but the instructions clarified it.
The pricing is very reasonable and for less than $50 you can get a console that stands out from the rest. Custom text can be added for $10 extra and if you want a bottom cover, that will set you back another $30. If you want a graphic or logo etches onto your console, it can be done for $79. During the checkout process you can upload your image and they will get back to you with a render to approve before they fire up the lasers. If all goes well, you'll have your cover in a couple of days and installed a few minutes later. Prepare to be amazed and receive many compliments on your nicer looking console!