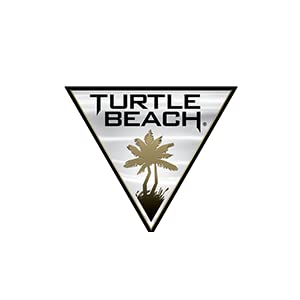 Hardware Info:
Turtle Beach Stealth 600 Gen 2 Wireless Gaming Headset 
Specifications:
Over the ear headphones
50mm driver with Neodymium magnets
Frequency response: 20Hz-20,000Hz
Battery: 900mAh Lithium Polymer
Connectivity: Wireless (PS5, PS4 Pro PS4, PC, Nintendo Switch, and more via USB dongle)
Wireless range: 30ft
Microphone type: built-in flip-out microphone
Fabric ear pads with foam cushioning
Chat and volume wheels
Power and mode buttons
USB-C charging port
Expected battery life: 15 hours
Glasses-friendly design
MSRP: $99.95
(Amazon Affiliate Link)
Thank you Turtle Beach for sending us this headset to review!
As our resident headphone/headset reviewer, I've come to really enjoy checking out each company's take on what makes for a great gaming headset. I'll be honest: years ago, my wife had a Turtle Beach X11, and I was far from impressed with it. The sound had a bass-heavy profile, it wasn't very clear, and overall I just honestly didn't like them, so I've had a generally negative impression of their products since then. So, when we were offered the opportunity to review their latest line, I was looking forward to see if things have improved. And man, have they ever.
The Stealth 600 Gen 2 for PS4/5 is their upper-midrange model, and it's designed primarily for the PlayStation family of products. Sony has promised that PS4 headsets should all work on the PS5 as well, which is why this device promises PS5 support. Turtle Beach also has a firmware updater for Windows, so it's easy to update the firmware if necessary. Another useful aspect of this is that the Playstation supports standard USB-protocol audio devices, which also means the converse - you can use this headset on a whole lot of things, as long as they conform to the USB audio standards this device uses. It was simply plug and play on Windows, Linux, Nintendo Switch, and even my phone - if I use a USB-C OTG cable, it works great. Even the mic works for phone calls! I've had mixed success on macOS; it detects it, but it seems to cut in and out. I also tried to use it on PS3, and it was detected, but games didn't seem to send audio to it. (This could also be my fault, as I rarely use headsets with my PS3, so I'm not used to its quirks.)
The box includes the headset itself, the mini wireless transmitter, a USB-C charging cable, and the paperwork folder, which includes a quick start guide, technical support links, a warranty registration reminder, and a logo sticker. The USB-C cable is only about two feet long, but is otherwise well made. I appreciate that they chose to use the latest connector that's the best one yet (USB-C).
Highlights:
Strong Points: Turtle Beach's signature sound has gotten way better over the years, and these sound quite good; construction of the headset seems solid, despite being all plastic; great feature set, and the EQ settings are genuinely useful; replaceable earpads; I love how plug and play these are
Weak Points: Fabric pads are a bit hard and uncomfortable for my larger noggin and ears; I wish there was a place to put the transmitter; my USB transmitter's USB connector came apart; made with all plastic outside of the padding
The headset itself has a USB-C charging port, and two buttons - a power button (that doubles as the 'Superhuman Hearing' button), a mode button, and two volume dials. There is also a microphone lever - you enable the microphone by simply flipping it down, and mute it by flipping it back up. The mode button gives you choices between the four EQ presets; there is the default 'Signature Sound', as well as 'Bass Boost', 'Bass + Treble Boost', and 'Vocal Boost'. Signature is well balanced and recommended most of the time, though there are definitely uses for the others, especially Bass and Bass+Treble. I don't really think 'Vocal Boost' is something I would use very often. Thankfully it's pretty easy to know what mode you are in by just pressing the mode button - it will beep corresponding to the mode you just switched into, with one beep being Signature, two for Bass Boost, and so on. Superhuman Hearing is a mode that dramatically enhances the volume of sound effects; I personally find it of limited value, though I can see how it could help in a competitive situation. The top wheel controls the volume, while the secondary wheel controls the level of chat monitoring it feeds back into your headset - a great way to keep tabs on the world around you, or hear your own voice so you don't accidentally shout.
One of the things I like best about this headset is how simple it is - there's no software, and little to no configuration. Everything it needs is built in; just plug it into your desired device (PS4/PS5 and Nintendo Switch being the only supported ones, of course) and you're off to the races. The hardware volume control built into the headset just works; you'll probably want to set it to maximum in whatever software you use (PS4, PC, etc.) and just let the volume knob do the rest. I absolutely love simplicity like this! And the best part is, with all of these EQ settings available with just a press of a button, it's highly unlikely that you'll need anything to make it sound the way you want it to.
It really helps that the default, out of the box sound is also really good. With the fabric pads there could be a bit more deep bass, but outside of that, I really like the signature sound. With that said, I have a rather large noggin', and large ears to go with it. It fits my head mostly fine, but the ear pads are a bit too small to fit comfortably for me, and they are not soft enough to counteract the pressure (again, mostly the fault of my large head). As a result, I can't wear them in their stock form for too long. Thankfully, I found that swapping out the pads for some cheap Shure 840 pad clones I had laying around (I like to mod headphones and these are cheap and commonly recommended) not only fixed the comfort level for me, but also improved the bass and even improved the midrange presence - I consider that better in most cases. It does have to be said that these pads are not a perfect fit for this headset - they are too large, and look rather silly. I am sure that slightly smaller pads would be a better fit, and likely exist to be found. But for me and my large ears (and the fact that I had these pads laying around unused), they solve the main issues I've had with this headphone. In this configuration, I've listened to them for many hours - gaming, straight up music, phone call, podcasts, and so on - with little complaints, on both the quality and comfort fronts. I think the leather brought out the bass, and bringing the ears a little closer to the drivers kept the clarity I always desire, and the larger pads fit my massive ears. Win, win! With that said, if you have smaller ears like my wife does, I doubt replacing the pads will be necessary. If you get a good seal around your ears, you can likely leave them alone. And the shallower pads likely sacrifice a bit of soundstage, also. I'm certain better pads for this purpose are out there - I just haven't found them yet, and I'm not about to order half a dozen pads at this point to find out what's just right.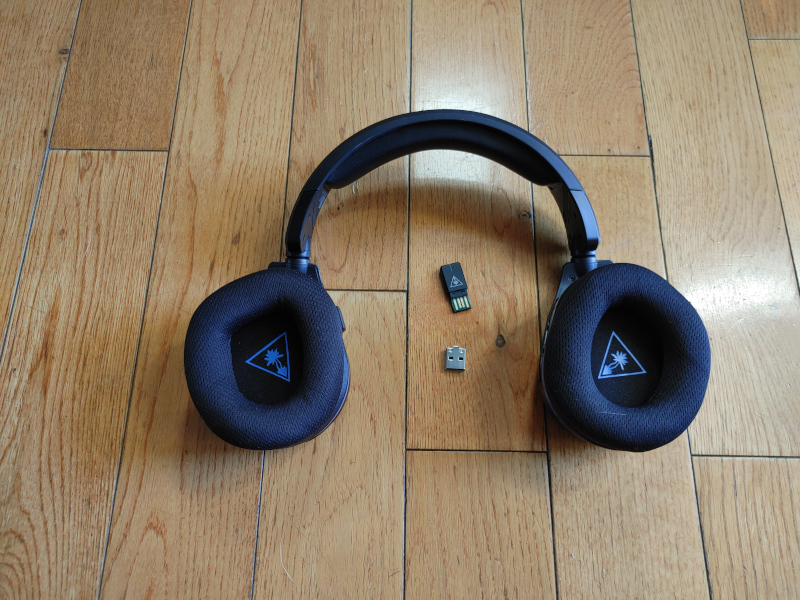 Despite all these and more great things to say, like the neutral sound signature, great battery life, great microphone, and simple operation, they are not without flaws. Obviously the ear pads are one; I've covered that well enough. Some may not like the all-plastic construction; despite that, they don't feel cheap or brittle. It can be easy to confuse the volume and chat dials, since they are next to each other, but you get used to it. My biggest issue is actually one you may never experience: my USB transmitter's metal shield from the USB port fell off. Thankfully I haven't lost it, but until I figure out a way to prevent it from getting stuck in every USB port I use, I have to keep a pair of tweezers handy whenever I want to remove it. Another really big missing feature, which is usually very cheap to add, is a 3.5mm headphone/headset jack for analog audio input. If these had that, while it wouldn't be wireless you could use them with almost anything - and they sound good enough that it's a reasonable desire. I hope they seriously consider that for their next series, though I may have a hint as to why they didn't.
Always the curious sort, I opened them up on the right side while experimenting with different pads. I chose that side because it's the one with no electronics; I didn't want to break them, I just wanted to peek. And what I saw is unlike almost any headphones I've opened before - these have a very small, completely sealed chamber around the driver. Almost all headphones utilize that chamber for improved bass, though sometimes at the cost of clarity. Based on this all-electronic design, it is my guess that Turtle Beach actually designs the driver and DSP (digital signal processing) together to make the desired sound signature. With that design, they sacrifice maximum loudness for clarity and consistency across the frequency range. While you rarely see this with passive speakers, it's becoming more and more common for active speakers (speakers with their own power), as well as things like high-end subwoofers. If my hypothesis is correct, and I suspect that it is, then a lot more engineering goes into these headsets than it first appears. On the flip side, since the open space in the ear cups is unused, perhaps they could make a slot for fitting the USB transmitter inside for storage and transport?
While not perfect, especially with the stock pads, this Turtle Beach Stealth 600 Gen 2 exceeded my expectations. My earlier bias against Turtle Beach has been totally replaced with newfound respect - they are the most popular headsets in the world for a reason. While they are not the last word on clarity like my audiophile headphones are, they are definitely good enough for most people, and far, far better than I anticipated. The microphone is also excellent, as everyone I talked to said I sounded crystal clear. The battery life is more than good enough - you can easily find yourself charging them maybe twice a week, even with heavy use, and their plug and play functionality on PS4, Switch, and even PC is just great. Despite some noted flaws, I can easily give these a strong recommendation. I just hope that my experience with a separating USB connector is not a common occurrence.