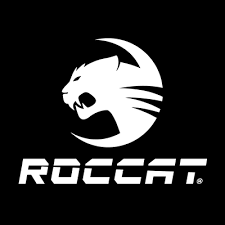 Hardware Info:
ROCCAT Burst Pro Air Wireless Gaming Mouse
Specifications:
ROCCAT Owl-Eye 19k DPI optical sensor, with 50g acceleration and adjustable lift-off distance
Eight fully programmable buttons/actions, with one additional button on the bottom
Fully customizable with ROCCAT Swarm software
On-board memory - stores button and RGB LED color settings
ROCCAT Titan Switch Optical switches for each button, lasts 100 million clicks
Symmetrical shape
Extremely lightweight, at only 81g
2.4GHz Wireless, as well as Bluetooth 5.2 wireless connections
High-quality fabric 1.8 meter USB-C connection and charging cable
Up to 100 hours of battery life per charge
Supports Rapid Charge
MSRP: $99.99
(Amazon Affiliate Link)
Thank you ROCCAT for sending us this mouse to review!

Ever since my review of the Kone Pro Air, I've used it pretty much every day since. It isn't the only mouse I use, but I use it by far the most often. Why? Because it's lightweight, ergonomic, and performs really well. The Burst Pro Air continues with many of those great points. While its symmetrical shape is nice, it's less ergonomic for me than the more tilted shape of the Kone line - depending on your chosen mouse grip. Despite this, it's very well made, and a joy to use.

The Burst Pro Air is in many ways on the higher end of the wireless gaming mice market. The price is competitive with the upper end, though quite a bit more than the value offerings. The sensor is one of the top ones out there, with a 19k DPI optical sensor with 400 IPS tracking. 400 IPS is an absolutely insane spec - it means that you can move the mouse at a speed of four hundred inches per second, and it will still detect all of your movement without missing anything. That's quite impressive! I tested it quite extensively, and I've been extremely pleased with ROCCAT's sensors - both here with the Burst Pro Air, and the Kone line. I've tested it with work and gaming, and it always performs admirably.

In many ways, it makes smart compromises to reach that nearly perfect weight of 81g. The Kone Pro Air is 75g, and I love it. But for the slightly heavier weight of 6g, you gain a DPI button - which all good mice need, in my opinion. It also uses what I think are better quality materials - or at least they feel more premium to the touch. The finish on the Kone Pro Air is nicer, but I like the texture and materials of the Burst Pro Air better. It also feels more durable. More on this later.

You may find this strange, but the addition of the DPI button over the Kone Pro Air is, to me, more significant than it first appears. I actually prefer different DPI rates for my mouse depending on the use case. (Changing the DPI is generally preferred over just changing the mouse sensitivity in Windows/macOS/Linux because doing so causes the mouse to either skip inputs or skip pixels on movement. I prefer keeping all mouse movement 1:1 wherever possible.) For example, I generally use something in the area of 1600-2400 for desktop use. Any lower and I have to move my arm all over like crazy; any higher, and I have a hard time clicking on certain icons. For strategy or role-playing games (RPG), I might keep it at that or even go a bit higher. I also found some rare older games don't scale the mouse input properly, and for that I would usually have to use a very high DPI. However, for competitive first-person shooter (FPS) games, I will lower it to around 800 (or even lower) to improve my headshot chances. Furthermore, I've been known to bring a gaming mouse with me to work, as most office mice are 800-1200 DPI, and are quite a nuisance to move around the screen, especially with a dual monitor setup. So having a DPI switcher around is nearly critical for me. Thank you ROCCAT for adding it back to the Burst Pro Air, after it's conspicuous absence from the Kone Pro Air.
Highlights:
Strong Points: Excellent sensor and button feel; return of the DPI switcher button (after its absence on the Kone Pro Air); fairly lightweight; really nice USB-C cable; wireless connection is fast and solid; on-board memory profiles are great; has built-in place to store the wireless dongle; plastic materials feel great and durable; smaller mouse doesn't take up a lot of space

Weak Points: Better for fingertip or claw grips than palm grip users
The rest of the buttons are also high-quality. They are made of a slightly soft-touch plastic, and the Titan Optical mouse switches are great to use, and promise a one hundred million click lifetime. The side buttons aren't quite as nice, but they feel solid and have a nice tactile click, too. The mouse wheel is very similar to the one used with the Kone XP, except there is no sideways click. I'm not sure why that was left out, but the wheel feels great and performs as expected. It's not quite as nice as the Kone Pro Air's aluminum mouse wheel, but it's more than nice enough.

The build quality is superb. The top surface is made of the same soft-touch plastic that the main left and right buttons use, and is translucent enough that if you choose to illuminate your RGB LEDs, it will glow with a near honeycomb pattern. But if you don't glow, it will appear as black. The sides are made of a nice plastic as well, and the texture is appealing and feels more premium than the Kone's more slippery finish. The PTFE gliding pads are still excellent as always and perform well. They also added a notch to the 2.4GHz USB wireless dongle, to make it easier to remove from the bottom of the Burst Pro Air's shell. The USB-C cable included with the mouse to charge it or used it in a wired mode is superb - one of the best on the market, for sure. I know it may seem silly to gush on a cable, but it works great - and I can even use it to copy files from my phone without errors, so they clearly didn't just produce a 'good enough' wire. It's little things like this that really show how much attention to detail was given to this mouse's design.

And like other ROCCAT mice I've used so far, the wireless performance is nothing short of excellent. The range is superb, and it always just works without fail or stutter. I tried leaving my laptop's speakers up and walked around my house clicking, waiting to hear the Windows volume checker chime, and I was able to hear it no matter where I walked, as long as it was within earshot; I couldn't easily test more because of the walls in my way. But I can certainly say that the mouse range for at least basic clicks registered quite a distance away. My older Razer wireless mice weren't so lucky; they would randomly act up. Not so with these.

I also noticed that the Burst Pro Air uses a newer form of Bluetooth than the Kone Pro Air, because when you use it, the polling rate is slightly higher. I know this may not seem like much, but I was able to tell the difference in use between the Kone's ~120Hz Bluetooth polling rate, and the Burst's ~130Hz. Obviously these differences are irrelevant when using it wired or with the 2.4GHz dongle, where 1000Hz is available, but Bluetooth is more limited in that way. I did most of my testing on laptops with higher display refresh rates - 240Hz in one case, 120Hz in another - so the polling rate improvements were more obvious than they might first appear.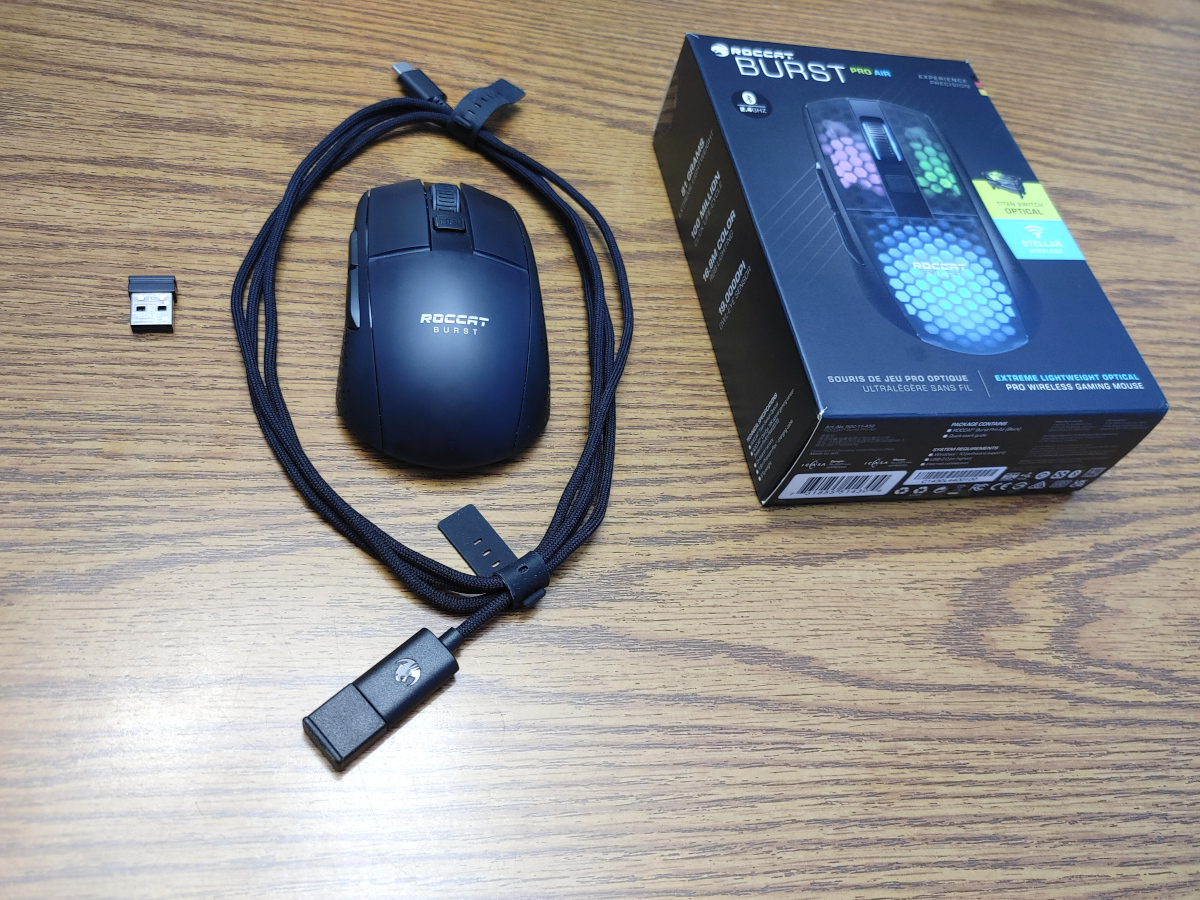 With all of this going for it, what's not to like? Honestly not much, but the symmetrical layout of the mouse is both a pro and a con. It's nice because it's small, doesn't take up a lot of space, and feels natural, especially for smaller hands. But as I've gotten older, I've found that the more ergonomic shapes, like that featured on the Kone line, are much easier on these aging hands. The easiest way to explain it is that the Burst Pro Air has you holding your hands in a horizontal fashion. Fancy ergonomic mice used for those with carpal tunnel syndrome and similar repetitive stress injuries use vertical mice, which basically have your hand almost sideways, like you are holding a cup. The Kone Pro Air encourages a slight opening tilt of the hand, which kind of bridges the difference between the two. So for me, I experience less strain while using the Kone Pro Air, so I'll probably go back to that one for my work mouse after this review goes live.

And yet, for many (most?) gamers, this Burst Pro Air is no doubt not just a better value, but depending on your mouse grip, it may even be more comfortable. You see, I tend to use a palm grip, and the smaller size of this mouse is not really the best for that. But if you prefer a fingertip or claw grip, this mouse is great. I believe the reason why is because it's small enough that it stays out of your way, and that benefits those who use that style of grip. It's also a nearly perfect weight - it doesn't feel cheaply light, like the Kone Pro Air does at first, and yet it only weighs 81g! (I measured mine at 82g.) I just realized why, as described below:

As I was about to wrap up this review, I realized something - I accidentally modded my mouse! When I first got it, I noticed that the ring that goes around the sensor on all of the other ROCCAT mice that I've reviewed was missing. I thought it was just a mistake in packaging, so I used the spare PTFE ring included in my Kone XP's package and put it in that spot. It fit, so I continued to review the mouse. But it also tipped the scales, and brought it from 81g to 82g. However, while writing this review, I noticed that the ring is also missing from promotional pictures of the mouse! So I unwittingly added a ring that wasn't meant to be in the product. I will say that after installing it, it felt like it glided a bit more smoothly, but it wasn't all that bad before; it depends on your surface to know if you would be able to tell the difference.

The ROCCAT Burst Pro Air is a really excellent wireless mouse, with a good button layout, a quality feel, and durable construction. It even claims to have a dust and spill resistant design, though it is not claiming water resistance, so take care cleaning it. The weight is just right, and it performs flawlessly. I feel like it's the perfect companion for claw or fingertip grip users, as it's a bit small for my larger hands with a palm grip. It's also great for laptop users, because it's small and light enough to not take up lots of bag space, and it's durable enough not to break easily. While certainly not low priced, it does cost less than the Kone Pro Air, and I believe it's a good value overall, and an excellent FPS mouse. Recommended!