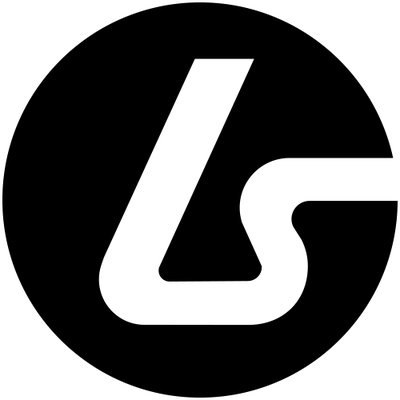 Hardware Info:
LucidSound LS35X Wireless Surround Sound Gaming Headset
Specifications:
Over the ear headphones
50mm driver
Frequency response: 20Hz-20,000Hz
Impedance: 32 Ohm
Sensitivity: 97dB +/- 3dB
Power output (when headset is on): 70mW @ 32 Ohm per channel
Connectivity: Wireless (Xbox One, Windows 10 with Microsoft Controller Adapter (not included))
Wireless range: 30ft
Microphone type: built-in or optional boom mic
High quality leather-like ear pads with fabric front and gel-cooled memory foam padding
Chat and volume wheels; chat and volume mute buttons
Power and wireless connection buttons
Includes optional 3.5mm cable for connecting the headphones to devices other than the Xbox One
Micro-USB charging port
Expected battery life: 15 hours
Weight: 396g / 14oz
Includes soft carrying case
MSRP: $179.99
(Amazon Affiliate Link)
Thank you LucidSound for sending us this headset to review!
We have reviewed quite a few different headsets here at Christ Centered Gamer, and I've always enjoyed the process of really getting to know them. Sometimes you can discover a vendor's house sound; other times, you can be surprised by what you find. I have never reviewed (or used) a LucidSound product before this, so I had no idea what to expect. I have to say, though I can certainly find nitpicks, there is a whole lot to like with this headset.
The most important part of any audio device is probably how it sounds, at least to me. I'm an audio nut, and I really care about my frequency response levels, whether or not I can hear audible distortion, sound stage, and so on. Outside of that, and for some even more importantly, comfort is number one. You're not going to wear what's not comfortable.
Thankfully, the LS35X is really not bad at all. Now I have to say that my ears are larger than most, on a head that is also larger than most. (My ears are proportionately large to my head, I suppose.) Either way, they are 3" long, by 1.5 inches wide. Very few headphones actually have an ear cavity opening large enough to hold that ear. (I only own one pair of headphones that actually fit my large ears; that's my electrostatics, and it's one of the things I love most about them.) If your ear is more normal-sized, like my wife and her tiny ears (2.25"x1"), then you will have no trouble having your ears entirely enclosed by this 2.25"x1.375" opening.
As a result, I would say that most headphones in production eventually, with extended use, press against the top of the helix (yes, I had to look this up) of my ears, and over time, cause dull pain. These are no exception. Again, if you don't have massive ears, this will almost certainly not be an issue for most normally-eared people.
Like most headphones, the secret of their comfort mostly comes down to ear pads, and headband. The headband is made of thick plastic, with a high-quality, stitched, leather-like material with padding that touches your head. It can get a little heavy, but it isn't uncomfortably so.
The ear pads are really, really nice. It has leather-like material on the inside and outside, and it touches your head with a fabric surface, which helps keep your head cool, which is really important for extended use. The gel and memory foam padding is quite different than most headphones I have used; it's a bit firm, but also gives way easily when your ears touch it. I haven't used ear pads quite like it before; it has a good clamping force, but doesn't press down too hard. The pads are great, and one of the highlights of this headset. It's also nice that LucidSound offers replacements for a reasonable price. They are incredibly easy to just pop off, since they have special sockets that the pads fit right into. So if you wear them out, it's only $19.99 for a replacement pair right on their website.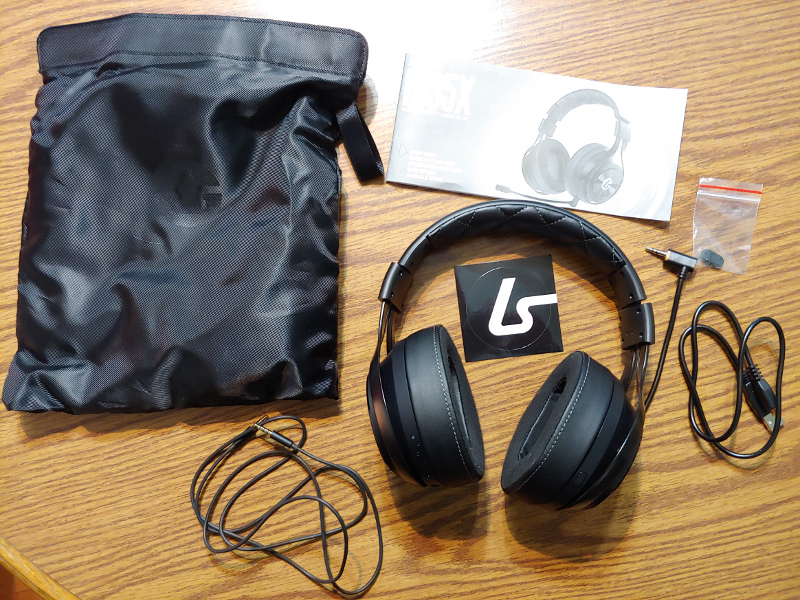 Highlights:
Strong Points: High quality materials; great build quality; comfortable; fits my larger head; works wirelessly on Xbox One and Windows 10 with an Xbox controller adapter; works with virtually anything with a 3.5mm jack (4 pole, so it includes microphone support); audio quality is quite good; sound stage is quite excellent, making noting positions very easy; buttons and volume dials work great when powered on; ear pads are easily removable, and inexpensive to replace; when powered off, the headset sounds even better when connected to a powerful headphone amp
Weak Points: On Xbox it was harder to get all sound through the headphones than I expected (Microsoft's fault, not LucidSound); the Windows 10 wireless dongle is sensitive to electrical interference, so I had to move it away from where I normally use it with controllers alone; while the frequency response is quite good overall, it could use a tiny bit more treble to my preferences
The build quality is very good. The ear cups are made of a firm plastic, and they are connected to the headband with an all-metal clamp. The headband adjustment slider is also metal, and seems very sturdy. The cups swivel somewhat, and the pin they swivel on is metal as well. This swivel point is probably the most likely place for them to break, though it doesn't seem all that flimsy, and unlikely to happen. The headset is very attractive looking overall, feels quite rugged, and I would consider its overall build quality to be excellent.
You can tell that a lot of care went into not just the construction, but the feature set. Everything that you would want it to do, it does exactly like you would want. For example, there are two volume dials, one for volume, and another for chat volume. By default, it will monitor your microphone, so you can hear yourself. One downside to this is that it introduces a bit of hiss into the ear chamber. If you want to turn this off, hold the right ear button for three seconds – then mic monitoring is off. It also has a built-in mic, so if you lose the detachable arm, you can still chat.
And that's not all they got right. If you plug it in via a wire, both mics work; if the boom is connected, it uses that, and if not, it uses the built-in one. It works just fine for mobile phone use; it took calls perfectly, with the boom mic connected or not. If the headset power is off with the wire connected, it relies on the external signal to amplify the drivers, which is exactly what you want. (Pressing the left side button also play/pauses on Android, which is also ideal.) If you turn on the headset with a wire connected, it uses the internal amp that it uses when connected wirelessly, and all of the dials work exactly as you would hope, so you can adjust the volume, mute the mic, or mute the volume when connected this way. (Chat volume adjustment only works when connected to Xbox wirelessly; that is a technical limitation.)
Overall, I am very pleased with the amount of thought that went into the design of this headset. Other than the lack of Bluetooth (they went with the Xbox Wireless protocol instead), they really thought through what a user would want and expect when they designed this headset. Good product planning goes a long way towards a great product, and you can tell that they really cared when putting this thing together.
When connecting it to Xbox One, you treat it just like connecting a controller: press the button on the console, and the connection button on the headset, and wait until both lights are a solid color. Pretty easy. The trick is that Microsoft (it's not LucidSound's fault) has made it more difficult than expected to make the Xbox send all of the sound to the headset; by default, it will only send chat audio. If you want to hear it all through there, you need to enable Windows Sonic or Atmos on the headset, so it will force everything away from your external sound system. Strange, but whatever. Also, while the headset advertises surround sound, it actually means that it uses what is built into Xbox and Windows 10; if you connect it to anything else, surround sound emulation is not available. I don't consider this to be a major problem.
Connecting it to a Windows 10 machine has two options: the standard 3.5mm cable (4-band, so the microphone and sound connections go through the same cable), or wirelessly, through the Xbox One wireless controller adapter. Since I already have several adapters because I love Xbox controllers for my PC, I had to try it that way. It works perfectly well, with one caveat: when I connected the wireless adapter to my USB hub, for some reason audio would drop sometimes. I'm not sure the cause; controllers work fine. If I connect the adapter directly to my computer cases' front port, it works like a champ. It could be physical or electrical interference; either way, it's something to note.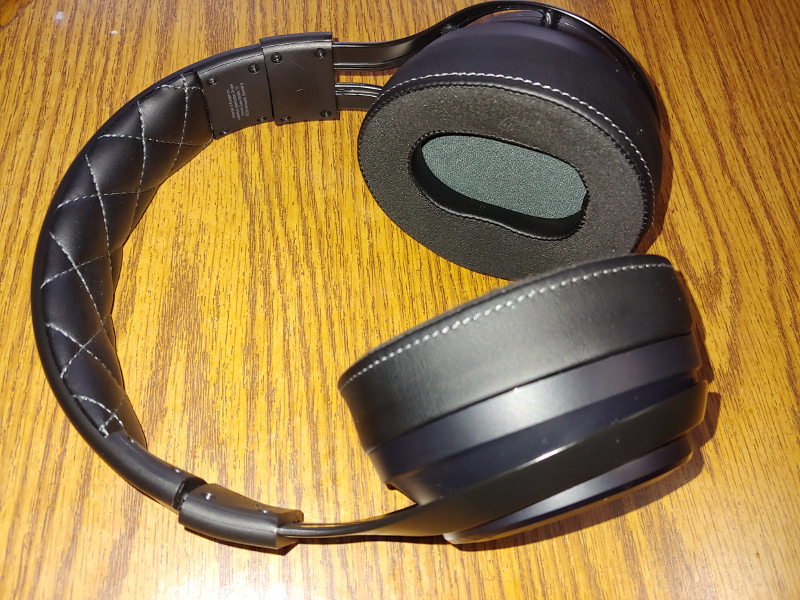 Now, to the main course: the sound quality. In short, really good. It does not beat out my audiophile headphones; they have a bit more detail, and more air, which usually translates to the very high treble frequencies. But what is there, is very well represented, with decent highs, and thundering bass. It is a bit more bass-heavy than my preferences, but it is not offensively so. The treble frequencies are certainly all there. And on games with good bass drops, it sounds quite excellent, and the drivers never sounded stressed or overworked in my testing. It always kept composure, outputting what it was given. When I powered it with my headphone amp, it had just a bit more oomph than when powered internally, but that's hardly surprising nor a problem; I was glad it 'scaled' with more power.
While you can equalize these headphones a bit to get more treble if you like, it responds only so much to treble boosting; like many that use 50mm drivers, it seems like very high frequencies above 10KHz drop off significantly. (This is not really a failing as much as a reality; this is extremely common for most headphones, whether you realize it or not. It's not that they are gone, just much quieter. That, or my ears are aging beyond the ability to hear those frequencies. EDIT - I can still hear up to 16k. Yay!)
The soundstage is surprisingly good. This is a quality where you can pinpoint the location of objects in the sound space, and whether or not it feels like the sounds come from within your head, or out and around you. This is particularly important for gaming headphones, but closed-back cans are always at a disadvantage, since they have a lot less space to work with, and tend to sound closed in. While they are closed and can't avoid the issue entirely, they do a great job in sounding remarkably spacious given that they are closed-back.
While this headset is far from cheap at $179, at least they are built well and include most of the accessories that you will need. The detachable boom mic is handy, as is the port saver if you choose not to use the mic, and the USB charging cable is also a necessary addition. I really like the included travel bag; while I would perhaps have preferred a hard case, this bag feels great in your hands, both inside and out, and has a pouch for cables and such, and both the inside pouch, as well as the bag itself, are sealed with stiched-in, high-quality Velcro. I ended up adding a TRRS to dual 3.5mm splitter so I could use this headset with my laptop that has separate audio and mic jacks, and a TRRS extension cable, and they all fit in the little inside pouch just fine. I also threw my Xbox Wireless Controller adapter in there, and it all fits together fine. That, along with the headset, and you don't have to worry about scratches. It can still be damaged by hard impacts, though. If you want to protect against that, LucidSound sells a hard case for $29.99.
The LucidSound LS35X Wireless Surround Sound Gaming Headset is one of the nicest headsets that we've had the honor to review here at Christ Centered Gamer. It's sound quality is near the top, the build quality is definitely the best, and the overall experience as an owner is top notch. I also like that the manufacturer sells replacement parts at reasonable prices on their website. That's fairly rare, as many others seem to consider their products disposable; LucidSound seems to foster more of a relationship with their customers if they so choose. As an audiophile, I am not ready to replace my more expensive headphones with these, but for purely gaming uses, especially in competitive scenarios, you really can't go wrong with them - positional accuracy is great, and nothing is obviously missing. Footsteps are easy to pick out, and details are readily available. Next time I decide to play a first-person shooter, I may be inclined to grab these - especially if I need the convenience of wireless - and if you are in the market, they are definitely worth a serious look.