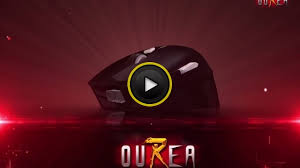 Hardware Info:
OUREA Laser Gaming Mouse
Made by: GAMDIAS
Release Date: September 1, 2014
Price: $19.99
(Amazon Affiliate Link)
*Advertising disclosure* - After this review was posted, Gamdias became a banner advertising client.  The review is not influenced by this partnership in any way.
Thank you GAMDIAS for sending us this mouse to review!
Gaming hardware can be expensive, but GAMDIAS products look sharp, perform well, and cost a fraction of the price of competing products.  Most gaming mice cost fifty or more dollars, but the ambidextrous OUREA costs $19.99 compared to the $60 Mionix Avior 8200 we reviewed.    
Both mice are ambidextrous and support a polling rate from 125Hz to 1000Hz.   The major difference between these two mice (besides the price) is that the OUREA has 4 5g weights to customize its weight to your liking.  When heavier, you'll have more control, but a lighter mouse is more responsive.  The Mionix 8200 also supports up to 8200 DPI while the OUREA peaks at 3600.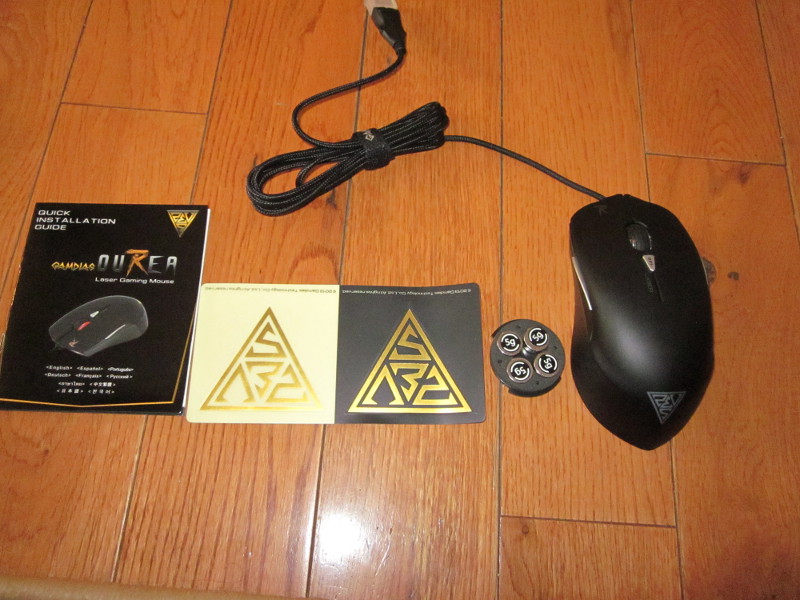 Highlights:
Strong Points: Great performing mouse for the money; braided USB cable
Weak Points: Easy to accidentally click the button on the right hand side; GAMDIAS logo cannot be dimmed or disabled; software sometimes fails to load
There are six buttons in total including one on each side of the mouse.  Each button is customizable and you can program macros using GAMDIAS software (which only runs in Windows).  There's a button below the scroll wheel for changing the DPI setting on the fly.  The one button on the right hand side kept getting accidentally clicked and changed my mouse's profile (and color).  To get rid of the rainbow effect I just changed all my profile colors to be the same (purple).  Unfortunately, the yellow GAMDIAS logo cannot be dimmed or changed to a different color. 
While the software is easy to use and update, I did run into problems with it crashing when launching it.  The basic mode will let you adjust the default DPI, polling rates, cursor speed, scroll speed, double click speed, and scroll wheel colors.  By switching to the advanced mode you can customize macros with timers and sound files.  The muscle memory is a pretty neat tab that displays the mouse's stats with how many times the various buttons have been used.  According to GAMDIAS, this mouse has a 10 million click life cycle.  I'm just over 5,400 as of this review.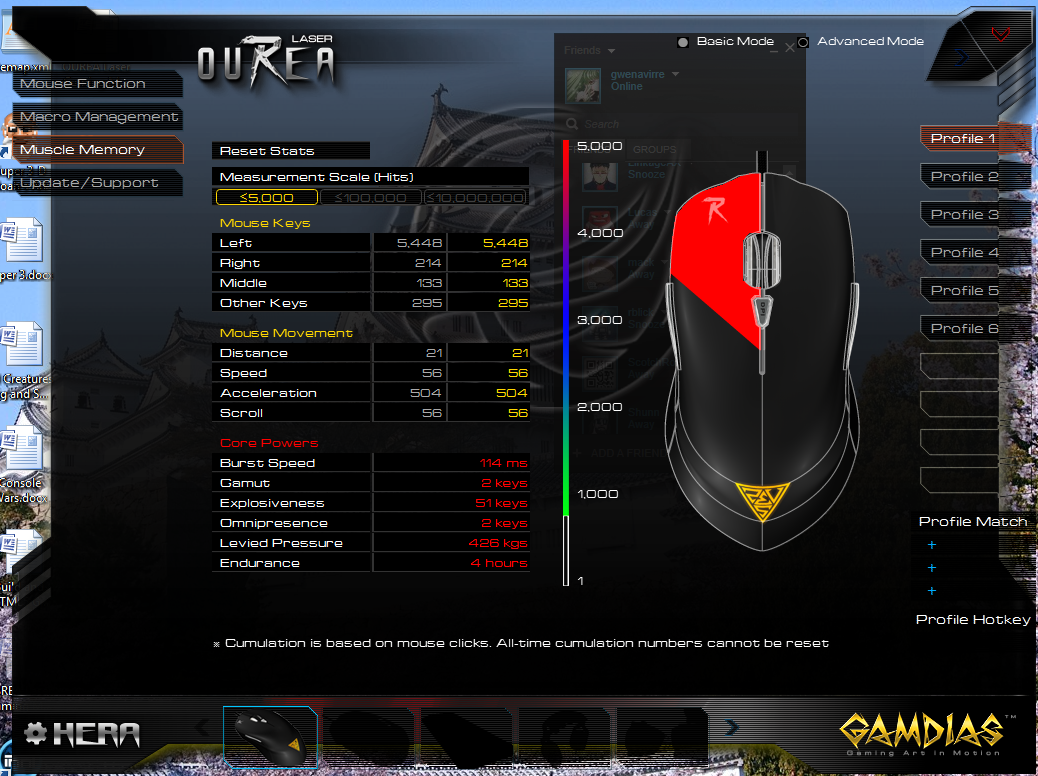 As expected, gaming was great and the mouse was very responsive in games like Robot Roller-Derby Disco Dodgeball and Super 3-D Noah's Ark. The mouse is very comfortable to use in either hand and moves smoothly across the table tops I have used it on.  A higher DPI rate is ideal for big or multi-monitor setups.  While the 3600 DPI was fine for my 1080P laptop screen, it may not be responsive enough for 4K monitors.  When comparing OUREA against my Sharkoon Drakonia mouse, the Drakonia had better control with sudden movements.  It's worth noting that the Drakonia mouse is twice the price of the OUREA.  
If you're looking for an inexpensive mousing experience, look no further than the OUREA Laser Gaming Mouse.  It's totally customizable and super responsive in fast paced FPS games.  The price for the mouse alone is a reasonable $20 shipped on Amazon, but if you're in the market for a keyboard as well, the $30 bundle is worth considering.  The only downside to the keyboard or the mouse is that you're forced to look at the glowing yellow logo whether you like it or not.