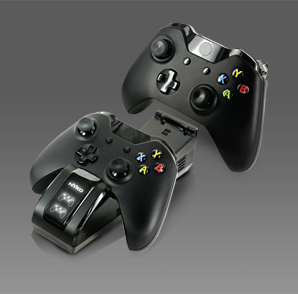 Hardware Info:
Nyko Charge Base - Xbox One
Developed by: Nyko
Release Date: November 22, 2013
Price: $29.99
(Amazon Affiliate Link)
Thank you Nyko for sending us a review unit!
 As parents of young children, we have a lot of rechargeable batteries in the house. Our Xbox One system takes six batteries between our three wireless controllers. When a controller's batteries die, it's inconvenient and often impossible to find suitable replacements laying around the house.  We have several charging stations and heavily rely on them.
The Nyko Charge Base doesn't take up much space and has a simple, yet elegant design.   The Nyko Charge Base includes the stand with an attached power cord, two rechargeable battery packs, and two replacement covers.  The black covers matched both our standard controllers and our blue midnight forces controller.  (My kids argue over that one.)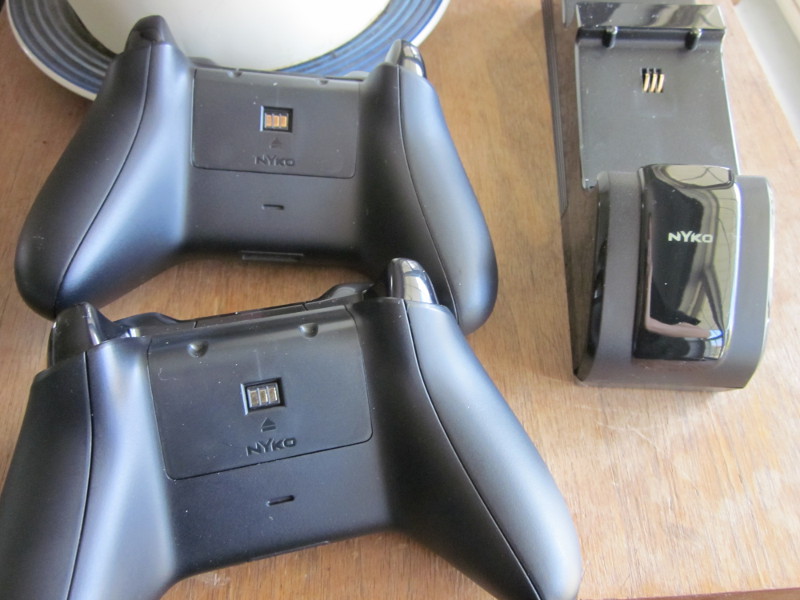 Highlights:
Strong Points: Rechargeable battery packs are much more convenient
Weak Points: Only a 30 day warranty
Since all of our controllers are Microsoft brand, we cannot confirm compatibility with third party controllers.  If the battery pack for a Microsoft controller works for your third party one, you shouldn't have any trouble using the Nyko Charge Base.  
The Nyko Charge Base is well designed and easy to use.  The battery packs were pretty straightforward to replace and use.  Charging is seamless as the controllers simply slide into the charging base.
 When the connection is secure, the nearby LED will illuminate. Each controller will have a controller icon with three squares underneath indicating the battery charge level.  The squares are even color coded, red, orange, and green.  If you're like us and don't like unnecessary lights, it's worth noting that the controller and indicator LEDs turn off after a while.    The NYKO light remains on all the time though.  (A small piece of electric tape can fix that.)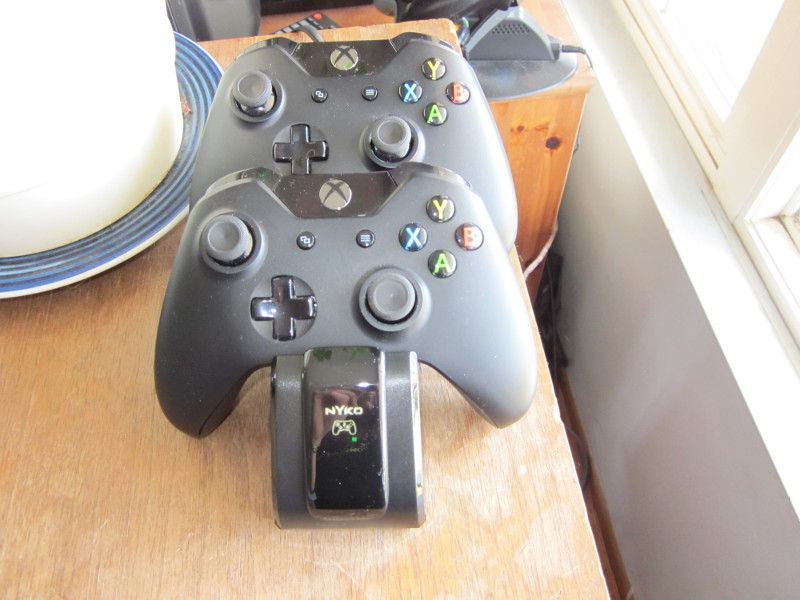 Charging completely dead controllers can take up to three hours.  According to Nyko's website the batteries can keep you gaming for up to twenty-five hours per charge.   Since I have yet to do an all day gaming binge, I cannot confirm that claim.  We usually dock the controllers when not in use.  
Even though the suggested price is $29.99, I have seen it for nearly half of that price online.  Given that it comes with two sets of batteries, it's definitely worth considering at twenty dollars or less.  Like many battery warranties, Nyko only stands behind this charger for thirty days.