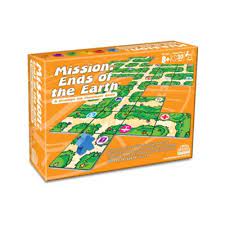 Game Info:
Mission: Ends Of The Earth
Developed by: Bible Games Central
Published by: Bible Games Central
Release date: September 2021
Number of players: 2-6
MSRP: $29.95
Thank you Bible Games Central for sending us this game to review!

Mission: Ends of the Earth is a board game inspired by Acts 1:8, which states "But you will receive power when the Holy Spirit comes on you; and you will be my witnesses in Jerusalem, and in all Judea and Samaria, and to the ends of the earth." Your goal is to deliver supplies designated on your mission card to your assigned town. The path to town will be placed and modified throughout the game so be sure to keep an eye out for the necessary supplies and try to avoid the tiles that cause shortages and require all players to surrender their tokens for that resource.

To begin the game, each player must select a Mission Card which indicates their designated city and the list of five supplies needed. There are nine possible resources that their town may require. These include: bibles, food, medicine, clothes, tools, fuel, water purifiers, solar lamps, or school supplies. When a player lands on a map piece that has a resource icon on it, they may collect the indicated token and add it to their collection.
Highlights:
Strong Points: Fun and strategic Christian-themed game; well made
Weak Points: Some assembly is required as you'll have to punch out the playing cards and tokens before your first playthrough
Moral Warnings: None!
On a player's turn they roll the six-sided die. The number it lands on designates the number of actions they have for their turn. If they land on a two, you have an option to collect a spade token which allows them to relocate a map piece as one of their actions. Only one spade token can be in a player's inventory at any given time.

Player actions can also include drawing and placing map pieces or moving along the ever-evolving game board. When placing map pieces the dirt paths/roads must properly line up on all sides. There are handy four-way splits and T shaped tiles along with dead ends which can be used to trip some players up. Some tiles have an airplane symbol on them and these allow players to warp across the board to another location with a plane icon.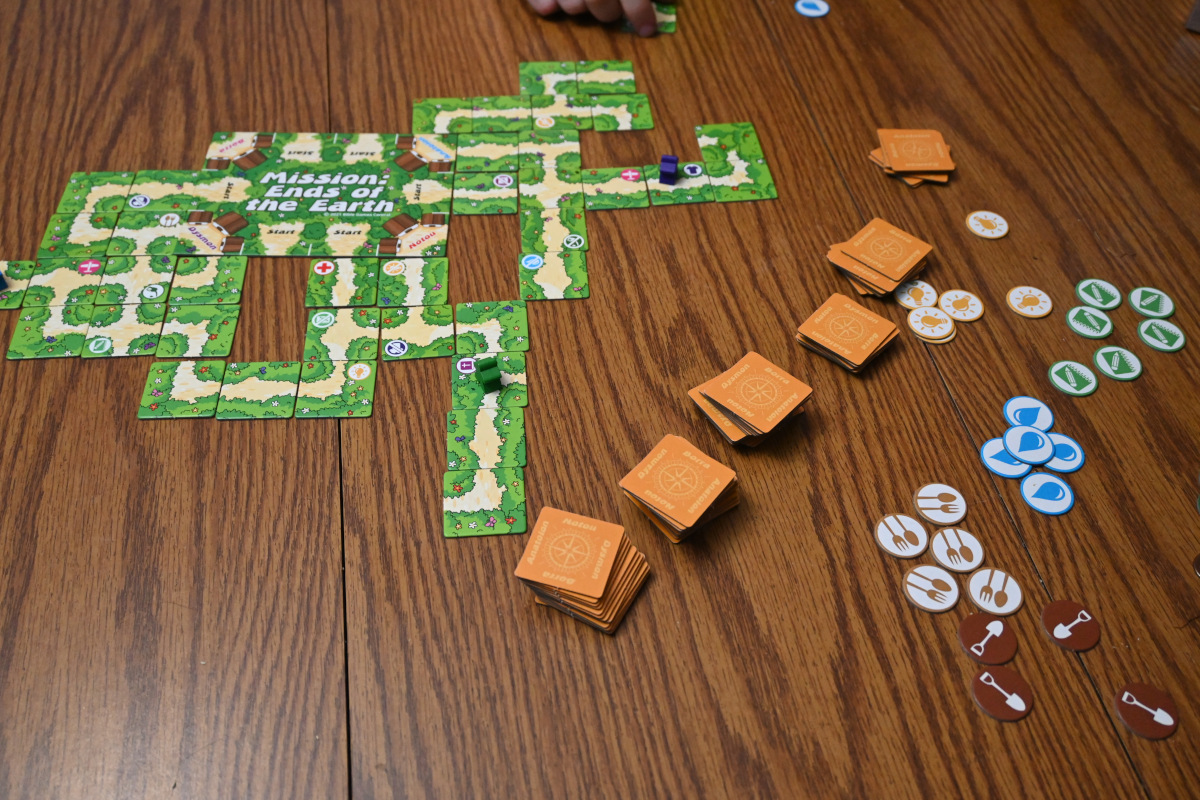 The first player to successfully bring all of the needed supplies to their town wins the game. The estimated game length on the box is thirty minutes of playing time, but I think ours went longer than that. First time players should factor in about ten minutes to go through the instructions and punch out all of the playing pieces. Between the playing pieces and box design, everything is high-quality and well thought out.
There's a good amount of strategy in this game and it's recommended for ages eight and up. Although it's only the second game I've played from Bible Games Central, it's my favorite so far. The asking price is $30 which is reasonable for a well-made and fun game like this one. Bible Games Central also offers free printable Christian games for kids, teens, and adults alike.