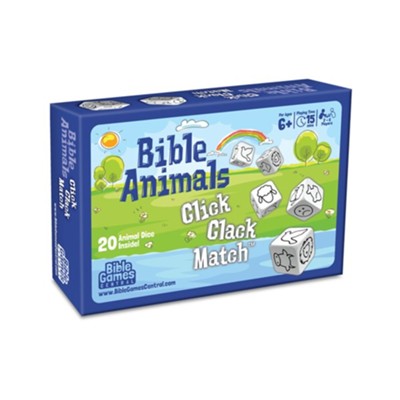 Game Info:
Bible Animals Click Clack Match
Developed by: Bible Games Central
MSRP: $19.95
Thank you Bible Games Central for sending us this game to review!
Bible Animals Click Clack Match is a dice-based game where your goal is to be the first person to reach fifty points.  Points are earned by matching the animals on the dice you rolled to one of three community cards.  The cards have differing numerical values, which are credited to the player who completes the card.   There is some strategy involved in not leaving a card "too easy" to be completed by the next player.  
On a player's turn, they have to roll five dice and if they get three sad faces, their turn will end.  If they can proceed, they can match the animals they rolled to one of three cards of their choosing.   If a card is finished, they'll add it to their pile, and replenish the community card with a fresh one.  
Highlights:
Strong Points: Easy to learn and play; good design/build quality
Weak Points: Vague Biblical references, but still fun!
Moral Warnings: None!
Bible Animals Click Clack Match comes with twenty dice and fifty-six playable cards.  The build quality of the components are nicely made.  On the six-sided dice, you'll see a cow, dove, fish, lion, sad face, and a sheep. While there are no direct references to the Bible in the game, each of these animals are referenced in the Bible and the instructions have some verses to share with the players.
Cow – In Genesis 41:1-43, Joseph interpreted the Pharaoh's dream about the skinny and fat cows indicating that a famine was imminent.  
Dove – During Jesus' baptism in the Jordan river, the Spirit of God came down in the form of a dove.  Matthew 3:13-17
Fish – Jesus fed a crowd of more than 5000 people with only five loaves of bread and two fish!  John 6:1-15
Lion – Daniel was thrown into the lion's den for continuing to worship God after King Darius issued a decree not to.  Read the whole story in Daniel 6.
Sheep – In Luke 15:1-7, Jesus told the parable about a shepherd who left his flock of 99 sheep to locate the one that wandered off.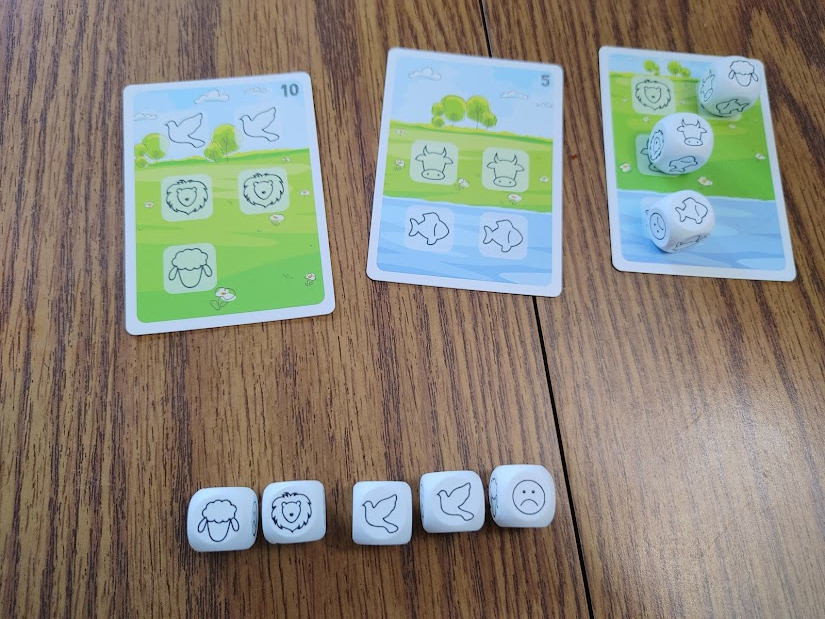 The recommend minimum age is six years old and that's a pretty good recommendation.  Bible Animals Click Clack Match is easy to learn and fun to play for adults and kids alike.  To get the game started, you need to have between two and six players.  The box states that matches last around fifteen minutes and that seems to be fairly accurate.  There's plenty of replay-ability so you may be spending more than fifteen minutes a session!
Bible Animals Click Clack Match is available on Bible Games Central's website for $19.95.  Bible Game Central also has numerous free offerings like print at home Bible trivia, Bible games, and Christmas themed games.  If you're looking for fun Christian-themed games for your family, Sunday school, or youth group, be sure to check out Bible Game Central's offerings.  I like how they have products sorted by age group.    While Bible Animals Click Clack Match can be enjoyed by anyone, I would think grade school children would appreciate it more than teenagers.