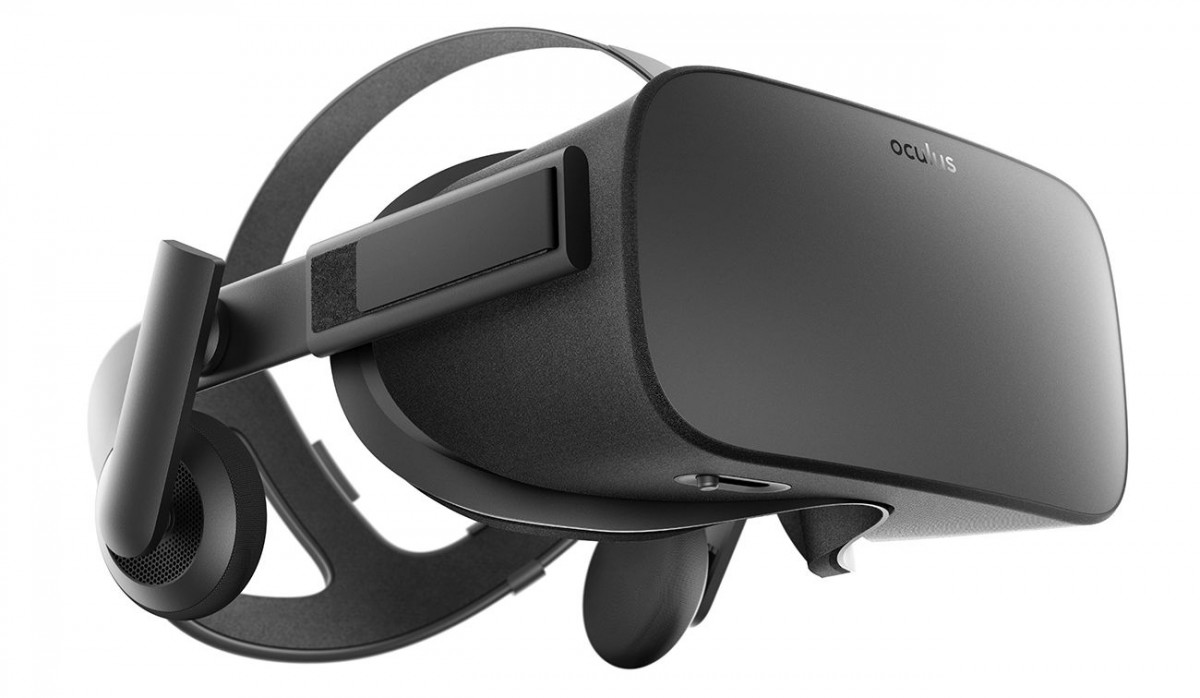 Hardware Info:
Oculus Rift
Developed by: Oculus VR 
Release Date: March 28, 2016
Price: $599.99
Oculus VR was founded in June of 2012 by Palmer Luckey and Brenden Iribe.  A couple of months later they launched a successful Kickstarter that raised nearly 2.5 million dollars.  Clearly there was a demand for virtual reality video games.   For $300 backers could get a developer kit that should have been available by December 2012. Backers did not receive their units until March 2013.  Even with Facebook's funding and acquisition in 2014, the launch of the consumer version (CV1) was rocky to say the least.
The biggest mystery of the March 28, 2016 launch date was the price.  The more than $350 ballpark price estimate from Palmer Lucky was nowhere near the final price tag of $599.  Besides needing a $1500 gaming machine, this price was just too much for many gamers looking forward to experiencing virtual reality.  
While the Rift's price is a couple of hundred dollars cheaper than the HTC Vive, it's a less complete package than its competitor.  The wireless hand controls and room scaling of the HTC Vive leave many of our guests as Vive fans after trying both systems.  I'm looking forward to Oculus' touch controls, but don't know their price or when they'll actually arrive.  Like many pre-order customers, my Oculus Rift shipment was significantly delayed and people were able to buy their Rifts at Best Buy months before my expected ship date.  I wound up cancelling my pre-order and picking up my Rift at Best Buy.  At least Oculus let me keep my Eve Valkyrie pre-order bonus after waiting a couple more weeks to even get the code.  After opening up a support ticket, it arrived.
Highlights:
Strong Points: Immersive virtual reality experience; comfortable if you don't wear glasses; integrated headphones; simple setup 
Weak Points: Pricey; released with placeholder controller
Anyone who has an Oculus account and the Oculus Home software installed will get a free copy of Lucky's Tale which is a cute 3D platformer game.  With the open source Revive software, HTC Vive owners are able to take advantage of this and other Oculus exclusive games.  Oculus retaliated by doing a headset check and Revive responded with removing the piracy checks altogether.  It didn't take long for Oculus to silently remove the headset checking code.
Valve has been great about sharing and contributing to the success of virtual reality.  Besides opening up their Steam Lab with Oculus users, they have also written drivers that allow the Razer Hydra controllers to act like their wireless controllers.  Since we've owned our Hydras long before they were selling for more than $300 on ebay, I've been able to enjoy Vive exclusive games like Audioshield while waiting for the touch controllers to arrive.  
Oculus has some great games available that work well with the bundled Xbox One controller.  Zen Studio's Pinball FX2 VR is a showcase title that I share with our visitors.  The immersion is great and you feel like you're standing in front of a real pinball machine.  Games are rated on the Oculus store as comfortable or intense.  The casual games like Kittpocalypse and Ocean Rift can be enjoyed while sitting down.  Intense games like The Climb are best experienced standing up.  Although The Climb was fun with the Xbox Controller, I can't wait to re-visit this title with the touch controls.  Since this game is not on Steam, I can't use the Hydra controllers with it.
If the controllers are as well designed as the headset, I'll be happy with them.  I just hope that they're not more than $200 because the Vive is a better package deal.  Not everyone can dedicate a whole room to VR, so if you're limited on space, the Rift is a good option.  Another benefit of the Rift is the ease of use and setup.  Instead of having to calibrate sensors, I just need to put on the headset and I'm ready to roll.
The headset fits like a baseball cap and is light and comfortable to wear.  If the headset is not properly seated, the 1080 X 1200 OLED display will be very blurry.  Even with the headset properly aligned, the objects front and center will be more clear than the ones on the side.  Fonts are harder to read than a regular monitor as well.  Another common complaint amongst Rift users are the "God rays".  Anytime there is a light font or object on a dark background you'll see rays of light creeping in from behind it.  While it's not show stopping, it is noticeable and annoying.  
The screen on the Oculus is bright, clear, and the games look amazing on it.  Even clearer than the Vive in some regards. The performance of the Rift depends on your gaming system and the video card powering it.  Pinball FX2 VR has managed to stutter a few times with my 290X video card when multiple balls came into play.  Unfortunately, there are no cameras on the headset so in order to see anything in front of you, you'll have to look through the nose gap or lift the headset up. The nose gap is both a blessing and a curse as light seeping in is noticeable in the games you're playing.  
Included in the packaging is a small flat head tool.  This tool can be used to remove the built in headphones if desired.  Quite frankly, I think they sound great and are super convenient to be attached to the headset.  Some audiophiles may disagree and may want to go through the hassle of using their headphones instead.   
While the Oculus Rift and HTC Vive experiences are both great, the favorite amongst our house guests has been the HTC Vive.  The interactive titles that take up a lot of space are fun and go above and beyond the immersive experience.  The Oculus Rift is still a good product and I'm glad that I own it since we don't have room in our house for 2 Vives.  I just recognize a clear winner when I see one.  I hope that virtual reality takes off and if Valve keeps on doing what they have been for the VR community, I'm sure it will.  I also hope that Oculus has truly learned from its mistakes and continues to be a player in the VR market as well.