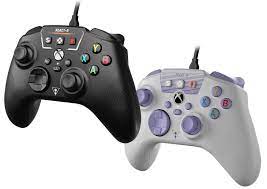 Game Info:
Turtle Beach React-R Controller
Black (or White/Purple) controller fully compatible with Xbox Series X|S, Xbox One, and Windows 10
8-foot long USB-C cable included
Dual rumble motors in the handles (impulse trigger rumble NOT supported)
Additional Xbox Series X|S Share button present
Two additional rear paddles which are programmable to any button
3.5mm stereo audio jack for headphones and headsets
Volume and chat functions available to adjust volumes
SuperHuman Hearing mode available
Chat/Audio mix volume level adjustable on Xbox
Mute button for microphone
MSRP: $39.99
(Amazon Affiliate Link)
Thank you Turtle Beach for sending us this controller to review!

Last year, I reviewed Turtle Beach's Recon wired controller, their first Xbox Series X|S controller, and I've been thrilled with it. While I rarely use the audio features, the comfort and compatibility with Windows (and Linux after a firmware update!) has been fantastic for my day-to-day gaming. I particularly like the ergonomics and textured bumps on the analog sticks and bumpers/triggers. About a year later, they release a follow-up at a lower price, and it includes almost everything that made the Recon great, and at a significantly lower price. If you want a spoiler, I'll give it to you now: I'm impressed!

First, I'll start with the ergonomics. A 'standard' Xbox One controller is all hard plastics, with a gentle texture and small bumps on the back. While the Recon adds softer materials in places, the React-R just uses breathable hard plastic patterns in their place, that works far better than you'd expect. The shape is great, the triggers and buttons are in some ways better than the original, and the D-Pad is plenty comfortable, as it's based on the Xbox Series controllers. I've used this for several weeks, and I've not wanted to grab anything else, except for that one downside, the missing Impulse trigger rumble. Otherwise, it's operated flawlessly.
I love how the triggers on this and the Recon are better than the original Xbox controllers. For whatever reason, each Xbox controller gets something about the bumpers or triggers wrong each time. On the Xbox One, they are slippery, but otherwise shaped well, if a bit small. On the Series, they are nice and textured, but a bit too small for my fingers. (The Xbox 360 controllers' triggers and bumpers are fine, but there are other issues that prevent it from being the perfect controller.) These React-R bumpers and triggers might just have the perfect feel, even if the impulse trigger rumble motors aren't present. Like the Recon before this, the triggers are easily their best attribute.
Highlights:
Strong Points: Wonderful price/performance value; textured grips and bumpers feel great in use; D-Pad, buttons, and analog sticks work wonderfully; includes all standard Xbox Series X|S controller features except for impulse trigger rumble and wireless support; rear extra button paddles super easy to program; audio jack and easy to use volume functions are great; mic mute LED is a nice touch
Weak Points: Impulse trigger rumble is not present (though the rumble motors do rumble on each side); controller works in Linux but no audio (yet), though this is not an advertised feature

For those who don't know, older Xbox 360 controllers just had 'standard' rumble; that is to say rumble that shakes the main body of the controller. The Xbox One introduced the Impulse triggers, which is a feature where the triggers themselves can rumble based on what's happening in the game. It's not nearly as fancy as what the DualSense controller on the PS5 can handle, but it's a nice touch. That feature is missing on the React-R, but in its place the two rumble motors (one on each side of the main body) react based on what the trigger would do. It's clearly not the same, but it's better than nothing.

I've been playing several kinds of games while reviewing this controller, from intense arcade titles to racing games to relaxing RPGs. In each and every case, I have had absolutely no complaints about the performance of this controller. No drift or anything like that has been noticeable during my time with it.

The 3.5mm audio jack on the bottom works great, and has a reasonable volume range; probably plenty for most 'normal' headsets. I wouldn't expect it to drive anything too difficult, but if you have that kind of headphone, I think you know if you need an amp with it. Most gaming headsets or 'regular' headphones do not.


It has the standard flat audio preset, and the optional 'Superhuman Hearing' mode. What this does is massively boost the upper midrange, so that any sound effects and footsteps come through clearly. It's not really a mode that I prefer, but many like having it available. It's one of Turtle Beach's signature audio modes, so it's pretty much expected on anything with an amp or DSP from them.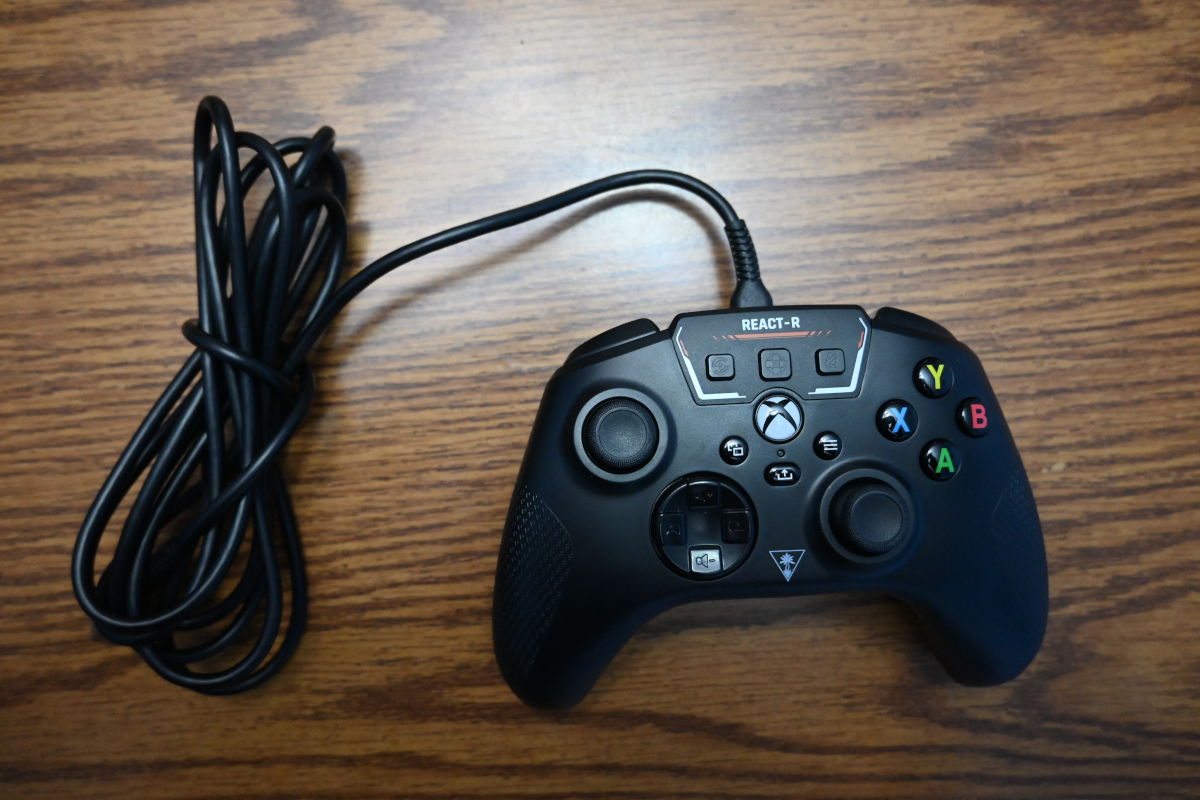 The back button programming, along with the mute and volume features, are refreshingly easy to access. On the Recon, there is a bit of a complicated menu system where you navigate through a bunch of LEDs. Here, you press the left button to engage or disengage Superhuman Hearing; that's it. The right button mutes your microphone. That's it! The center button has two functions: press and hold it to operate the volume and chat mix features on the D-Pad. Press it twice and then the rear paddle button you wish to map a function to, then press the new button. That's it! It stores the new command in the controller, so it's trivial to change the programming on the fly for a new game. I really love how easy this is to do, and prefer its simple functionality over the more complex Recon, especially since I don't really use the EQ settings or the Pro-Aim mode which that controller offers.

While this is not a supported configuration, I found that the controller aspect of the React-R works perfectly on Linux; the headset jack does not yet. Again, this is not Turtle Beach's fault as they never promised Linux support, but hopefully the Open Source community can get this working soon!

While it's easy to say that other controllers are better than the React-R, it's a tougher sell to say that those other controllers are a better value than this React-R. In many ways, it focuses on the basics and does them really well, and throws a couple of handy extras on top like the rear macro buttons. With a focus on ergonomics and functionality, this controller does a whole lot right. While the lack of Impulse trigger support is lamentable, for the low price being offered here, it's a very reasonable compromise. If you're in the market for a wired controller on a budget for your Xbox One/Series or your gaming PC, I highly recommend you take a good look at the Turtle Beach React-R. It offers a very strong value proposition!