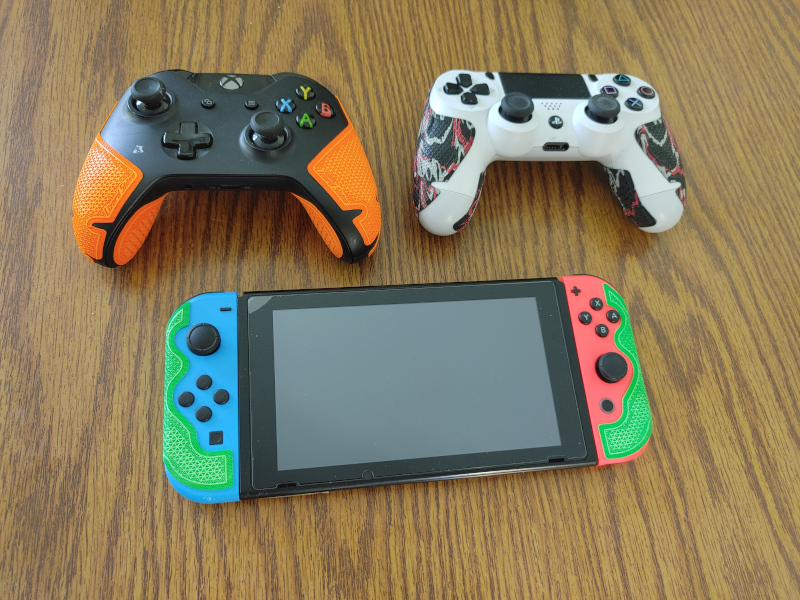 Thank you Lizard Skins for sending us review samples!
Lizard Skins was founded in 1993 and their initial focus was making handlebar grips and long finger gloves for use in mountain biking. Since then, they have branched off into baseball, hockey, lacrosse and most recently, video game accessory grips. We were recently blessed with the opportunity to review PS4, Switch, and Xbox One controller grips. We were also sent a 4" x 6" cut to fit sheet which can be used to add grips to your mouse or anything else you want a better grip on.
The controller grips are pre-cut and are relatively easy to install. Each package includes an alcohol wipe packet and illustrated instructions. The cut to fit sheet includes a grid transfer sheet so you can trace and cut the grip as needed.
When applying the grips you'll have to pay close attention to making sure that air bubbles are not being formed in the process. The product is pretty forgiving and lets you re-align it a few times without losing its stickiness. During my unboxing video I realized that I placed a grip on the wrong side of the controller and was able to remove and re-apply it without any issues. Naturally, I edited that mistake out of the video.
Each grip style is offered in multiple camo and color options. The camo options include black (and white), phantom (grayish), and wild fire (black, red, and white). Solid colors include black, blue, red, green, orange, yellow, and teal. The PS4 and Xbox One controller grips are similarly priced at $16.99 for solid colors and $17.99 for camo. The Joy-Con grips are $11.99 for solid colors and $12.99 for camo.
Though I found the Switch Joy-Con grips nice, the Xbox/PS4 grips are pretty much essential. I was recently playing on a non-gripped controller and longed for the increased grip and sweat absorption of our Lizard Skins equipped one. I look forward to installing more grips and equipping our next-generation controllers with them as soon as they're available.

(Amazon Affiliate Link)