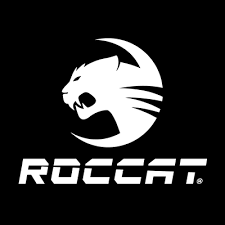 Hardware Info:
ROCCAT Vulcan II Max Optical RGB Gaming Keyboard
Specifications:
Mechanical Keyboard with ROCCAT's custom Titan II Optical Switches (Linear)
Linear and Tactile variants available; Linear reviewed
Full keyboard with dedicated media keys and volume knob
1.4mm actuation depth, 3.6mm travel distance (Linear) (1.8mm on Tactile version)
100 Million Keystroke Lifetime
1000Hz Polling Rate
32-bit ARM Cortex-M3 based processor
4MB onboard memory with five onboard profiles; software not required for most functions once configured
RGB LED backlit keys, with dual-LED Smart Keys, fully customizable with ROCCAT Swarm software
Profile, Macro, and other keys available via Fn key
Game mode enabled macro keys and disables the Windows key
ROCCAT Easy-Shift technology
Detachable Translucent Soft Rubber Palm Rest
1.8m braided 2x USB-A 2.0 cable
Two-Year Warranty

MSRP: $229.99
(Amazon Affiliate Link)
Thank you Turtle Beach/ROCCAT for sending us this keyboard for review!
Since my very first gaming keyboard review, the Cherry MX Board 6.0, by pure coincidence I've been going back and forth between Brown and Red switch types for my main keyboard.  My first mechanical was a Logitech G710+ with Browns, then the Cherry with Reds, then a Brown Gamdias (I went back to the Cherry after reviewing that), then to the excellent ROCCAT Vulcan Pro with Brown optical switches.  And now, like clockwork, it must have been time - this reviewed Vulcan II Max is the Titan II Optical Switch in the Linear version, which is Red-like.  
As much as I love my Vulcan Pro, it does have a dated design, and the wrist rest leaves something to be desired; I ended up purchasing a third-party one.  This Vulcan II Max is light-years ahead when it comes to looks, finish, and wrist rest.  
Like it's much smaller sibling the Vulcan II Mini has a gorgeous-looking aluminum anodized top plate, and the combination of gray and black looks great.  They also finally got media keys right!  They are dedicated, along with a sharp-looking (and feeling!) volume wheel that you can press to mute.  Compared to the Vulcan Pro, it's a head-and-shoulders improvement in look, feel, and in most cases, functionality as well.  
The Titan II Optical switches feel great, though I wish I had the opportunity to compare the new vs. the old Tactile switches; you can't win 'em all!  But if you like Linear switches, I doubt these will be a disappointment.  They are the same as those used on the Vulcan II Mini.  They have a nice bounce, and have just enough resistance to keep mistakes to a minimum, while still being light to the touch.  They respond quickly, and are fun to type on.  I like aspects of both the older Titan Optical Tactile switches and these Linears; I'll likely get used to these just fine even if I might slightly prefer the Tactile ones.  Like with my previous Cherry keyboard with Red switches, I may add some O-Rings to soften bottoming them out, though.  Compared to the previous generation, these use a bit taller of a physical switch casing, so that they are compatible with third-party keycaps.  (They are no longer low profile.)  I tested them with a white PBT set that I have and while I didn't leave them on (they don't look great on this board) they do feel nice and operate as expected.  The stock keycaps are ABS and are quite thick and sturdy, despite not having any sides to them.  Of course this side-free approach makes the RGB LEDs really pop.
If you like RGB LED lighting, you are in for quite a treat.  With the transparent switches sitting on top of an aluminum plate, they are easily visible.  And the keycaps emphasize that even more.  If that wasn't enough, many keys have a second LED on them, which is used to highlight their secondary functions.  For example, Caps Lock/Num Lock/Scroll Lock have a second LED, and pressing those activates that light.  Others, like the F-key row, all have special functions.  These include profiles, microphone mute, macro recording, and other special functions that Swarm can expose.  ROCCAT's AIMO intelligent lighting, wave, breathing, heartbeat, snake, fade, ripple, and other lighting modes are also available.
Many features including LED lighting, macros, and even more advanced features like Easy-Shift and Game Mode key reassignments are all stored onboard.  What I mean by onboard is that the keyboard has 4MB of onboard storage that keeps all of this extra data on it, so you don't require ROCCAT's Swarm software running in order to use most of the features of your keyboard.  This is especially great for Linux and Mac users!  (I dual boot my main PC with Windows and Linux, and my work PC is a Mac.  I switch between them with a KVM switch during working hours, so this feature is really important to me.)  With that said, several features that are new to this Vulcan II Max are Windows-specific and do require Swarm to be running.
Highlights:
Strong Points: Titan II Optical Linear switches feel excellent, with nice bounce; ABS keycaps feel great, and can be replaced with any standard keycap; looks and feels very premium; built-in volume wheel and dedicated media keys; onboard memory stores lighting, macro, and game mode keys, so you don't need software running and they work perfectly on Linux/macOS once configured in Windows; aluminum top plate leads to a very stable feel and it's easy to clean
Weak Points: Profile LED color is limited to preselected colors; some setting combinations require Swarm to be running; wrist rest can be staticky, attracting dust, hairs, etc.; wrist rest can fall out easily; non-removable 2x USB plug connector
These new features can be quite handy, but some may have a limited audience.  For example, if you are not a streamer on Twitch, you may not find much value in the Live Streaming button (Fn+F10).  The way it's supposed to work is that the F10 key's second LED will breath in purple (or your assigned color) while live streaming, and you can start/stop the stream with Fn+F10 if you wish.  Sadly, it only works with Twitch Studio as of this writing (not OBS, which would make it useful for me).  Other features include Discord integration (both Instant Messages and Voice/Video calls get buttons), and the handy microphone mute (along with flashing red F6 LED).  These features are no doubt neat, but they, again, require Swarm to be running, and Twitch/Discord integration to be setup, and the Fn features otherwise do nothing in other operating systems.  While that is likely not surprising, on the older Vulcan Pro, the Computer/Browser/Mail/Calculator Fn keys were embedded as unique scan codes that I was able to configure my Linux desktop to use; these are not usable in that way here.
Other neat Swarm-only features are LED status lights for gamers who buy into the ROCCAT ecosystem, along with other system status LEDs.  For example, the F11 and F12 keys also double as battery status lights for your ROCCAT wireless mouse and headset, if you have one.  (I have said hardware and was able to confirm that it works.)  It's neat if you are in Windows and use their products.  If you don't like it, you can disable the LED, but it's buried in the 'Smart Key Manager' area.  Same with the system monitoring feature.  You can have an LED change colors if the CPU, GPU, or RAM usage goes beyond a certain point.  I was able to confirm that the CPU and GPU monitors work, though I didn't manage to fill up my 32GB of RAM enough to trigger the light change (not enough Chrome tabs, I guess).  
These features are neat, and I understand why they did this; they have to compete in a market with others who offer features like these as well.  It also makes sense on why they don't work on other OSs; some application would have to interface with the keyboard in order to keep it up to date with what's happening.  So while not surprising, if you want to take advantage of these features, be sure to run ROCCAT Swarm on system startup.
Outside of the new software features, we also have the new wrist rest.  It must be said that in my experience with ROCCAT keyboards, none of their wrist rests were really worth using; they typically used hard plastics that were just not comfortable for one's wrists.  Not so here; this one is a soft, pliable, translucent rubber.  This kind of rubber feels really nice on your skin, and there are special LED channels on the front of the keyboard designed to project that light down the wrist rest.  It does a really good job of offering a bright, fading light down the rest; depending on the color, it may end up lighting the whole thing, with white having a bit of a pinkish tint compared to the keys.  Most colors don't have that problem, but red is noticeably brighter than blue, which likely contributes to that.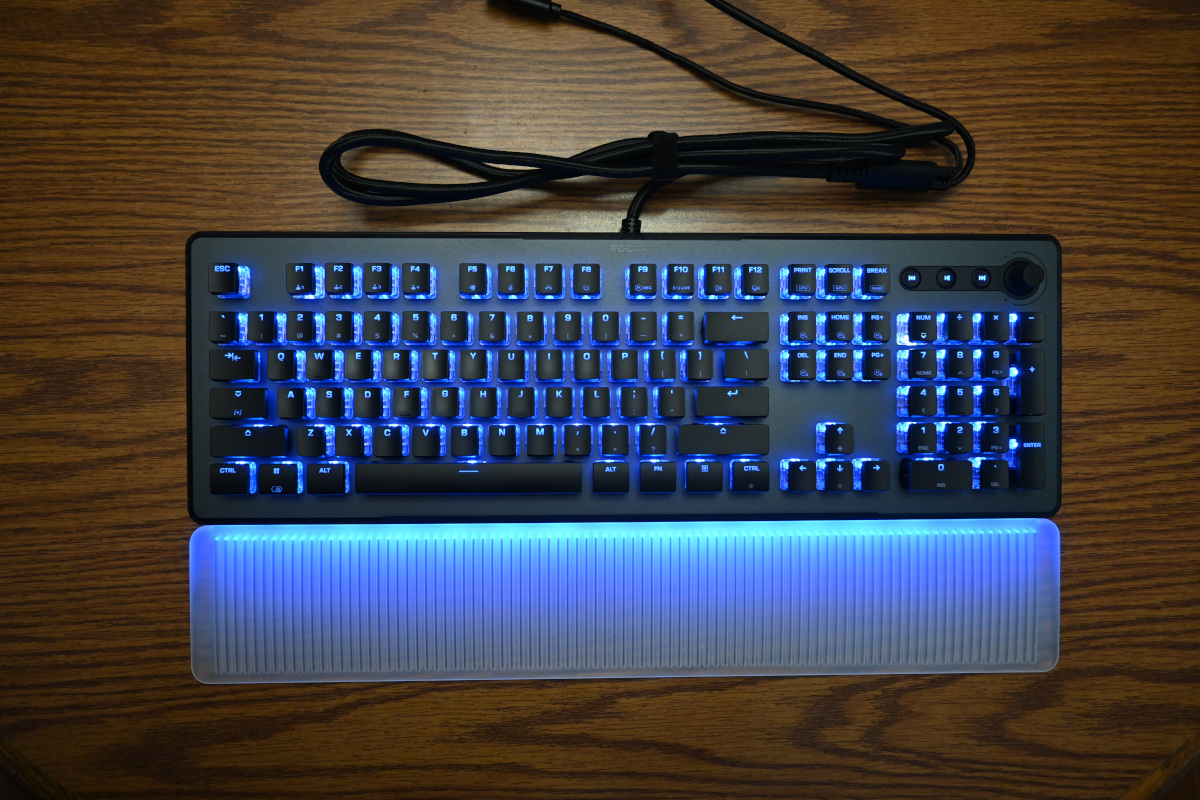 Despite the mismatched colors in some cases, the wrist rest is overall very comfortable to use and a big improvement over the hard plastics used before.  But it does feel flimsy, since it has no strong plastic frame.  It fits into the LED slots by pressure, and it's not a tight fit; don't pull too hard on the rest unless you're trying to remove it.  Also, and this might be the biggest one: this thing is a static magnet.  It doesn't take long for it to start feeling staticky, and as a result it attracts every piece of dust or hair in the vicinity.  Cat hair?  Yup.  Random bits of dust?  You got it.  Food crumbs?  Maybe.  Either way, you may need to clean it off on occasion, or keep a damp towel handy if touching dust bugs you as much as it does me.
My experience with this keyboard over the last two weeks has been quite positive, and I really like it a lot.  But there was one issue that took me several days messing with Swarm to figure out.  As I mentioned before, I use this keyboard for work and play, and Swarm doesn't run on my work machine.  I like to setup my keyboard to be single, simple colors; I typically switch between blue and green (and occasionally red) based on how I'm feeling.  Since there are five profiles, I setup white and yellow also, in case I'm in the mood.  However, I tried to setup a custom color profile, where the wrist rest lights were set to a lower brightness level than the keys themselves.  This works - as long as Swarm is running.  Once you exit Swarm, all of the lighting defaults to the rainbow Wave pattern, which is definitely not what I wanted!  I ended up setting it to my preferred blue, without lowering the wrist rest brightness, and it saved properly to the keyboard.  Just something to note: if you get too creative with the LED setting, it might not work as expected without Swarm.  I do hope that this is considered a bug that they fix someday!
The ROCCAT Vulcan II Max is a very good-looking keyboard that works swimmingly, especially if you have simple needs like I do.  It offers an insane amount of customization within Swarm, for macros, alternate key mappings via Easy-Shift and Game Mode, and much more.  You can easily get lost in customizing this thing if that's what you like.  And if you're a big fan of RGB LEDs, this might be one of the prettiest keyboards out there, with that wrist rest coming along for the ride.  I do wish that the USB cord was removable, though it must be said that this connector is heavily reinforced and unlikely to fail.  The second connector plug on the USB cable seems optional, since I was able to use the keyboard without plugging it in, but if you have trouble, expect to use two ports on your PC.  It's also not exactly cheap, as this premium keyboard commands an equally premium price.  But I can say that it's a big step up from the previous flagship Vulcan Pro in fit and finish - and definitely worth a close look if you are looking for a gorgeous-looking optical mechanical keyboard.