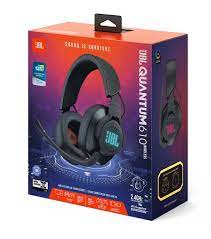 Hardware Info:
JBL Quantum 610 Wireless Gaming Headset
Specifications:
Over the ear headphones
50mm drivers
Frequency response: 20Hz-20,000Hz
Impedence: 32 Ohms
Battery: 3.7V/1000mHh
Connectivity: 3.5mm audio jack, and Wireless via 2.4 GHz USB dongle (Supports PS5, PS4 Pro, PS4, PC, Nintendo Switch, Windows, and more)
Microphone type: built-in flip-out microphone
Microphone Frequency response: 100Hz - 10kHz
Synthetic leather ear pads with foam cushioning
Volume and chat/game balance wheels
USB-C charging port
Expected battery life: 40 hours
Included cloth bag, USB-A to USB-C charging cable, and 3.5mm audio cable with volume wheel and microphone mute slider
Price: $149.99
(Amazon Affiliate Link)
Thank you Amazon Vine for offering us this item to review!
JBL, and their parent company Harman, have been around the audio block, so to speak. Founded by James B. Lansing way back in 1946, JBL has been doing audio for over 75 years. So when I saw that they made gaming headsets and had one on offer for review via the Amazon Vine program, I jumped at the chance to see how this long-respected company approached gaming headsets.
Long known for their loudspeakers, JBL and parent company Harman are also known for their science-based approaches to headphone and speaker tuning. In the headphone space in particular, they are well known for the famous 'Harman Target Curve', which is a frequency response target for headphone makers that, based on scientific listening tests and polling data, sounds the best to the largest number of people. Their research also points out that older folks often prefer more energy in the higher frequencies (to compensate for age-related hearing loss, in many cases), and younger folks may prefer more bass than their normal target. But overall, these guidelines have revolutionized headphone design since Harman published the results of their study in 2013.
So, do these headphones target the Harman curve? I wish I had the measuring equipment to be sure, but I don't believe they do. From what I can tell, they have boosted bass, and slightly recessed (but not obnoxiously so) treble. After reading a bit about the Harman target curve research, perhaps they aim for the younger, bass-boosted crowd - or they just feel that gamers in general prefer more bass because explosions and such can feel more impactful if there is more bass. The good news is that this headset responds really well to equalization, and it sounds great to these aging ears using the 'Bass Cut' Equalizer profile in the JBL QuantumENGINE software for Windows.
Highlights:
Strong Points: JBL tuned audio means strong bass and good detail; very comfortable fit and feel; good build quality; included cables look and feel great; microphone sounds good; great wireless range; included 3.5mm audio plug is sadly far too rare, and greatly appreciated; software has lots of features for Windows
Weak Points: A tad more detail would be nice; included cloth bag feels thin and won't last long; slight delay in volume adjustment on the headset itself; doesn't work wirelessly in Linux (yet?)
Though honestly, even with the default 'Flat' setting, which also sounds basically the same as connecting wired to your sound source, these still sound pretty good. Whether it's listening to music or playing a game, no aspect of the sound is obviously missing, it's just that some is boosted a bit more than my preferences. They are also reasonably detailed as well.

The microphone also works well, though it seems to pick up the background noise in my room, as there was a fair amount of background in my test recording, just like my room has. I have an air filter and a tower PC running, and you can definitely hear that white noise in the background while testing this microphone. Otherwise it sounds good, and my voice is plenty clear.

While they do get warm after a while with their leather-like earcups, they are not only very soft to the touch, but are extremely plush. As a result, wearing them for long periods really is no trouble at all, outside of the occasional cool-off break. They also feel comfortable on the top of the head, too. I will say that to fit my large noggin I had to stretch them to their maximum adjustable size, but after doing so they fit me great.

Build quality wise, there are lots of small touches that makes them feel like a high-quality product. The hard plastic on top of the head strap feel strong, but if you sat on it, it would be likely to snap. Outside of that, I feel like the earpads, the emblazoned L and R icons in large letters inside of the earcups, the JBL logo's exclamation point that was worked into the design inside the cup and cables, and the tasteful accents of orange all makes it look and feel like a well-thought out product. While I probably wouldn't want some of the accents if I was purchasing an audiophile pair of headphones, on a gaming headset, they look and feel nice.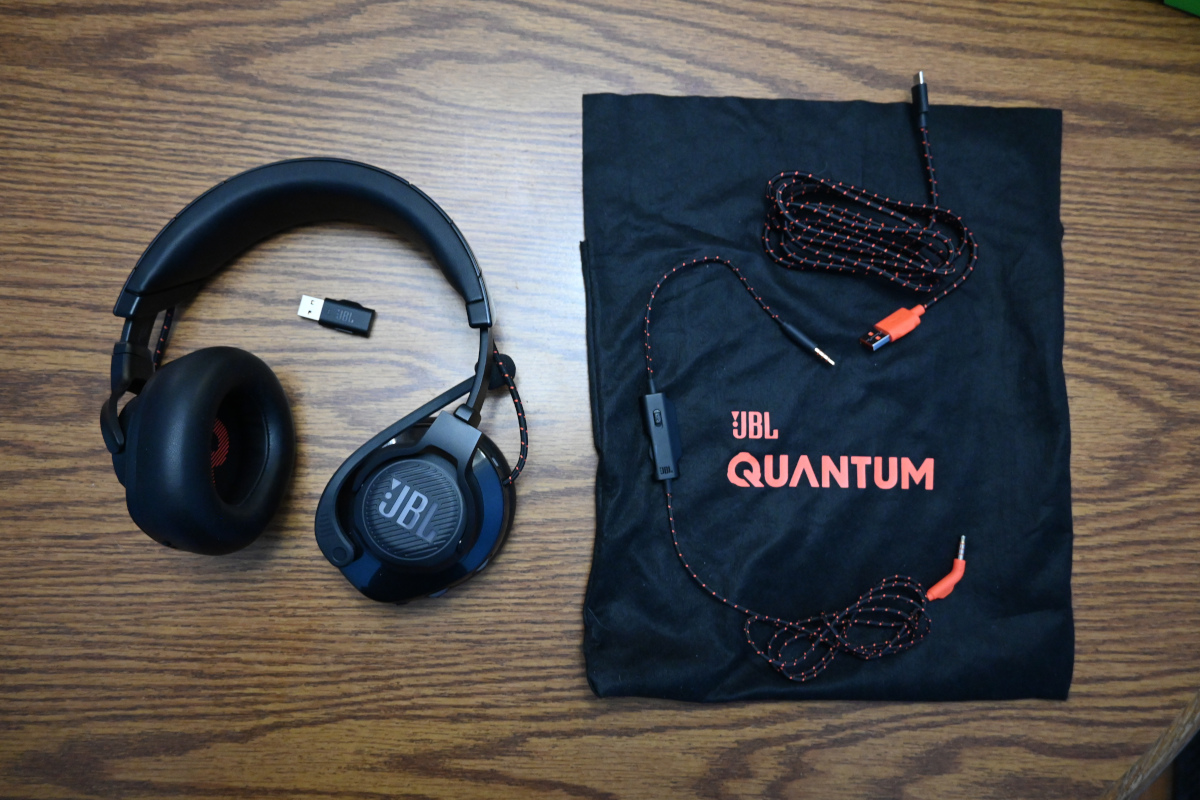 There is also a JBL logo emblazoned on the sides of each earcup, and if you are connecting them to your PC or console in wireless mode, you can set the logos to one of four RGB LED profiles. While I found the customization offered a bit lacking, and I prefer to have the lights off anyway as battery life is more important to me. So I would say that these should satisfy most casual RGB lovers, while falling short of those who want to be able to customize their glowing with more precision. Setting up the lighting requires running the JBL QuantumENGINE software in Windows. Thankfully, it seemed to remember my 'lighting off' setting while testing them with other devices.

Installing QuantumENGINE is also necessary to use the spatial sound features on offer. It's compatible with Windows Sonic and Dolby Atmos and DTS Headphone:X, if you already purchased those licenses from the Microsoft Store. But if not, these also include their own spatial sound engines. The first is DTS Headphone:X v2.0, and the second is JBL's own QuantumSURROUND. While I found their effects reasonably convincing, I'm generally not a huge fan of surround sound emulation and would likely rely on the game's natural audio most of the time.

While testing them, I found that the wireless range is truly excellent. I could walk almost anywhere in my house and it would get signal there. Only in the corners, or behind thick concrete, did it drop signal in my home. This is close to the best result I have seen so far, with only the Turtle Beach 600 Gen 2 MAX meeting or exceeding these results.

I was thrilled with their performance while connected via a 3.5mm audio cable. It also supports the microphone when connected this way. I used it for work, phone calls (my phone still has a 3.5mm jack), and various other gaming devices including the Steam Deck with wonderful results. I am really disappointed that lots of gaming headset manufacturers have gotten away from providing a 3.5mm connection options on their more recent headsets. I wish they would take a note from JBL here and continue to treat classic analog connections as first-class citizens. This was especially true for me, since the headset's wireless connection didn't work in Linux, while it works perfectly via an analog connection to my Linux-based desktop or laptop (or Steam Deck, for that matter). That being the case, I have probably used this headset more plugged in than not, and I haven't charged the headset at all since the first time, and the battery's still going strong at 50%.

The JBL Quantum 610 Wireless Gaming is a really solid gaming headset that gets the basics right, and the comfort even more right. The sound is a bit more bass-heavy than I prefer, but not so much that I couldn't enjoy them. It also helps that with some devices, a bassier profile may help; it's well known in audio circles that bass is perceived to get louder at a different rate than the rest of the audio spectrum, so if you listen at a lower volume, a bass boost is welcome. I feel like JBL has made an overall excellent product, though it has stiff competition in a very competitive market. I'm glad I got to test this one though, as it's a solid choice that a lot of people will really appreciate.