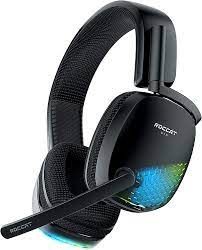 Hardware Info:
ROCCAT Syn Pro Air Wireless 3D Audio RGB Gaming Headset 
Specifications:
Over the ear headphones
50mm Nanoclear drivers with Neodymium magnets
Frequency response: 20Hz-20,000Hz
Connectivity: 2.4GHz Stellar Wireless (PC, Nintendo Switch, and more via USB dongle)
Wireless range: 30ft
Microphone type: removable microphone, with flip-up mute
Memory foam ProSpecs fabric ear pads with foam cushioning
Chat and volume wheels
Power buttons
USB-C charging port
Expected battery life: 24 hours
Rapid charging; 15-minutes of charge offers 5 hours of battery life
Glasses-friendly design
Immersive 3D audio via the new ROCCAT Neon software
AIMO-compatible RGB fully controllable lighting
Includes approximately 5 foot long USB-C fabric covered charging cable
2-year manufacturer warranty
Price: $149.99
(Amazon Affiliate Link)
Thank you ROCCAT/Turtle Beach for sending us this headset to review!
I have been really fortunate to be able to review three Turtle Beach and now two ROCCAT headsets since last fall, and I have gotten a really good feel for what they offer as a company. While I was skeptical at first, I have come to realize that their products are very popular for a reason: they sound great, and offer compelling functionality that gamers want. And their higher-end models sound legitimately good. This latest ROCCAT headset, the Syn Pro Air, is their newest flagship model, and is above the ELO 7.1 Air that I previously reviewed here, that used to be their top headset. As I will soon explain, this one is clearly full of Turtle Beach's DNA - and sounds better than the ELO 7.1 Air, even if that model's value can't be beat.
I have a little confession to make: I tend to open up my headphones to see how they tick, as I am curious. I've even been known to modify headphones on occasion, hoping to tweak them to my liking in some way. So, I have opened each of the Turtle Beach headsets, as well as the ROCCAT Elo 7.1 Air, in order to determine what makes them sound the way they do. But I didn't need to open these up, though I later did to confirm my suspicions. Why? Because I already know why they sound this way from my previous experiences. The ROCCAT Elo line uses a more traditional driver arrangement, whereas this one's configuration directly uses Turtle Beach's unique approach - something I have not seen in any other headphone or headset.
For closed headphones (ones where the sound doesn't leak out because the ear cup is sealed), the vast majority will use as much of the internal volume of the ear cup as possible in order to take advantage of the space inside, as both a tuning mechanism (often to enhance bass), and to create a more spacious sound. In contrast, Turtle Beach's more recent products use a small but highly tuned space around the driver that is entirely enclosed (with vents as needed), with electronics, wiring, and battery being in the otherwise unused area behind that sealed chamber. The result of this difference is that the audio presentation is very in your face - it presents a 'wall of sound' effect, and most details are clearly discernible. It also means that any sound wave reflections are either immediate or minimized (that truly secret sauce, what is inside the small driver cavity, I have not attempted to open - it might do permanent damage). Back wave reflections, if timed incorrectly, can really muddy up details, so their approach is fascinating. It also creates a somewhat 'in your head' effect, but it is not at all objectionable, just different. 
So, to more directly compare the sound of this Syn Pro Air headset with the ELO 7.1 Air, I would say that the soundstage of the ELO is a bit wider, but the sound signature is overall more bassy and less detailed. This latest headset has Turtle Beach's house sound, so if you have heard a Stealth 600 Gen 2 or the Stealth 700 Gen 2, you have a pretty good idea what to expect. Turtle Beach calls their flagship drivers, which they previously used in their Stealth 700 Gen 2, their 'Nanoclear' drivers. When comparing the Syn Pro Air and 700 Gen 2 directly, the familial relationship is fairly obvious. They have a fairly neutral presentation, with tons of detail, and a less 'open' soundstage. With that said, positional cues, like being able to tell if a sound comes from the left or the right, is clearly discernible. While writing this review I was listening to Led Zeppelin's 'Whole Lotta Love' by pure chance (gotta love shuffle!) and the way the sound zooms around your head at about 3 minutes in sounds great.
In order to make up for the lack of space behind the driver, this model has plenty of space in front of the driver, with uniquely deep ear pads. While I wouldn't say they are the deepest pads ever, they use an unusual design that props up the pads using a plastic bracket, and then houses thick padding on top of that. So no matter how much you squish them, your ear won't touch the driver. It's an interesting design, but it does mean that these ear pads are pretty much not swappable with third party ones, so let's hope ROCCAT makes replacements available in the future.
Highlights:
Strong Points: Clear, balanced sound that is quite impressive; very comfortable fit that you can wear for hours; microphone works great, and I really like the flip-up mute; volume and mic volume wheels feel very sturdy and work great; folds flat easily; very light; seems fairly sturdy; 3D surround modes work reasonably well
Weak Points: Software and firmware is rather young, and unfortunately is somewhat buggy; power button is too easy to accidentally press, and I wish it had another function like it does on the other ROCCAT and Turtle Beach headsets; my (fairly large) head is the maximum size these headphones can support, while previous models could sustain larger noggins; no easy place to put the USB transmitter
Thankfully, they are quite comfortable in general use, as they are covered in a deep-stitch fabric that breathes really well. While some may find them a bit scratchy, I would say that these will likely improve in comfort over time as they break in, and they feel like they should be quite durable. They use the same fabric and memory foam on the top of the headband, and as a result, they cushion on your head just right - and really do not put a lot of pressure in any one particular spot. For comfort, these really are quite excellent, and while some other headphones may have better pads or a better headband, these are one of the most comfortable headsets I've used as a whole package. You can absolutely use these for 5+ hours at a time with very little fatigue; I know, because I have used them during a long work day, and used them some more in the evening with very little irritation.
As for build quality, they are all visibly plastic and fabric, with some internal aluminum for the yokes according to the technical spec list. I am not about to disassemble the headband, so I have to take their word for it, but overall? I am generally impressed with how durable they feel. There is no way to be sure how they will stand up to years of use, but I think that unless you sit on them, they should last quite some time. There is definitely some twist if you do so - the headband will flex substantially if you twist it. If you pull it apart or push it together, it will also flex in those directions. The thing is, being ultra sturdy is no guarantee that they will last longer; if they are too stiff, they can become brittle, and break easily from impacts. So I would say that, given the design, there are no obvious weak points where I would expect them to break. And given how light they are, I think they did a great job on this.
Other subtle design cues are also excellent. For example, the volume and chat volume (also known as sidetone - where you can hear yourself talk) wheels are finally on different sides of the headset. This was honestly long overdue! Now you always know that the left volume wheel is volume, and you won't hit the wrong one on accident. These wheels also mechanically feel excellent - better than most headsets I've used. The power button is large and easy to press (though also easy to turn off on accident). The USB-C charging port works as you'd expect, and I'm really glad to see the slow death of the USB micro ports. I especially like the flip up/down microphone; it's so convenient to be able to quickly mute yourself when you want to grab a bite to eat something during a game!
So, they sound great, are super comfortable, and have a perfectly positioned microphone that sounds great. What else is there to say? Unfortunately, I do have some things that I hope they can improve. I actually delayed writing this review because of some of these issues; unfortunately they are not all gone after release, so here we are.
First, it must be said that the Neon software that ROCCAT is moving towards (away from their older and more stable Swarm suite) definitely looks better than Swarm, but it's nowhere near as stable. It is currently in version v0.7.10-beta, and it shows. Sometimes the software won't detect the headset (yet it works in Windows), or the volume adjustment, via wheel or software, will just stop functioning if Neon is left open for a while. It will also forget that I turned the lighting off; I prefer longer battery over pretty lights, so if I see the headset's lights come back on, that usually means the software broke again.
Most of the features finally work in the current beta, though there is little to no explanation of what they actually do in most cases. For example, Game Spatializer and 3d Audio are mutually exclusive and have interesting effects, but the difference is not clearly explained in the application itself, as the help text is not yet populated. Thankfully, Turtle Beach's Elite Atlas Aero has a similar feature set, so I was able to glean some descriptions from the support articles there. Game Spatializer is a less dramatic effect than 3D Audio, and it is supposed to simulate 3D surround with a stereo source. The 3D Audio mode is supposed to take a multichannel source and make it work better with headphones. Game Spatializer just has an 'on' and 'off' setting, and is subtle enough that some users may choose to leave it on all of the time; it adds a bit of sound stage in a rather inoffensive way that sounds pretty good most of the time.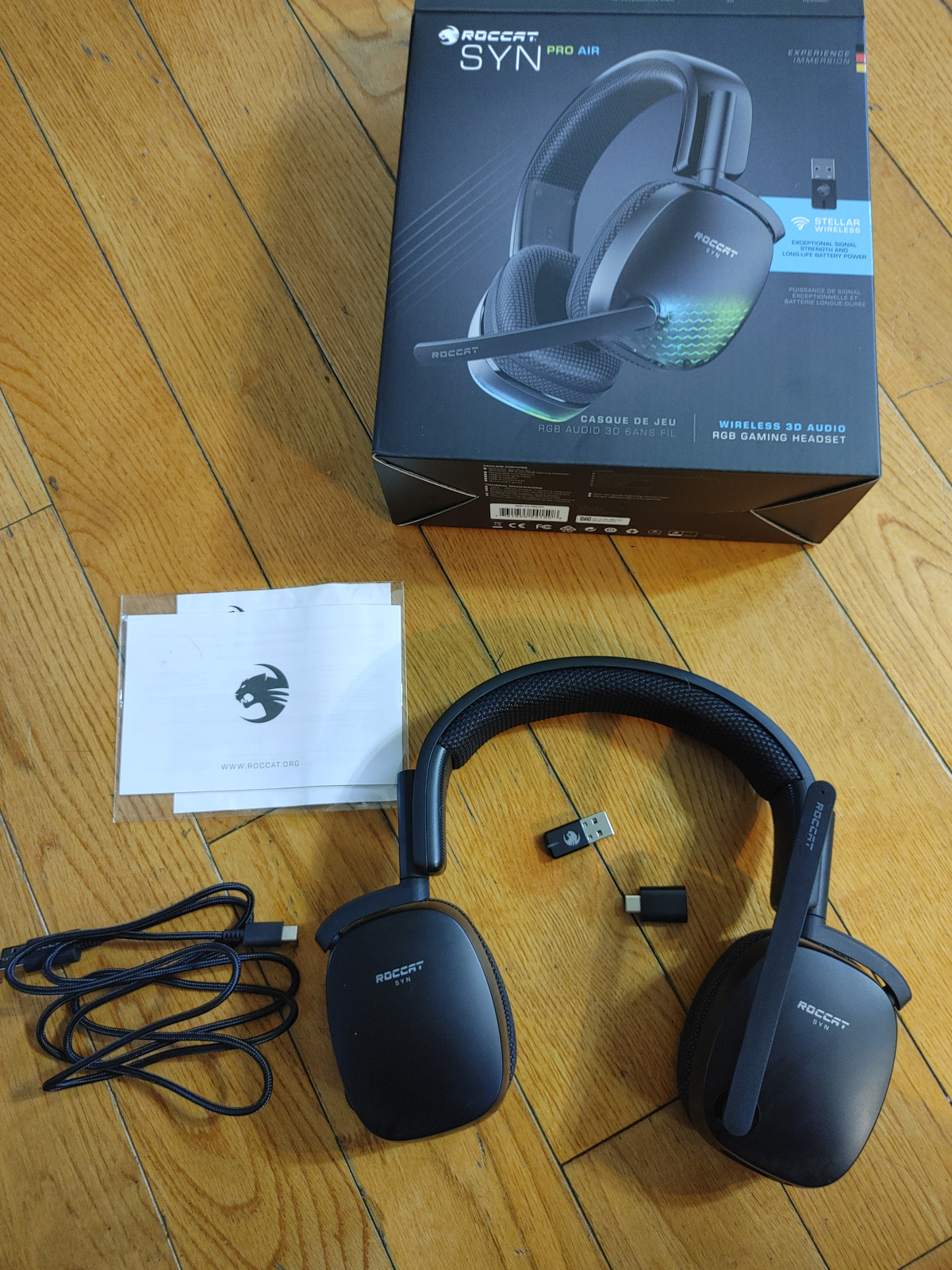 The 3D Audio feature, as well as Superhuman Hearing (a Turtle Beach signature feature), are much more situational and are settings that I would only use on specific games or genres, as they dramatically alter the sound. Superhuman Hearing is a unique effect that emphasizes certain sound effects like footsteps, gunshots, and so on. It is configurable in a 'Default', 'Footsteps', or 'Gunshots' configuration. I am not a fan of this feature, but they are worth testing in a competitive environment, to see if you can hear your opponents better.
3D Audio is also situational, but it does work fairly well. It has a 'Game', 'Music', and 'Movie' setting. I tried using 'Music' in a game and it really didn't do a very good job, so do indeed stick with the recommended genres. I typically use the free Unreal Tournament Pre-Alpha as my FPS test case for gaming, as I am very familiar with it (and more people need to play it - it's great!). I tried Game Spatializer, and it was okay. 3D Audio in game mode worked much better - localization was indeed vastly improved over the default stereo sound. With that said, I'll be curious to see how these 3D audio effects improve as the software does, as I feel like there is plenty of untapped potential here.
The other features offered in the Neon software includes Illumination to make the RGB LEDs any color you wish, including things like the color wave visual effect, and an EQ (for equalizer) tab so that you can customize their sounds with a ten-band equalizer. I tested the EQ, and it works great. Fortunately, they sound so good out of the box, that I doubt many will actually need to utilize the EQ - the default, out of the box sound is very good, which is always the way to go if possible. There are also ways to adjust the game dialog and noise gate thresholds.
Another nitpick I have is that pairing can sometimes take upwards of ten seconds some of the time, or even require unplugging the USB dongle and starting over, while at other times, it'll quickly connect after just a few seconds. The same can happen when turning off and on the headset. This can be especially frustrating when you accidentally power it off while shifting the headset around on your head, as the power button is right where I would naturally grab when adjusting the ear cup. Thankfully you don't have to do this very often, since the auto-adjusting headband works really well most of the time.
I have tested this headset on several devices, and it generally works fine; I used Windows, Mac, and Linux computers, along with Android via the included USB-C to USB-A adapter, and it worked great. The Nintendo Switch also works perfectly with this headset. I tried it with my PS4, since it supports USB headsets, and while it technically 'works' and makes sound, it unfortunately doesn't get very loud, even on the highest volume setting. It could be used in a pinch in a quiet room, but it's far from ideal. While it is not an advertised feature, I hope they will consider resolving this issue.
Overall, I am quite happy with the ROCCAT Syn Pro Air Wireless 3D Audio RGB Gaming Headset. There are certainly some beta firmware and software issues that I look forward to them working out. That said, they do work in a fairly plug-and-play fashion about 90% of the time, and if you are willing to deal with some quirks, you will be rewarded with a very comfortable and excellent sounding headset with a great microphone that not only works well, but I love the flip up and down muting feature. The battery life and signal strength, once properly connected, are very good, and more or less what is advertised. While there are currently notable bugs with the software, this is a brand new product with brand new software and firmware. Once they work these things out, they will be easy to recommend, as the fundamentals - excellent sound, and great comfort - are very well done. I do wish there was an easy place to store the USB transmitter in the headset though - it's frightfully easy to lose!