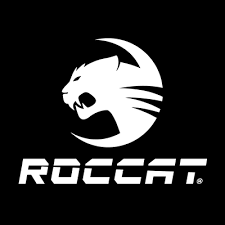 Hardware Info:
ROCCAT Magma RGB Gaming Keyboard
Specifications:
Silent membrane keys
Five-zone RGB LED backlighting, fully customizable with ROCCAT Swarm software
AIMO Lighting Engine supported
Volume, media, brightness adjustment keys available via Fn key
Game mode enabled macro keys and disables the Windows key
ROCCAT Easy-Shift technology
Twenty six key roll over
Removable ergonomic palm rest
1.8 meter USB 2.0 cable
Up to five gaming profiles via ROCCAT Swarm
Two-Year Warranty
MSRP: $59.99
(Amazon Affiliate Link)
Thank you Turtle Beach/ROCCAT for sending this to us for review!
We have been blessed to review quite a few keyboards over the years, so my children are spoiled rotten - they each have a mechanical keyboard at their disposal, if they wish to use it. Most of them even have RGB lighting. However, if you value RGB above all else, this Magma keyboard is most certainly for you. How do I know this? My son, who has been using a rather high-quality keyboard for quite some time now (and with an MSRP of twice what this Magma goes for), hooked this up to his PC almost since the moment it arrived in our house, and it hasn't left.
Before getting to the main draw of this keyboard, the RGB, let's first cover the basics. This is a fairly standard, 104-key membrane keyboard. What membrane means is that there are rubber domes that are activated when they are pressed all the way to the bottom, which then registers it as a keypress. The feel of the keys is fine - neither bad nor good; they feel much like whatever your typical office keyboard feels like. The keycaps are a bit smoother than many office keyboards, though. They feel more like what you might find on a mechanical keyboard, made with smooth, ABS plastic. This does give the keys a snappier feel then some rubber domes do. For a rubber dome keyboard, it's quite decent, though most heavy typists would probably choose an entry-level mechanical instead.
Thankfully there are built-in media keys, even if they are shared with the F-keys. Fn + F5 through F8 controls the volume, and Fn + F9 through F12 controls media playback - play/pause, next track, previous track, and stop. These are incredibly handy - I probably wouldn't use a keyboard without media keys if I could help it, as I use them multiple times a day while working from home (or writing reviews like this one). Since many gamers like to play their own music in the background while playing a game, these functions are more useful than you might realize at first glance.
The keyboard itself is built with a sturdy plastic, and has nice-looking grooves that both look sharp and reinforce the build to make it sturdier. The included wrist rest is nice and is built the same way, with little ridges that makes it strong and light. It feels nice to the touch, and it doesn't flex much, even if you pick it up and twist. I would say that given its price point, it's well built overall.
Highlights:
Strong Points: Translucent keyboard plate with RGB lighting underneath is quite attractive to the right audience; can be programmed with lots of different lighting patterns; supports ROCCAT's Easy-Shift, to replace the functionality of various buttons in Game Mode; has shared media and volume controls, accessible via Fn + various F keys
Weak Points: Wrist rest really needs some kind of padding to make it softer on the wrist; no onboard memory for lighting or macro profiles, so Windows and Swarm has to be running to use them
By far the biggest draw of this keyboard, as mentioned before, is how it looks. If you are buying this for a teenage gamer, they are going to love how this looks, if my son is any indication. The design looks unique, and certainly makes the most of the ten RGB LEDs backed into this keyboard. Yes, that's right - there's only ten.
When you first see it, you'll notice how the top is a foggy translucent clear/white color that coats the top, including the entire typing area. The key membranes are built into this top, and the keycaps each have a clear post with embossed letters, so whatever color the base is, will come through the caps. This is how they manage to make an entire keyboard glow with only ten LEDs.
ROCCAT's Swarm software gives you a ton of customization options for colorizing these keys, and the ten LEDs are broken down into five zones. Which LEDs are used at one time depends on how it's configured; Swarm gives you quite a few options to work with.
The macros are fairly easy to set up in the Swarm software, and I did not have any trouble at all figuring out how it worked. You can set macros for quite a lot of things, such as adjusting brightness and volume, to even powering off the system!
There are a few lighting settings that you can use for the key illumination, and there is also the special AIMO Intelligent Lighting System. These settings include wave, fully lit, heartbeat, breathing, and fade FX. With AIMO, you can synchronize the lighting of any AIMO-compatible device, including most of ROCCAT's product line.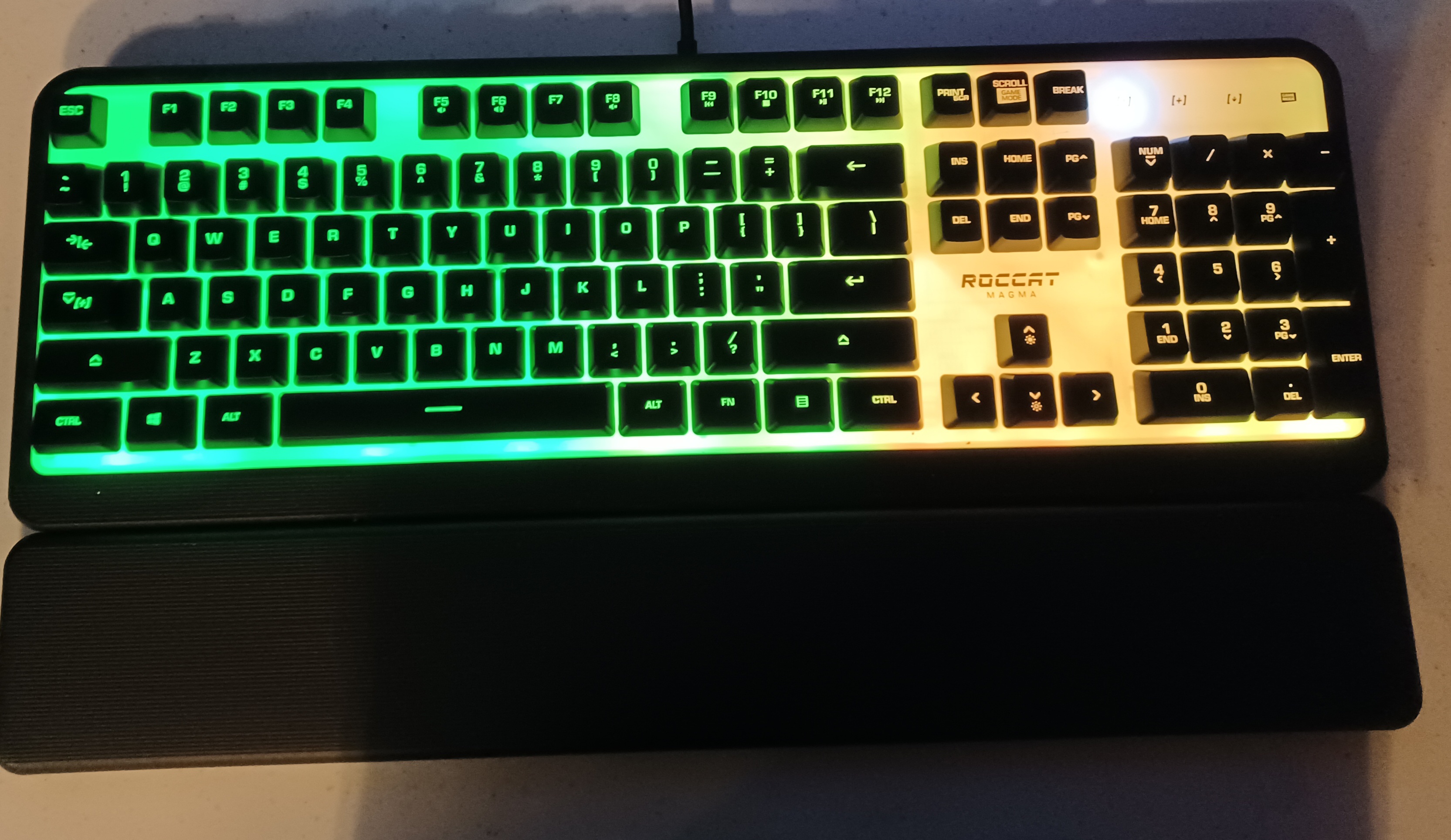 The AIMO Intelligent Lighting System includes settings that makes the keyboard change the lighting based on how you are using it. Wave is as expected; it makes the keyboard change the color gradually as you use it. Fully lit makes the whole keyboard one color, that does not change at all. Heartbeat makes one side of the keyboard lit with colors of your choice, and then it swaps to the other side and alternates for as long as the keyboard is active. Breathing makes the lights slowly flicker on and off, making for a pretty cool-looking scene. Finally, fade FX makes the keyboard light up only around the keys that you are pressing, and it will randomly choose one of the colors that you have chosen to light up as. My son has the keyboard configured to change between several of these lighting modes at the press of a button.
ROCCAT's Magma keyboard is the latest entry-level product in their keyboard line, and given the target audience of an RGB lover, or a kid who we don't want to break something expensive, I can enthusiastically recommend it. It offers a decent typing experience, glows enough to brighten the room up at night, offers quite a bit of macro functionality through Swarm, and offers a good gaming experience with 26 key roll over. While I do wish that it stored the macros and lighting on the keyboard itself, it works great as long as Swarm is running. If you are looking for a fancy-looking gaming keyboard on a budget, I highly recommend you check out ROCCAT's newest Magma!