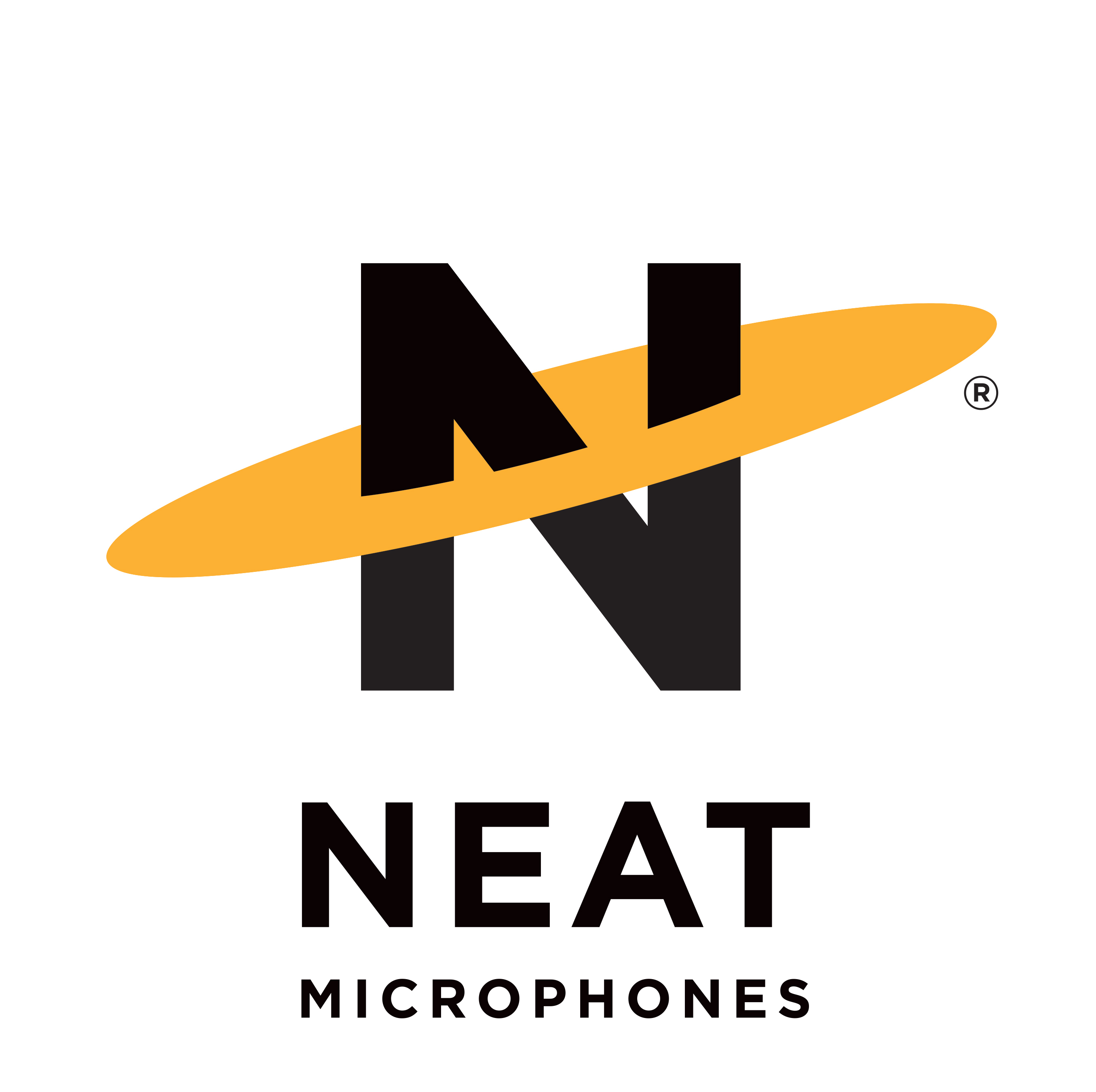 Hardware Info:
Neat Bumblebee II Professional Cardioid USB Condenser Microphone
Specifications:
Permanently polarized 25mm condenser capsule, internally shockmounted
Sample/Bit Rate: 96kHz, 24-bit with optional selections for 88.2kHz/49kHz/44.1kHz and 16-bit
Pickup Pattern: Cardioid
Frequency Response: 20Hz - 20kHz
Max SPL: 128dB (0.5% THD)
S/N Ratio: 80 dB-A
Noise Level: 14 dB-A
Dynamic Range: 114 dB
Zero-latency 3.5mm headphone socket for monitoring
Driver free plug and play setup
Boom arm compatible
Dimensions (Desktop fully assembled): 8" x 5"
Weight (microphone and stand): 0.88 lbs / 400g
MSRP: $99.99
(Amazon Affiliate Link)
Thank you Turtle Beach/Neat Microphones for sending us this product to review!
I've been fortunate enough to get to review several microphones this year, and I fell in love with the ROCCAT Torch, and thought it would be my 'forever' microphone - and feature-wise, it's still the best of the bunch. But then this Neat Bumblebee II came along, and blew away all of my expectations!
As I mentioned in that Torch review, some microphones focus on a brighter sound, like the Torch does, and some on a more full-bodied sound, like this Bumblebee does. While at first I thought the Torch sounded better, over time, that perspective has slowly shifted. You see, while the Torch tends to have a thinner, brighter sound, as a man with a deep voice, it doesn't sound quite right to those used to hearing my voice in real life. That said, the brighter sound does have one huge benefit for streamers - your voice tends to be very easy to understand, even if it's not quite natural, and as a result, cuts over the sounds in your game. Instead, you have a Neat mic that sounds natural, and makes voices sound powerful and present.
This Bumblebee II is interesting on a couple of levels. For one, it looks like a classic microphone. If you used this on a video podcast or stream, and you could see the mic, you would look classy, rather than esoteric like 'gamer gear'. For me, that's a positive. I'm all about RGB in my computer case or keyboard, but my microphone doesn't need it.
The other thing is that the frequency response is actually listed right in the manual. It resembles flat, with a couple of gentle peaks that looks a lot like a milder version of the Harman curve. This curve is the result of years of psychoacoustic research, where audiologists studied what frequency response sounds appealing to most listeners, and this curve was the result. Normally this curve is applied as an ideal for headphones, and sometimes speakers. But it can also be useful in other contexts; this mic uses a gentler version of the curve to make your voice sound crisp and clear. Having put this and the Torch side by side, both my son, myself, and a gentleman from our Discord (thanks!) all agreed that this Neat Bumblebee II sounded the best and most natural.
I'm not 100% sure which microphone has a lower noise floor, since my desktop has a lot of fans and that brings up the base dB level of the room, but the specification advertised with the Bumblebee II shows an 80dB signal/noise ratio. This is a very respectable spec - I would expect that for all but the most demanding recording situations, it should be more than good enough. The other microphones I have don't always publish that spec, and I have found that anything over say a high 60s dB or so to be more than sufficient for most basic podcasting or voice tasks, while you really need more for high quality instrument recordings. This microphone straddles that line; if you need to record voice, you're good to go; if you need to record instruments in a pinch you can, and the Quick Start Guide gives you guidance on the best ways to do so. I have to note that said guide is far more than just instructions on how to plug it in; it's legitimately useful.
In use, it's fairly easy - you plug it in, and talk at it, and your PC picks up what you say. There is a control knob with a colored ring around it, and a simple mute button in case you need to cough or take any other action where you might not want the audience to hear it. When on mute, there is a red LED that lights up, so there is no confusion. Interestingly, when you press the mute button, Windows sees that the microphone is muted, and the recording device's icon gets the mute symbol through it. The same if you unmute the mic from Windows - the red icon on the microphone also turns off. It's a nice touch.
Highlights:
Strong Points: Excellent build quality; sounds great, with great clarity and low noise floor; radio-style sound; 24-bit @ 96kHz audio recording support; front knob is very useful, with three different modes; handy mute button; boom-arm compatible with included USB-C cable; onboard monitoring acts as a sound card if you need that, but also works standalone
Weak Points: Front knob could be easier to turn
The colored ring shows what mode the knob is in, and there are three. When you turn it on, it starts in yellow mode, or mode one. This adjusts the listening level of the 3.5mm headphone port on the bottom of the mic when used as a sound card, or microphone monitoring. This power lets you listen to your input for mic monitoring, or alternatively you can use the mic as a USB sound card, or do both at the same time. The mic feedback works whether or not the PC's sound is coming out of the headphone jack or not, which is a nice touch.
The second mode is blue, or mode two. I use this mode 99% of the time; when I turn the mic on I just press in on the knob one time, and it goes to this mode. (The color matches my desktop speakers/headphone amplifier, which is a nice touch!) When you turn the knob in blue mode, it adjusts the recording input level. Interestingly, with some microphones I've used that have a volume adjustment, it would make this change entirely in hardware. In this case, it actually adjusts the software recording input level in Windows, which is a nice touch. So, you can adjust the volume of the microphone with Windows' sound control panel slider, or via the knob - they adjust the same control. It's the same as how the mute button works. Gotta love consistency!
The third mode is green.  In this mode, the knob adjusts the level of the microphone monitoring vs. the sound coming back from your computer when used as a USB sound card.  It also adjusts the absolute level of the mic feedback when not using it as a sound card, so be careful when using this in conjunction with mode one/yellow.  Basically, if you want to hear yourself talk/play/monitor the input of the microphone and use the 3.5mm port on the bottom of the mic to do so, this adjusts that balance.  Very useful, even if I don't use it that often.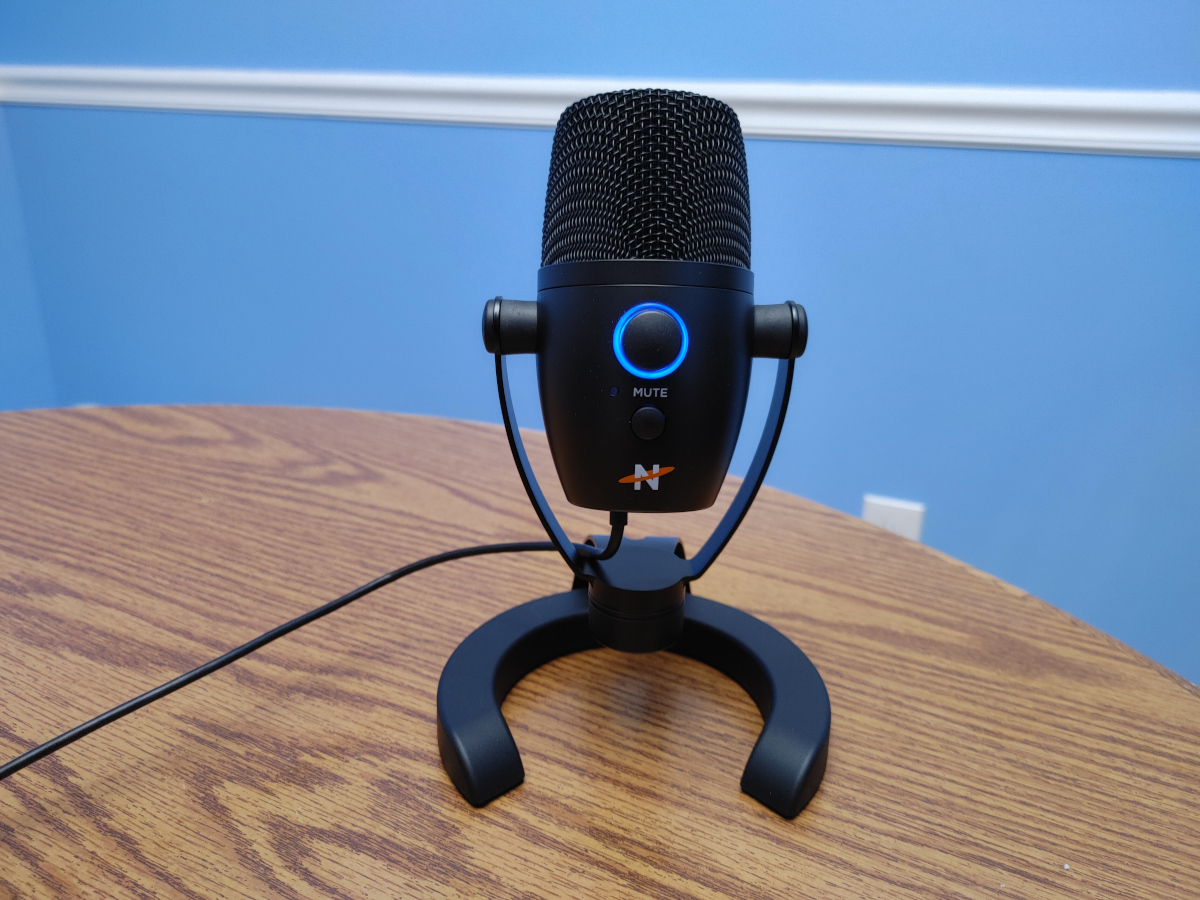 While Windows and Mac are officially supported, it works perfectly on Linux as well. The knob adjusts the volume and the mute button mutes the exact same way that it does on Windows. The same with Android - I plugged the microphone into my LG V60 via a USB-C cable I had laying around, and the Bumblebee II sprung to life. I was able to use the monitoring port on the bottom to hear the other side of the phone call via my headphones. In this way, I was able to use this as a much larger mic, which I imagine could be useful in certain situations.
While testing, I discovered that the microphone is far too sensitive when turned all the way up. If you need to use it to pick up an entire room it may make sense, or to whisper, but not for normal use. Instead, I found that if I keep it over a foot away on my desk, then leaving the volume level at around 80 works well. If I want to bring it closer to my mouse, say via a boom arm or something, then 50 or so works better. Thankfully, you can always adjust it in a pinch with a quick spin of the knob (in blue mode) if you need to.
While not perfect, the Neat Bumblebee II USB Microphone is my new favorite USB microphone. Outside of taking the plunge into the XLR mic realm, I don't think I'm going to do much better from a USB microphone. The high-quality, mostly metal materials, the classic look, the low noise floor, and the great sound all add up to be the best microphone I've tested yet. If you are looking for a high-quality microphone in the $99 price range, I would recommend this highly - even over ROCCAT's Torch, my previous favorite, unless you really need some of its features.