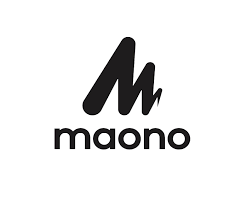 Hardware Info:
MaonoCaster E2 A XLR Podcast Production Studio
Specifications
Data Transmission: USB-C
Frequency Response: 20Hz-20kHz
THD: THD<0.05% 1kHz
Headset Output Power: 20mW, 32Ω (1kHz, THD+N=1%)
Sample Rate: 48kHz /16bit
Wireless Connection: Bluetooth 4.2
Battery Type: Li-Polymer
Battery Capacity: 2000mAh
Charge Parameter: 5V/1A
Charge Time: Appr. 3h
Battery Life: Appr. 8h (Highest keypads brightness)
Dimension: L24.5*W15.7*H5.5CM
MSRP: $169.99
(Amazon Affiliate Link)
Thank you Maono for sending us this product to review!
I've been very pleased with my Maono HD300T USB/XLR microphone.  However, in order to enjoy the benefits of XLR, I had to buy a XLR audio interface.   With the MaonoCaster E2 A XLR Podcast Production Studio you get a nice-sounding XLR microphone and a mixer that supports multiple microphones, records and plays back sound loops, and lets you adjust the audio input in real time.  If you want to perfect your singing pitch, you can take advantage of the auto-tune capabilities.  Background noise removal is also a button press away.  If you don't want any audio processing, you can switch to "Dry mode" by pressing the Dry/Wet button and get a pure microphone signal.   
There are  six reverb presets and you'll get audio confirmation of which one is activated along with the button changing colors.  I usually had mine set to yellow for original.  Other modes include Studio, KTV, Church, Hall, Valley, and Room.  There are several reverb control knobs that let you control the volume, depth, and decay of the effect.  
On the top right and left sides of the MaonoCaster you'll see big knobs for adjusting the auxiliary and output sound levels.  Between these two knobs, you'll find smaller knobs for adjusting the low, middle, and high pitches.  The last three smaller knobs control the instrument, pitch, and monitor levels.   Below the smaller knobs, you'll see LED equalizers for them.  
Highlights:
Strong Points: Great value bundle that comes with a nice mixer and a good XLR microphone; no software needed to record and play audio loops; support for two microphones
Weak Points: While there is support for two microphones, only one of them can be XLR; sampling rate limited to 48kHz/16bit
On the bottom center of the MaonoCaster you'll see an A, B, C, and a loop button.   By holding down the A,B, or C buttons for a few seconds, you can record a 60-second sound sample and play it on command or loop it by pressing the loop button.  The eight buttons below can hold 20-second sound samples.  I used one button to play a "boing" sound for when I die during a stream and another for playing an applause sound when we gain a subscriber during a stream.   
Here's a stream with me using the MaonoCaster E2 A:

If you're doing a portable podcast, the MaonoCaster E2 A has a 2000mAh battery that should allow for approximately eight hours of use.  Bluetooth support is also available, so you can connect it to your cellphone.  I'm happy to report that I was able to record and playback sounds in Linux.
The included condenser XLR microphone is quite nice and has a 75dB signal to noise ratio.  It also has a max sound pressure level (SPL) of 140dB.  Its frequency response range is 20Hz-18kHz.  Because this is a condenser microphone and not a dynamic one, it will need the +48v of phantom power enabled on the mixer.  It'll be red when enabled.  The metal stand is nice and sturdy and the metal pop filter snaps into place making the assembly process relatively quick.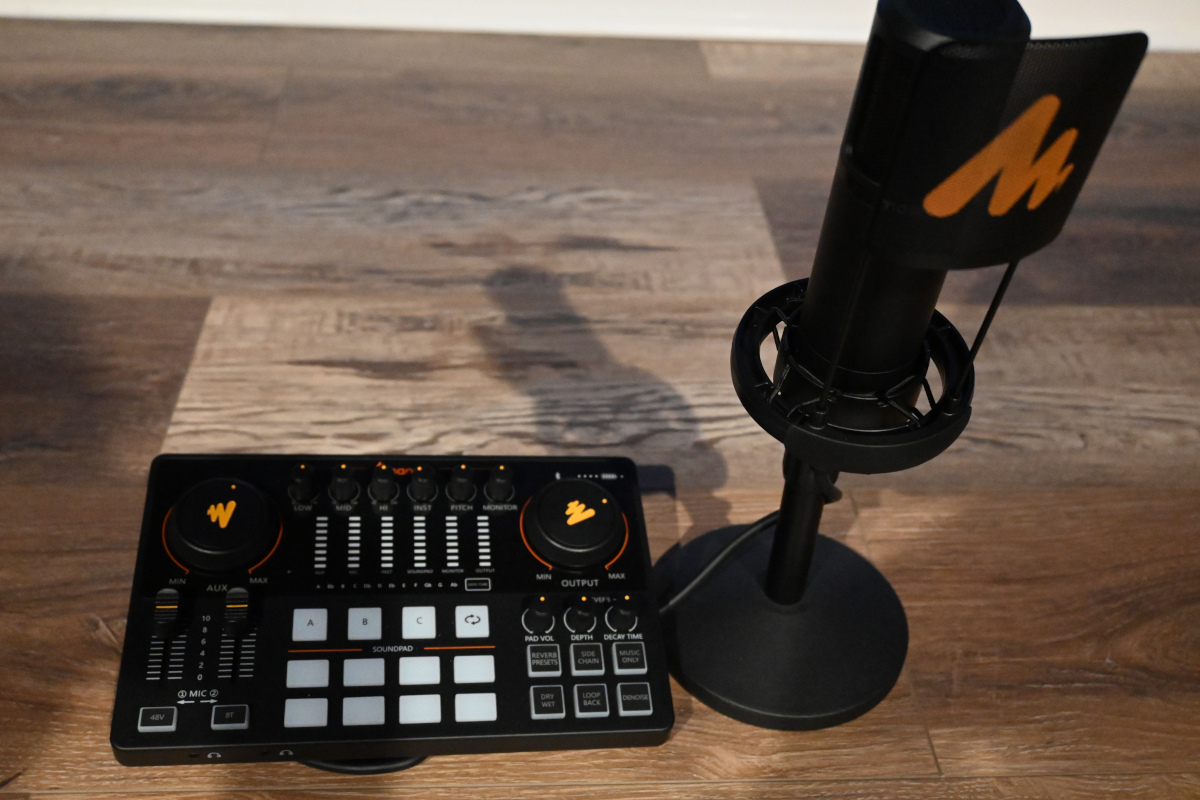 I tried using my dynamic Maono AU-HD300T XLR microphone with the MaonoCaster E2 A and found that it's much quieter than the included microphone.  While it does work, I had to boost the microphone level to 200% in my streaming software.  
If you're ready to take your podcast to the next level with XLR clarity and sound samples at your fingertips, the MaonoCaster E2 A is a solid buy.  If you need more options than a 48kHz/16bit sampling rate, you'll want to look into professional DX Mixers.