Game Info:
Kidz Gear Wireless Headphones
Developed by: Kidz Gear
Specifications:
Bluetooth V4.0
Receiver Range: 30 feet
Battery life: Ten listening hours
Frequency: 20Hz-20KHz
Diameter: 30mm
Impedance: 32Ω
SPL:100dB SPL at 1kHz
Price: $19.99
(Amazon Affiliate Link)
Thank you Kidz Gear for sending us these headphones to review!
We have reviewed the original wired Kidz Gear headset and sadly, they are no longer with us as they broke after 1.5 years of use. That's still a pretty good run and longer than other headsets have lasted us. One of the selling points of the wired headphones was the volume limiter, which is a hardware dongle that caps the maximum volume. This is great for parents concerned about kids deafening themselves by cranking the volume too high on accident. While a dongle (not included with this set of headphones) would help in the wired mode, there is no way to cap the volume when they are used wirelessly.
Though they're made of plastic, these wireless headphones seem rather sturdy. Despite them being designed for kids, they still fit my adult sized head just fine. With that said, on the audio front they're nothing spectacular and audiophiles won't be too impressed with them in that regard. They do however get the job done and work well for making phone calls via Bluetooth.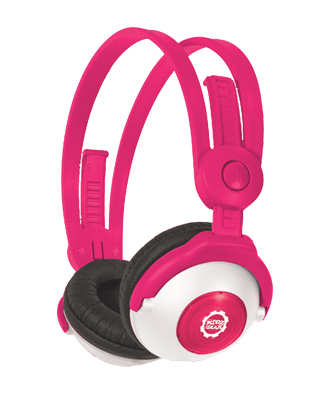 Highlights:
Strong Points: Wired or wireless operation; media buttons; detachable microphone that works when using Bluetooth
Weak Points: Average sound, no volume limiter


These headphones support Bluetooth 4.0, but will work with lower versions and I can say from experience that the 4.0 protocol does work the best. When using a Bluetooth 3.0 adapter, the audio would skip sometimes despite me only being less than 2 feet away from my PC. The supported range is up to 30 feet. When listening to music on my Bluetooth 4.0 compliant phone, the audio didn't skip at all.
If you need to use a microphone, there's a detachable one that plugs into the specifically designed grooved connector. Without the grooves it would be easy to confuse which port is for the microphone or the optional 3.5mm stereo jack connection. The included audio cable is not designed for microphone use so you can only use the microphone with Bluetooth. The battery life is pretty good and you can get up to ten hours of active use per charge. There's an included USB cable for charging up the headphones as needed.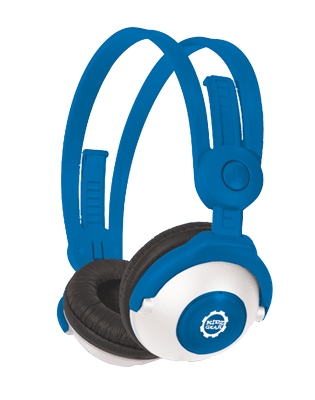 Pairing the headphones is simple to do. All you need to do is press down the play button for a few seconds until the LED is blinking between red and green. Once that is happening you should be able to see the headphones when scanning for available Bluetooth devices. The media buttons are nice for switching and pausing songs. Volume buttons are on the same earpiece as well.
These headphones are available in pink and blue. On Amazon they can be purchased for as little as $19.99. You can pay $10 more for them on the KidzGear website, but they'll throw in a carrying bag along with them. I wasn't sent a carrying case with these headphones so I can't really comment on it. My youngest daughter has already taken a liking to these headphones and will be using them until something better comes along. While the volume limiter option will be missed, my kids can benefit from the wireless connectivity because we have been through a few headsets (including the previous Kidz Gear headset) that have become damaged from too much cord tangling. If you still prefer wired connectivity, the cable is replaceable with this model.