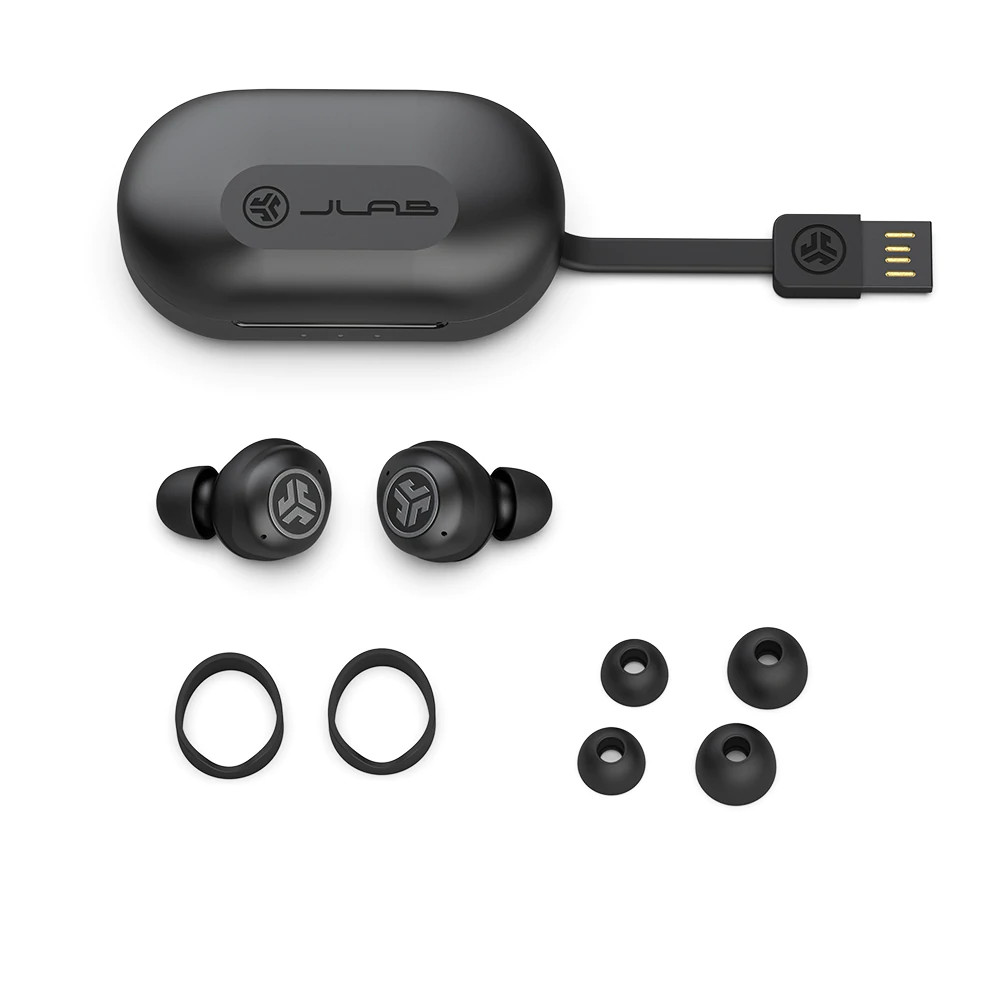 Game Info:
JLab JBuds Pro Air
Manufactured by: JLab
Release date: May 2, 2022
AUDIO
• Speaker: Φ6mm Dynamic driver
• Output: 98+/-3dB
• Microphone: MEMS (microelectromechanical systems) -38dB+/-3dB
• Frequency Response: 20Hz-20kHz
• Impedance: 16Ω
BATTERY
• Battery Life: 9+ hours in each earbud
• Total Playtime: 36+ hours total
• Input Power: 60mA
• Earbud Battery: 60mAh lithium polymer
• Earbud Charge Time: 1.5 hours (in case)
• Charging Case Battery: 520mAh lithium polymer rechargeable
• Case Charge Time: 2 Hours
• Charge Plug: Type-A
BLUETOOTH
• Version: Bluetooth 5.1
• Range: 30+ ft.
• Protocols: HSP / HFP / A2DP /AVRCP
• Codecs: SBC
MSRP: $59
(Amazon Affiliate Link)
Thank you JLab for sending us a set of earbuds to review!

With most electronics manufacturers removing headphone jacks, Bluetooth earbuds are becoming essential for cellphone users. The market is saturated with various brands and models in many different price brackets. JLab has earbuds ranging from less than $20 to $99. The JLab JBuds Pro Air are a mid-range model that has many great features for less than $60.

While the JLab JBuds Pro Air earbuds don't offer noise canceling, but they offer an opposite mode called "Be Aware" that allows you to hear background noises. To activate Be Aware you have to tap the right earbud three times. By tapping the left earbud three times you can try the three different EQ settings (Bass Boost, Balanced, and JLab Signature). My favorite mode is the signature one. By pressing the left earbud for one second you can toggle between movie and music mode. I set it to music mode, but the manual doesn't go into specifics on the difference between these modes. Other taps to take into consideration is turning the volume down by tapping the left earbud once or raising the volume by tapping the right earbud. Answering incoming phone calls can be accepted by tapping on the right earbud for one second or rejecting a call by holding it down for more than a second. Hanging up on a phone call is done by double tapping the right earbud. Skipping a song is accomplished by pressing and holding for a second or more on the right earbud. Double tapping the right earbud will play or pause a song.

Removing an earbud will automatically pause audio too. If you use Siri or OK Google you can trigger that by double tapping the left earbud. There is so much to remember that I wonder if an app would be easier. Like many things, you'll get used to it the more you use them. I did experience taps not responding and to fix that issue I had to re-dock the misbehaving earbud and the issue was resolved after placing it back into my ear.

Before using the JLab JBuds Pro Air earbuds, you'll want to make sure that you have the right sized ear tips in them. They come with three sets: small, medium, and large. It took a little fidgeting, but I was able to get the small set installed on mine. Sadly, even with the smallest tips in place I can only comfortably wear these for an hour or so. This is more than enough time to cover my gym workouts. Like many earbuds I have had them fall out of my ears (and still work!).
Highlights:
Strong Points: Dual connection; 9 hours of play time per earbud with twenty seven additional hours from charging; IP55 water/sweat proof; multiple sound profiles available to use without needing an app
Weak Points: With my small ears, I can only wear them for about an hour at a time
When you first place the earbuds in your ears you'll hear a female voice stating that the Bluetooth is connected. You'll also hear her indicate the battery charge level (high, medium, low). I like how the USB charging cable is directly connected to the carrying case. One less cable to keep track of! The overall weight of these earbuds and case are forty-nine grams which is pretty light. Each earbud is 5.3g.

The range is pretty decent as I was able to leave from my laptop in my bedroom and go down the hallway, past the kitchen, and into the mud room past our washer and dryer before I started losing signal. If you have the earbuds paired to your cellphone and keep that with you, connectivity won't be an issue!

The JLab JBuds Pro Air earbuds supports multipoint which lets you connect to two different Bluetooth devices simultaneously. While it's great to answer phone calls while using my laptop, I don't necessarily want my computer's sound to be interrupted with each of my phone's notification chimes. An option to give a device priority would be nice. These earbuds can be used as a pair or independently, so that's nice.

Overall, there's a lot to like with the JLab JBuds Pro Air earbuds. The thirty-six hour battery life is quite impressive. While testing them out for the past couple of weeks I only got the battery level down to medium. I like how JLab stands behind their products with a thirty-day money back guarantee. This model earbud also has a two-year warranty. Hopefully it won't be needed!