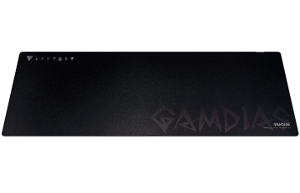 Hardware Info:
Gamdias NYX P1 Gaming Mouse Mat
Developed by: Gamdias
Release date: April 5, 2017
Price: $24.99
(Amazon Affiliate Link)
Thank you Gamdias for sending us this gaming mouse mat to review!
Throughout my many years of PC gaming I have owned several standard and gaming mouse pads. I have used foam pads with a thin layer of fabric on the top that eventually began to fray as well as a metal mouse pad that had one side designed for speed and the opposite side focused on control. After reviewing SteelSeries' QCK/QCK+ mousepads, I have been using them for my desktop and laptop.
After opening up the Gamdias NYX P1 Gaming Mouse Mat, I quickly realized why it is called a mat instead of a pad. This mouse mat is HUGE. It's bigger than my dog and it can comfortably fit both of my cats and a mouse. Needless to say, there is plenty of room for a gaming keyboard and mouse. The dimensions are 0.12" x 35.43" x 11.81". Please measure your workspace accordingly before ordering this!
Highlights:
Strong Points: Excellent build quality and feel; very responsive
Weak Points: Doesn't fit in many areas; a chore to keep clean 
The build quality is quite nice. The rubberized bottom will prevent it from slipping and sliding around. The cloth feels nice. Since it's dark it will show every hair or crumb that lands on it. Keeping it clean will take some work and you may want to invest in a lint roller if you don't have one. The cloth mesh has a honeycomb-like pattern that is a bear to clean should you get any food or other debris rubbed into it.
Gamdias provides a one year warranty though I doubt it will be invoked much since the construction is pretty solid. The edges are stitched so you won't have to worry about the cloth and rubber bottom separating.
This mouse mat is geared for control and it certainly delivers as promised. Whether I'm gaming or just surfing the Internet, I found this mouse mat to be very responsive. While playing the keyboard and mouse based game, Kite, I didn't experience any problems.
The @GAMDIAS NYXP1 Gaming Mouse Mat can comfortably fit two cats and a mouse pic.twitter.com/wBTtzlGMui

— Cheryl Gress (@divinegames) July 19, 2017
The design is attractive with the Gamdias logo and rune-like characters on the upper right hand side. The bottom right quadrant has Gamdias written on it with a smaller version and the motto "Gaming Art in Motion" on the lower right hand corner. On the upper right hand side there is an embroidered tag that has Gamdias' name sewn in gold thread. You shouldn't have any trouble remembering who constructed this fine gaming accessory.
All in all, the NYX P1 is a really well-crafted and sturdy mouse mat. It performs great, but the biggest problem I have is that I don't have many surfaces big enough to support this beast. If you're looking for a smaller mouse pad, you may want to consider Gamdias' other NYX pads which focus on speed or control depending on what you're in the market for.