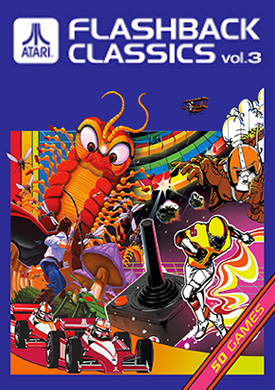 Game Info:
Atari Flashback Classics Vol. 3
Developed by: Code Mystics
Published by: Atari
Release date: December 13, 2018
Available on: PS4, Xbox One
Genre: Arcade
Number of Players: Up to two
ESRB Rating: Everyone with mild violence and use of tobacco
Price: $19.99
Thank you Atari for sending us this collection to review!
While I haven't played the first two Flashback Classics bundles, my first gaming console was an Atari 2600 and I moved up to a 7800 from there. I never got to see or play a 5200 with its numeric and paddle controllers. There are even a few arcade era games with better visuals than the pixelated 2600 and 5200 offerings. The gameplay surpasses the visuals in many of these games and if you're looking for eye candy, you'll want to look elsewhere.
There are fifty titles in this collection and a couple of the classics that I recognize include Asteroids (5200), Centipede (5200), Millipede (5200), Missile Command (5200), and Super Breakout (5200). Due to licensing, none of my favorite games have made it into any of the Flashback Collections yet and those include Pac-Man, Ms.Pac-Man, Frogger, and Summer Games. I'm hoping E.T. never makes the cut because that game was horrible. I just remember constantly falling into holes in that stupid game.
Highlights:
Strong Points: Lots of sports games and classic 2600 titles in this bundle
Weak Points: A couple of the titles are unplayable due to poor controls
Moral Warnings: Some games have violence, magic, tobacco use

If you enjoy sports games there are plenty in this bundle including Atari Baseball (Arcade), Atari Basketball (Arcade), Atari Football (Arcade), Atari Soccer (Arcade), Miniature Golf (5200), Realsports Baseball (5200), Realsports Basketball(5200), Realsports Football (5200), Realsports Tennis (5200), and Realsports Volleyball (5200). The Pool Shark (Arcade) game is very simplistic, not realistic, but it is still fun regardless.
Some games support two players and others require it. What fun is a Sword Fight (2600) with just one person? Fire Truck/Smokey Joe (Arcade) is a racing game that has two players controlling both parts of the same vehicle. It can be played solo, but is clearly intended for two players. Sky Diver (Arcade) is competitive, but can be enjoyed solo. Sea Battle (2600) requires two players.
Destroyer (Arcade) is fun where you have to drop missiles timed with the ships below and at the proper detonation depth. Dominos (Arcade) is very similar to the classic Snakes game where your ever-growing line of dominoes cannot touch the walls, itself, or the opponent's dominoes. Maze Invaders (Arcade) is probably one of the best-looking games in this bundle. In Maze Invaders you have to collect all of the fruits in the changing mazes while avoiding enemies and their attacks.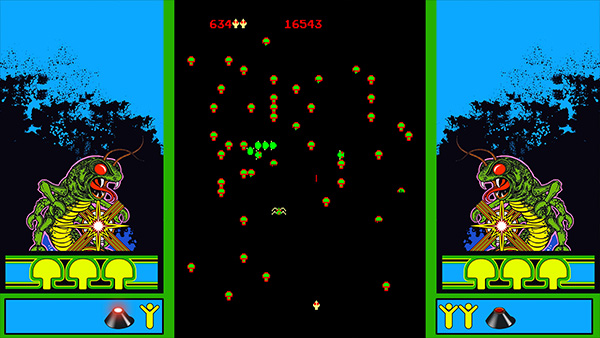 Score Breakdown:
Higher is better
(10/10 is perfect)
Game Score - 62%
Gameplay - 14/20
Graphics - 4/10
Sound - 5/10
Stability - 5/5
Controls - 3/5

Morality Score - 90%
Violence - 8/10
Language - 10/10
Sexual Content - 10/10
Occult/Supernatural - 7/10
Cultural/Moral/Ethical - 10/10
While I enjoyed the majority of the games I've played, I must admit that many of them are confusing and I had no idea what my objectives were. Built-in manuals are available from the main menu for the 2600 and 5200 titles, but not for the arcade games. My other (and bigger) complaint is that a couple of the games are unplayable since they are designed for a paddle and the Xbox controller does not work properly for Super Breakout (5200). Missile Command (5200) is a little challenging with a cursor, but doable. The side number pad for Holey Moley (2600) works well with the controller for this whack-a-mole style game.
Some of the games have magic like Wizard (2600), but this is one of the games where I really didn't know what I was doing. There are other titles with accidental or intentional violence. In either of these scenarios, there is no blood and very little detail. This collection is family friendly and can be enjoyed by anyone not put off by the poor visuals and audio limitations of games from this era.
I have seen Atari Flashback console bundles at Walmart and they sell for under $19 there. For $19.99 you can play all of the same games and not have another plastic device laying around your house. While some of the games in this collection didn't interest or utterly confused me, I did enjoy a few of them. I'm not sure I would pay $20 for this collection, but it's worth considering if it goes on sale.