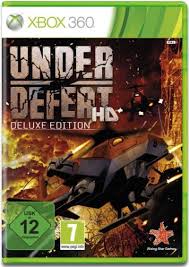 Game Info:
Under Defeat HD Deluxe Edition
Developed by: G Rev
Published by: Rising Star Games
Release Date: August 26, 2014
Available on:  Arcade, Dreamcast, PS3, Xbox 360
Genre: Shooter
Number of Players: Up to two players
ESRB Rating: E 10+ for Mild Violence
Price:  $26.99
Thank you Rising Star Games for sending us this game to review!
Under Defeat is a 3D vertical shooter arcade game that was released in Japan in 2005.  It has since been ported to Dreamcast, PlayStation 3, and Xbox 360.  The Deluxe HD version offers HD textures,  widescreen support, practice modes, new weapons, and dual stick controls to fire them.  
There are two factions at war; you play as the Empire (whose pilots speak German and wear uniforms that resemble those of Nazi SS officers) and are attacking the English speaking Union.  There is more of a back story, but the text is small and scrolls by too fast to pick up the rest of the details.  
The female pilots you can play as can fly either a helicopter or fighter plane.   Each aircraft handles and fires differently, so it's advantageous to try them all out and determine if you prefer power or maneuverability.  Both are important, but I would lean more towards agility to dodge incoming bullets and rockets.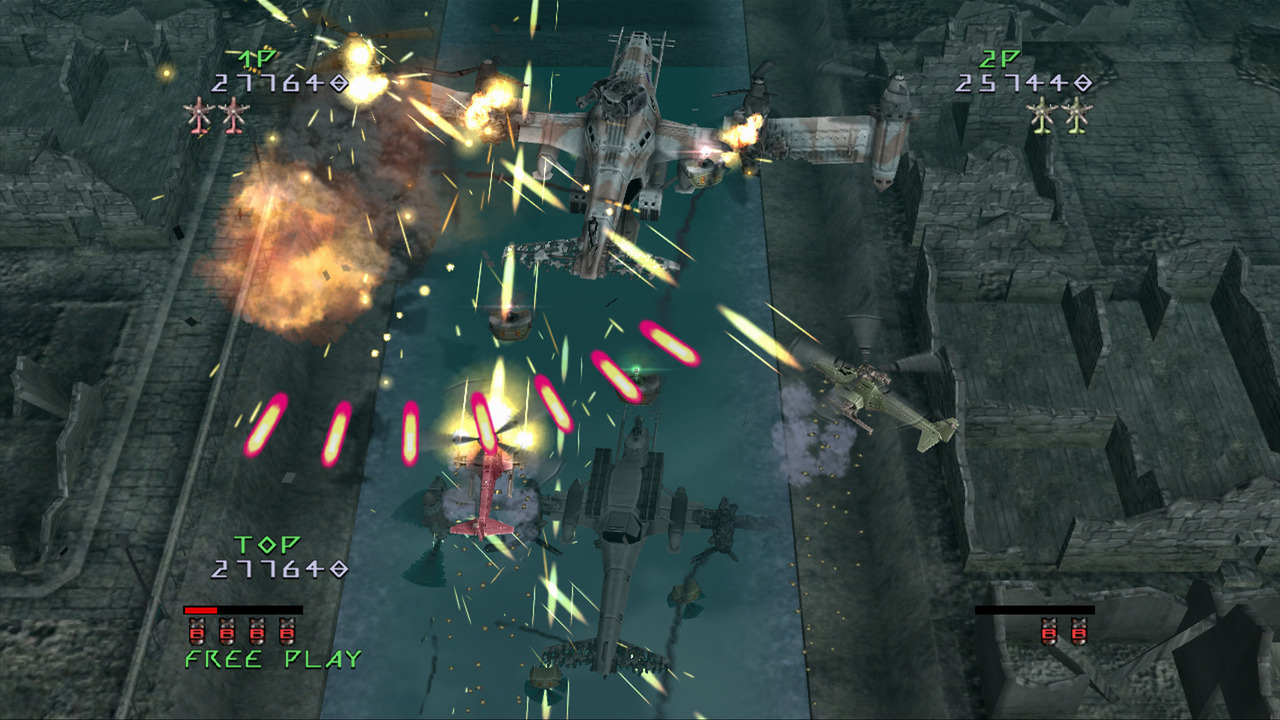 Highlights:
Strong Points: Fun arcade shooter with multiplayer support
Weak Points: Players share credits/retries; story text is small and hard to read; pricey
Moral Warnings: Combat violence
All it takes is one direct hit to destroy your aircraft.  Each life/credit grants you three lives.  Unfortunately, players share credits and the default amount you start with is three. You can change the difficulty and amount of credits, but your final score will not be added to the leader board if they are  altered.
Levels will have guard towers, tanks, turrets, and helicopters firing waves of bullets at you.  At the end of each level is an intimidating boss waiting for you.  You have a limited amount of time to take them out, but if you have saved some of your bombs for them, that won't be an issue.  Ammo is infinite and can be upgraded by collecting power ups throughout the level.  Bomb replenishments are also available, but I still recommend using them sparingly.    At the end of a level you will be scored and will earn fuel and ammo conservation bonuses.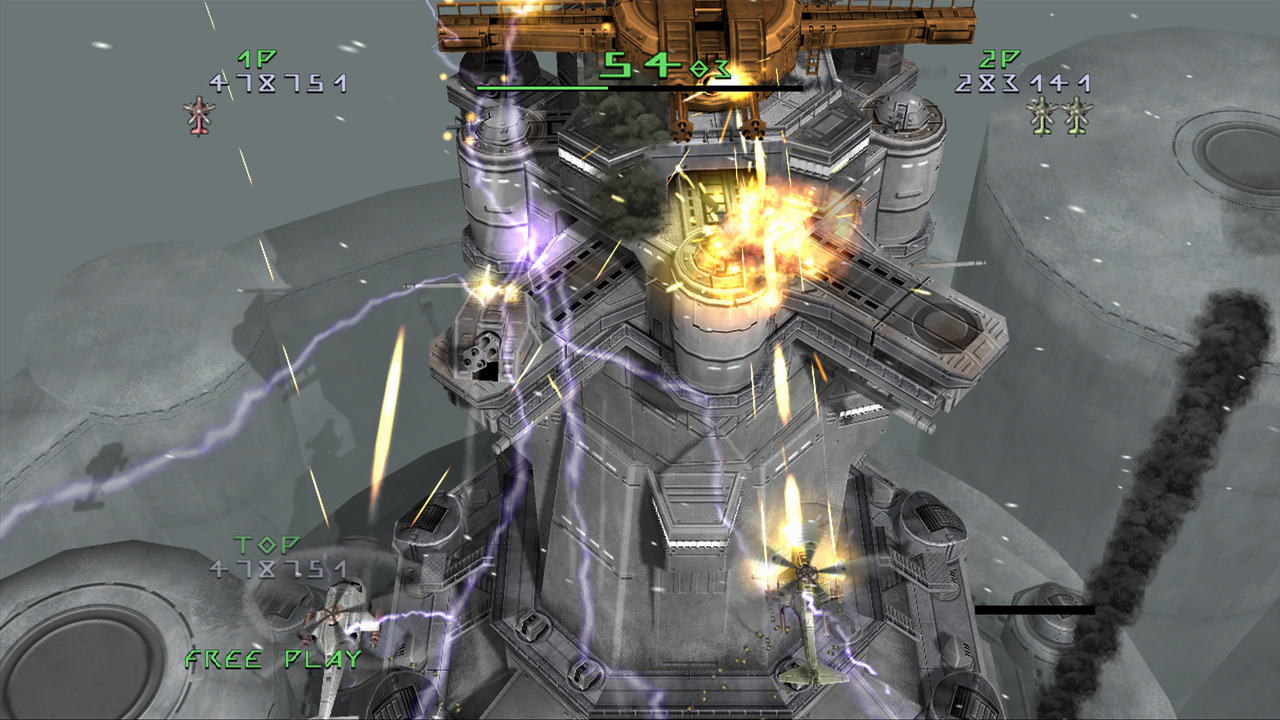 Score Breakdown:
Higher is better
(10/10 is perfect)
Game Score - 80%
Gameplay - 16/20
Graphics - 7/10
Sound - 7/10
Stability - 5/5
Controls - 5/5

Morality Score - 94%
Violence - 7/10
Language - 10/10
Sexual Content - 10/10
Occult/Supernatural - 10/10
Cultural/Moral/Ethical - 10/10
I like how you can play the old school arcade version for the vertical (and easier) perspective.  The HD New Order version does support flipped screens to give you the best of both worlds (prettier graphics and more reaction time).  The practice modes are a nice touch to familiarize yourself with the levels and enemies within.  Like many arcade games, this one is not easy and I can easily see how people could spend quarters left and right to keep playing.  The max amount of credits you can have in this version of Under Defeat is five.  
While the graphics are not ground-breaking, they get the job done.  The HD/Widescreen clearly looks better, but the vertical arcade version has an increased line of sight which makes the game so much easier.    The background music consists of edgy rock music which is fitting to listen to while blowing stuff up.  The sound effects are decent and as I mentioned earlier the voice acting for the pilots you play as is in German.
Like many war games, there is violence, and Under Defeat HD Deluxe Edition is no exception.   All of the targets are vehicles that are firing at you so it's shoot or be shot.    Since the targets are vehicular in nature, there is no blood or guts to worry about.
My son, husband and I enjoyed taking turns playing this game.  It's family friendly and fun to play as long as you don't mind sharing credits with the second player.  (Pro tip: make sure they're good and don't waste them!)  The price tag is $26.99 which is expensive , but still cheaper than playing it at an arcade when all is said and done.