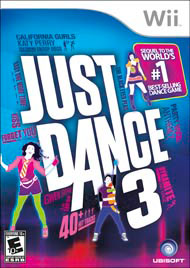 Game Info:
Just Dance 3
Release Date: October 7th, 2011
Developed By: Ubisoft
Published By: Ubisoft
ESRB Rating: E10+
Available on: PS3, Xbox 360, Wii (Version reviewed)
Genre: Rhythm
Modes: Single, Multiplayer
MSRP: $40
With DDR going the way of the dodo and me being a sucker for rhythm games, I thought I'd give the Just Dance series a try.  This is the first time I've played a Just Dance game so I can't say how much better or worse it is compared to the others.  I liked the song selection in this title and had a blast playing it with my kids.  Many of the dances are fun to do, but a few of them make me look like a bigger dork than I already am.  Take this song for example; would you want to do these moves in public?  
Fortunately that song is an isolated example of bad choreography.  The dance moves in the other songs are quite good.  Daft Punk's Da Funk features a couple of robots doing robotic dance moves.  My kids now do these moves when they hear this song.  This song is great to play with 2 or more people.  Some songs have unique moves for up to four people.  
The song list is organized by genre and dance mode.  Some of the genres include Oldies, 80's, around the world, pop, electro sounds and R & B vibes.  If you're looking for duet or party mode songs you can easily find those, too.  There's an online store where you can purchase more tracks for 250 Wii points.  The only disadvantage is that they are only playable in the Just Dance mode.  In other words, you cannot play purchased songs in workout mode, Just Sweat (my favorite mode).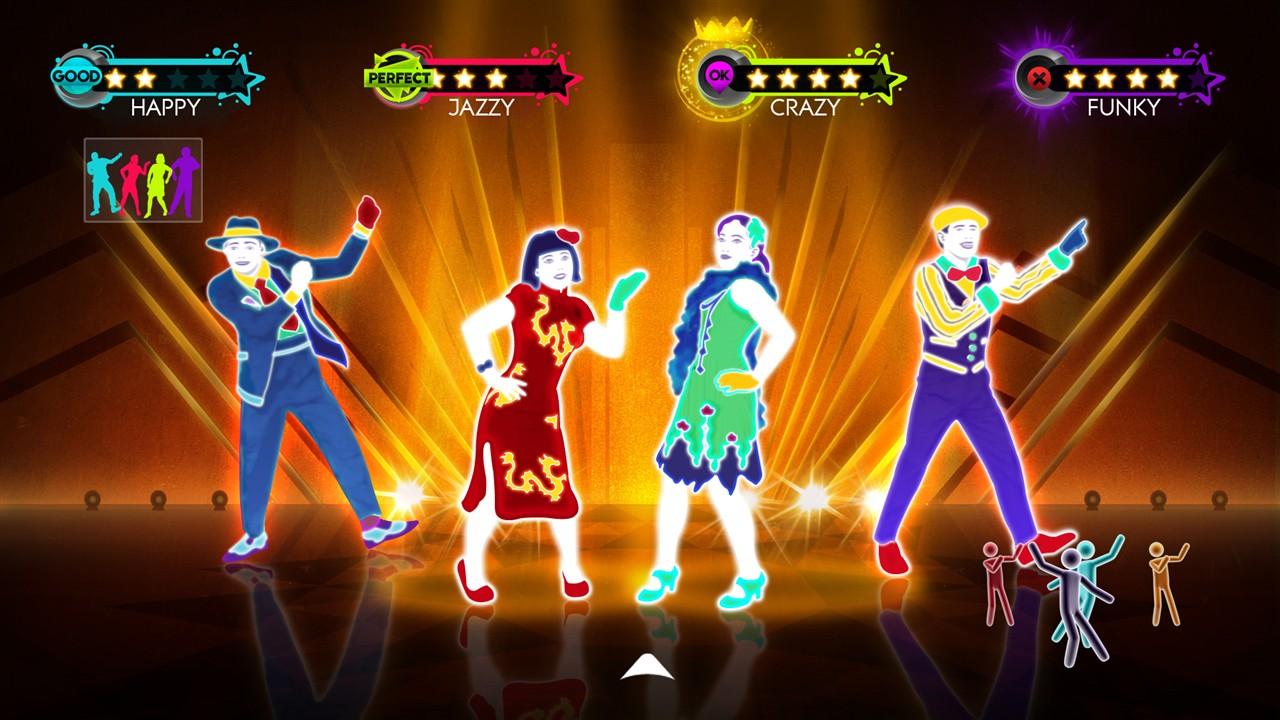 Highlights:
Strong Points: Good selection of songs to dance to.
Weak Points: Some of the dance moves are dorky.
Moral Warnings: While the swearing is removed, the sexual references are not.
Most of my game time was spent in this mode. Here you choose your weekly sweat points goal and dance those pounds away.  The sweat points are earned by simply moving the Wii remote.  To get more of a workout I used a Wii remote in each hand.  While only one remote earned me sweat points, I accumulated stars with both controllers.  Stars unlock new game modes, songs and dance mashups.  Dance mashups combine various dancers and their moves into one song.  You can earn up to five stars per song depending on how your movements mirror the onscreen dancer(s).  The most I've earned so far has been 4 stars.  I'm not sure what it takes to get five stars as I feel that I'm doing the moves properly.  Perhaps the Wii version isn't as accurate as the camera based PS3 or Xbox 360 versions.  I can't say for certain.  
The dancers are unique for every song and some are cornier than others.  The artwork style in the Just Dance series is unique and I like it.  The people in this game are washed out and flat in appearance.  The dance moves are very fluid and realistic though.  There's not a whole lot of detail but the outfits and appearance is different for every dancer.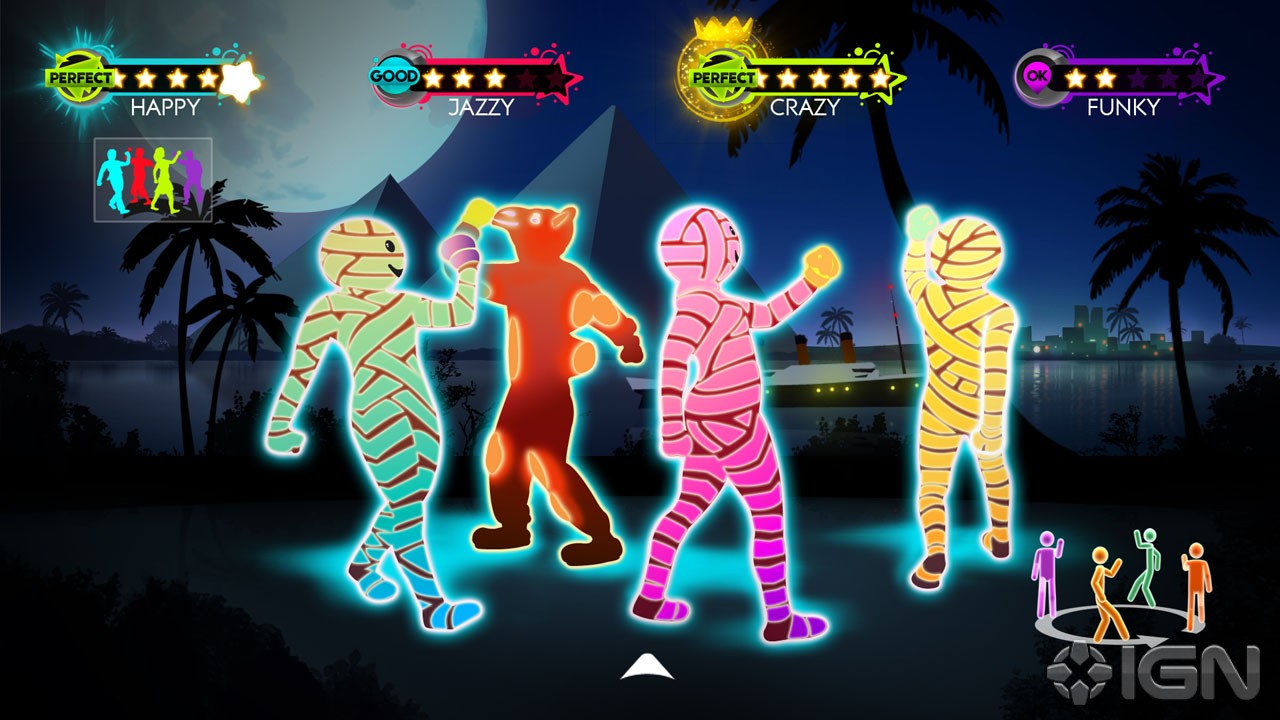 Score Breakdown:
Higher is better
(10/10 is perfect)
Game Score - 84%
Gameplay - 16/20
Graphics - 7/10
Sound - 10/10
Stability - 5/5
Controls 4/5

Morality Score - 77%
Violence - 10/10
Language - 10/10
Sexual Content - 3/10
Occult/Supernatural - 7/10
Cultural/Moral/Ethical - 8.5/10
While a couple songs had hip thrusts or whipping gestures, I didn't notice any overly sexualized movements.  The song Beautiful Liar has chest thrusts and belly dancing worth noting. Other sings with sexual references include: I'm so excited, I was made for Lovin' you, Promiscuous, Let's Go to the mall.  Not surprisingly, many of the female dancers are wearing skirts short enough that you can almost see their digital underwear!  LMFAO's Party Rock Anthem has been cleaned up quite a bit. (Funny how a band with two swear words referenced in their name is included). I like how this game displays the lyrics on the screen for you.  I didn't see or hear any swearing but there was some awkward silent moments.  The Chemical Brother's Hey Boy Hey Girl song has a voodoo shaman style dancer.  There's also a Halloween themed song called This is Halloween. 
For the most part this game was safe to play in front of my kids. There are just a couple of songs we would avoid playing in front of them.   When it's cold out, this is a great game to get the kids up and moving around.  It's a fun party game as long as you don't mind looking silly at times.