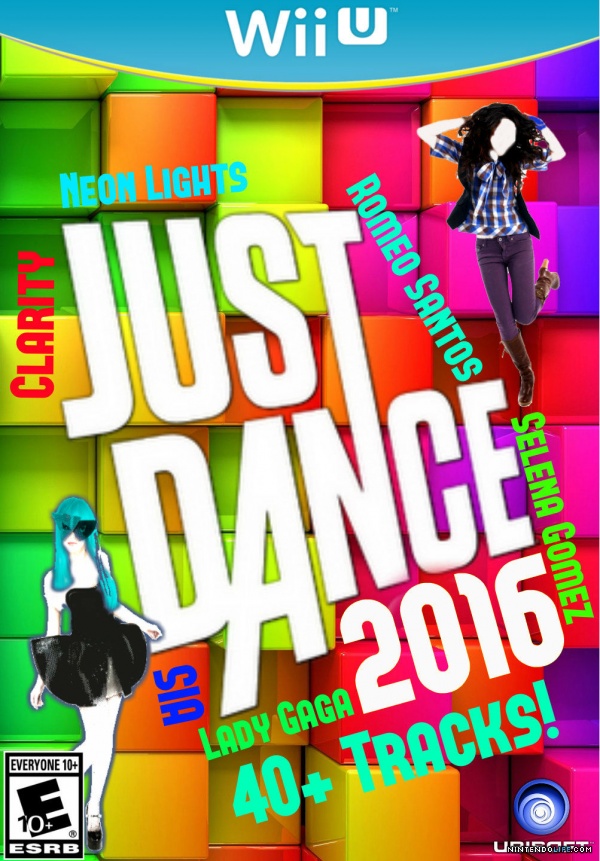 Game Info:
Just Dance 2016
Developed by: Ubisoft
Published by: Ubisoft
Release Date: October 20, 2015
Available on: PS3, PS4, Wii, Wii U, Xbox 360, Xbox One
Genre: Dance/Rhythm
Number of Players: Up to six
ESRB Rating: E 10+ for Mild lyrics and mild suggestive themes
Price: $49.99
(Amazon Affiliate Link)
Thank you Ubisoft for sending us this game to review!
The Just Dance series has been pretty successful for Ubisoft and with Just Dance 2016 they are introducing several new game modes and a subscription service to stream over 150 fifty songs from the previous versions.  The game comes with a 48-hour free trial voucher for the unlimited songs.  If you like the service, it can be purchased on Nintendo's eShop for $6.99 a month, $14.99 for three months, or a year for $39.99.  The game itself comes with over forty new songs and an option to unlock a few songs from previous games through uPlay.
When you first launch the game it will ask if you want to play with Wii remotes or phones using their free cell phone app.  Up to four players can play using Wii remotes while six can play using cell phones.  I found the cell phone method to be more accurate and did better in the Dance Quests where it's vital to have the best score possible.  In order to win in Dance Quest, you have to be in the top three players after a three song session.  There's an unlimited Dance Quest session with holiday themed quests available if you're subscribed or trying their unlimited service.
If you like the classic gameplay, then you'll want to do the Dance Party mode where you'll find the base game tracks along with the unlimited songs if you're entitled to them.  There's a rival/classic mode or co-op where the players compete for jewels.  In this mode you'll be recorded and will have the option of sharing your video with others and saving them for later viewing on Just Dance TV.  I like how is shows a recording option on the screen so you know when it's happening.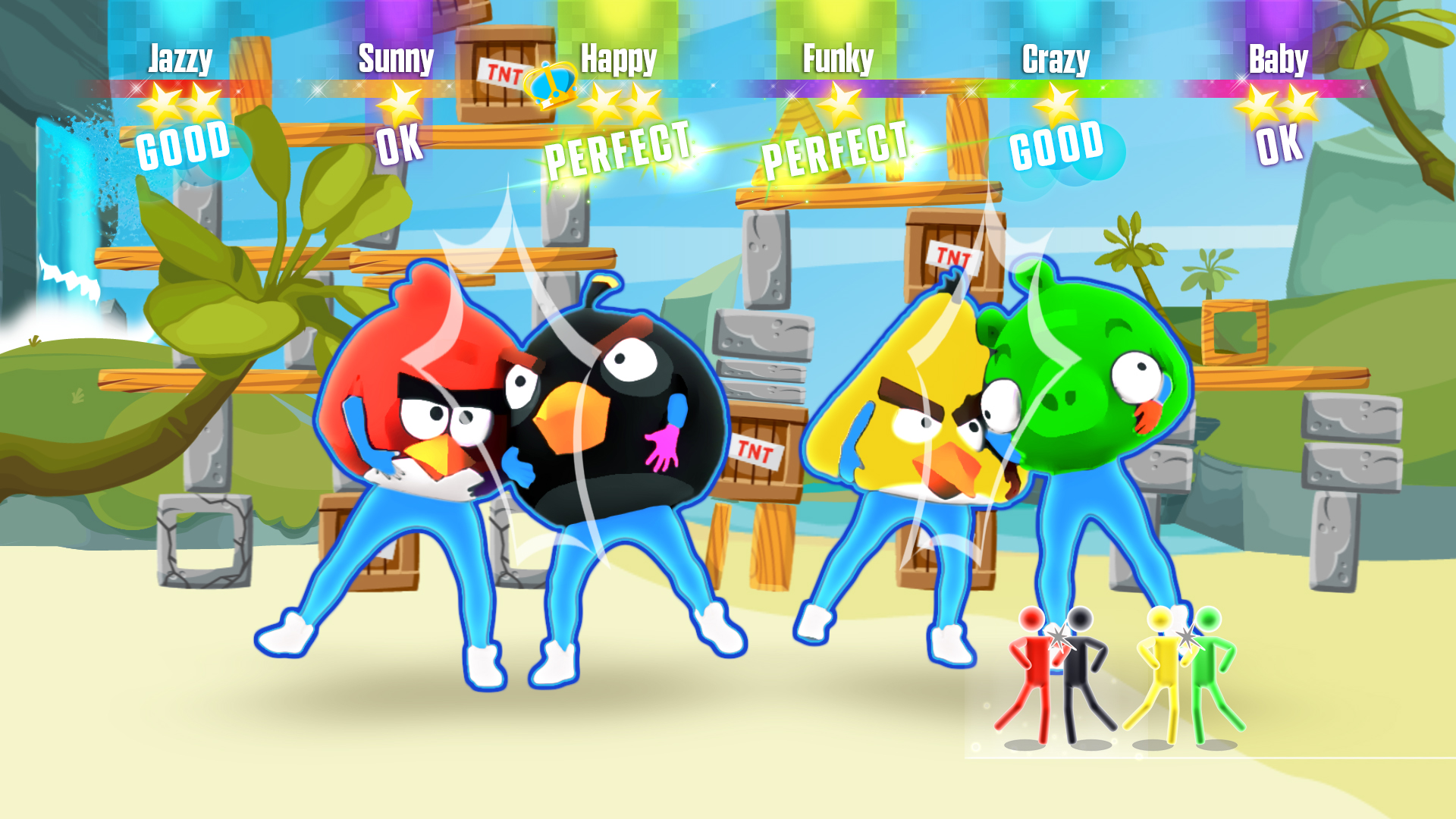 Highlights:
Strong Points: Phone or Wii Remotes supported; some songs have been censored 
Weak Points: The phone can disconnect mid-song and the unlimited songs can get interrupted as they buffer; no Facebook integration
Moral Warnings: Many songs promote drinking and one night stands; suggestive dance moves and characters wearing revealing clothing
If you think you have what it takes, you can challenge other player's scores online in the World Video Challenge.  If you just want to focus on the karaoke aspect, then you'll want to check out the Show Time mode.  Singing during a dance party adds to your score if you're on key. 
If you want to burn calories or make your own playlists, then you'll want to utilize the Sweat & Playlists area.  Given the raunchiness of many of the songs, you may want to restrict the songs kids could potentially be exposed to. 
There are several kid friendly songs like Disney's "Under The Sea," and the Angry Birds theme," Balkan Blast Remix," some oldies including Grease's "You're the One That I want", and remixes of "Hit the Road Jack," "William Tell Overture," and "Copacabana." My kids were happy to see "Ghostbusters" in the unlimited song list.
I had high hopes when I danced to "I've Got a Feeling" and the word God was taken out from the OMG phrase and cup was bleeped out as well to remove the drinking reference.  That was the only song to get such treatment as "Fancy" talks about champagne and not chasing down other alcoholic beverages.  One of the songs is even titled "Hangover".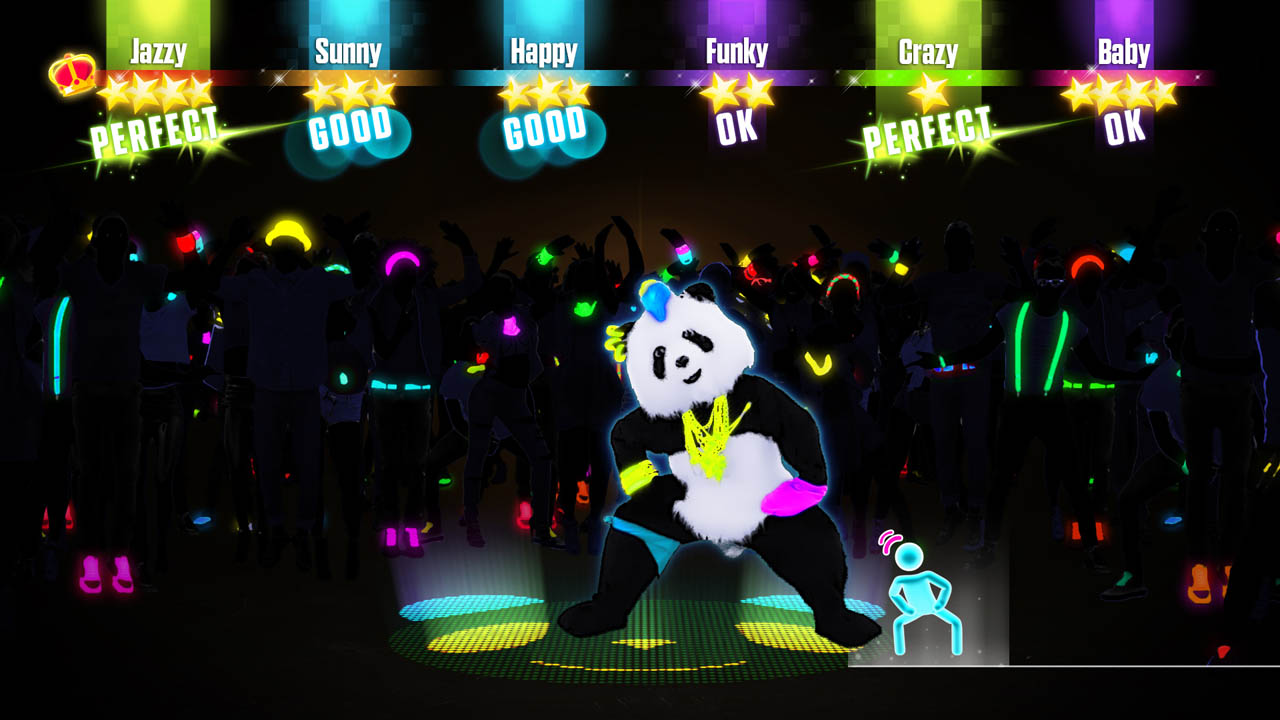 Score Breakdown:
Higher is better
(10/10 is perfect)
Game Score - 86%
Gameplay - 17/20
Graphics - 8/10
Sound - 10/10
Stability - 4/5
Controls - 4/5

Morality Score - 84%
Violence - 10/10
Language - 10/10
Sexual Content - 3.5/10
Occult/Supernatural - 10/10
Cultural/Moral/Ethical - 8.5/10
As if promoting alcohol wasn't bad enough, many of the songs are promoting one night stands or are eluding to sex in general.  Nicki Minaj in "Hey Mama" sings about having her drum beaten and liking her partner's dirty rhythm and wanting it in the worst way.  One Direction's "No Control" talks about waking up beside their partner like a loaded gun.  In "Fun" Pitbull tells his partner not to disguise the way they want to love tonight. Subscribers to the unlimited subscription get even more suggestive songs from all of the previous Just Dance entries!
Another downside to the unlimited subscription is that it has to download the song each time you play it.  Many of the songs look pixilated at first, but their quality got better over time.  A couple of times my dance was interrupted by the song needing to buffer.  If you have the older Just Dance games, you may as well just play those instead of paying a monthly fee for content you already have access to.   Better yet, it won't require any buffering!  I don't think it's an internet issue as my download speed is over 50Mbps and my upload is 10Mbps.
Like the previous Just Dance entries, foul language has been removed from all of the songs.  In Kelly Clarkson's "Heartbreak Song" the word hell has been omitted.  Other bundled in songs had far worse language removed from them.  
I can't deny that Just Dance 2016 is both fun and an excellent form of exercise.  The song selection has a wide variety of songs that span over several decades.  Many of the songs are safe for all ages, but some of them have strong sexual themes that make this a difficult game to recommend. If you're unsure, there is a free demo available.