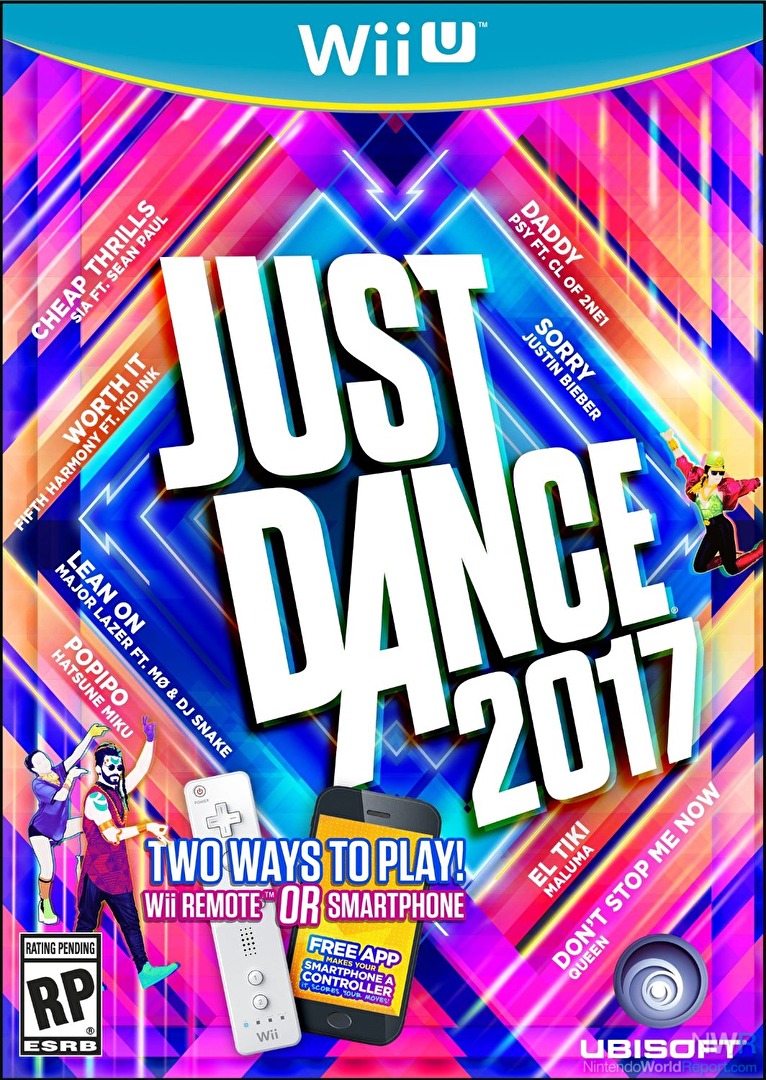 Game Info:
Just Dance 2017
Developed by: Ubisoft
Published by: Ubisoft
Release date: October 25, 2016
Available on: PC, PS3, PS4, Xbox 360, Xbox One, Wii, Wii U
Genre: Rhythm
ESRB Rating: E10+ for mild lyrics
Number of players: Up to four
Price: $39.99
(Amazon Affiliate Link)
Thank you Ubisoft for sending us this game to review!
While I still prefer and miss Dance Dance Revolution, the Just Dance series is a great way to sing and dance to some great songs and burn some calories in the process.  Just Dance 2017 has arrived with a new game mode along with forty new tracks from many popular artists.  If you're a member of Uplay Club you can unlock a couple of more songs by spending points earned in the game.  Two hundred more songs are available to you if you're a member of Just Dance Unlimited which has monthly or yearly fees.
There are two versions of the game: a standard and a gold version.  The gold version comes with a three-month subscription while standard grants you access to the unlimited content for two days before nagging you to upgrade.  The cost of keeping the membership is $4.99 a month, $9.99 for three months, or $29.99 annually.   If you want instant (depending on your internet speed) access to songs from the previous games without having to swap discs, it's worth considering if you play the game regularly.  
Besides access to more songs, the unlimited membership gives you more game content.  For example, there are more quests available for unlimited members in the Dance Quest mode.  In this mode, you have to complete and do well in a themed set list of three songs.  Once you complete one quest another will become available.  There are several difficulties to choose from and they range from beginner to super star.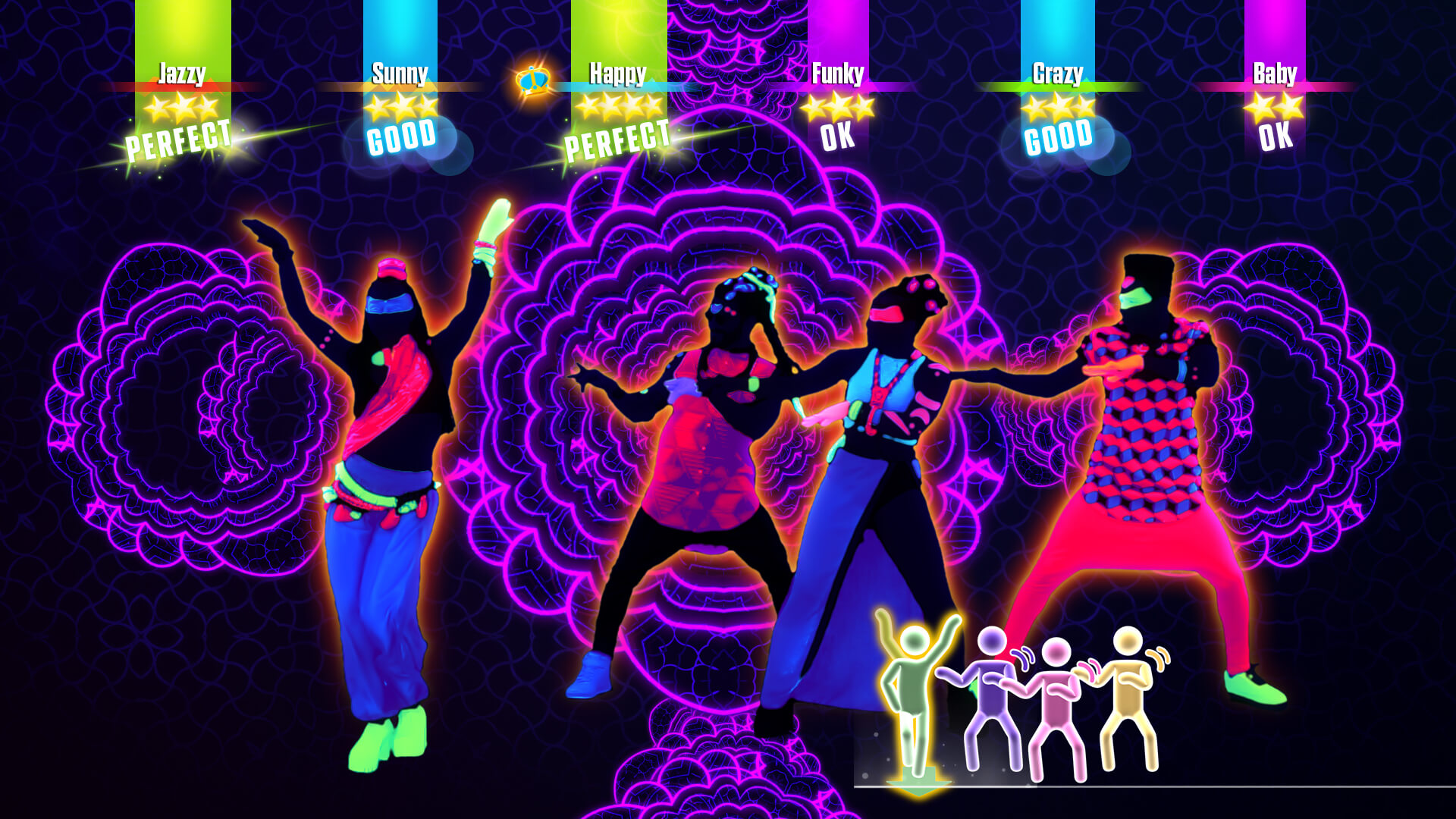 Highlights:
Strong Points: Fun way to burn calories and the new game modes are fun
Weak Points: Nagging to upgrade to unlimited
Moral Warnings: Some of the songs have references to sex and alcohol, some sexualized outfits and gestures including twerking
The gameplay remains the same where you have to mimic the moves of the dancer on the screen.  Some of the songs have multiple dancers to choose from so make sure you're following the correct one!  Depending on how accurate you are, your movements will be rated as ok, good, perfect, or not counted at all.  To track your movements, you can either use a smart phone with the free app installed, or a Wii remote.  I used a Wii remote and it generally worked well though there were times when I didn't get credit for moves that I'm convinced I did properly.
You can play this game solo, against friends, or against people around the world.  If you want to play against your friends then the Just Dance mode is where you want go.  In this mode you can play co-operatively or competitively against four players.   Throughout the song you'll earn stars for dancing and (optionally) singing well.  Whoever has the most stars or points at the end wins.  Even if you don't do well, you'll still unlock an avatar.  There are over two hundred avatars to unlock and use as your own to stand out from players across the world.
The World Dance Floor mode has you jumping into a song with several other players to see who can score the best at the end.  Unfortunately, it's possible to enter a song after it's started and that puts you at a significant disadvantage to the others who were there from the start.  After a song is finished all of the players are awarded points but the top three dancers will get the most.  Sometimes a random player is selected and whoever can beat their score will earn a lot of game points.  Occasionally bosses will appear and all of the players will have to work together to defend the dance floor.
Another way to interact with players around the world is through the video challenge mode.  In this mode you can either submit your own video challenge or try to score higher than someone else's.  Submitting your video from someone else's challenge is encouraged, but not required.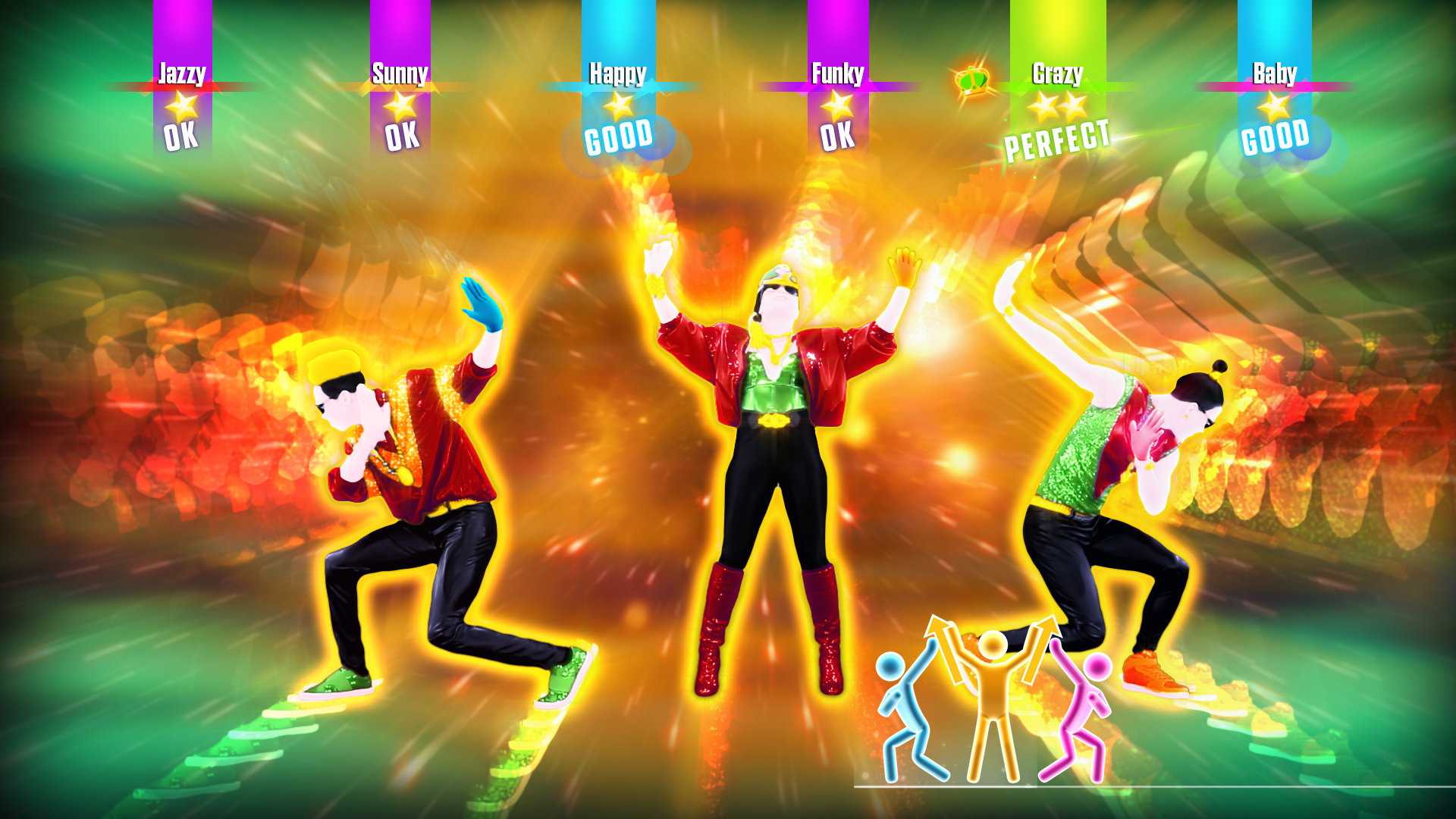 Score Breakdown:
Higher is better
(10/10 is perfect)
Game Score - 86%
Gameplay - 16/20
Graphics - 8/10
Sound - 10/10
Stability - 5/5
Controls - 4/5

Morality Score - 84%
Violence - 10/10
Language - 10/10
Sexual Content - 3.5/10
Occult/Supernatural - 10/10
Cultural/Moral/Ethical - 8.5/10
If you're interested in burning calories, then you'll want to check out the Sweat and Playlist mode.  There are three included playlists.  The short playlist has three songs and takes less than ten minutes to complete and will help you burn approximately 65.9 Kcal.  The medium playlist is six songs and takes a little over twenty minutes to finish and will make you 136.4Kcal lighter.  The long playlist consists of ten songs and takes thirty-three minutes to complete and burns nearly two-hundred and twenty-five Kcal.  If you have a lot of energy or calories to burn you can do the nonstop shuffle mode.
New to Just Dance 2017 is the Just Dance Machine mode where you get to assist aliens stranded in space.  In order to recharge their spaceship's battery, you need to mimic various moves as accurately as possible.  There are thirty-two routines that will gradually unlock as you play through this mini-game.  Some of the routines include playing air guitar, conducting an orchestra, doing marital arts, or twerking.
Sadly, some of the dance moves and outfits are sexualized in this title.  A few of the songs have sexual and alcohol references in them as well.  If you have Just Dance Unlimited activated, you have access to most songs from previous games that we've called out for various reasons.  
One song that I didn't see on Just Dance Unlimited was "What Does the Fox Say".  Other favorites from my kids were on there like "Let It Go" and the "Ghostbusters" song.  The track list for Just Dance 2017 is decent and features songs from artists like Britney Spears, Justin Bieber, Beyonce, Psy, Maroon 5, Queen, and many more.  I was pleasantly surprised to see a song from Hatsune Miku as well.
Overall, Just Dance 2017 is a solid entry to the series and offers plenty of new content to justify its purchase.  While the unlimited mode provides more content and features, I wish the game wouldn't nag you about not using it.  Like all previous games in the series, there are some questionable lyrics and dance moves.  If you don't mind some skin shown and twerking there's plenty of fun to be had and calories to be burned by playing this game.