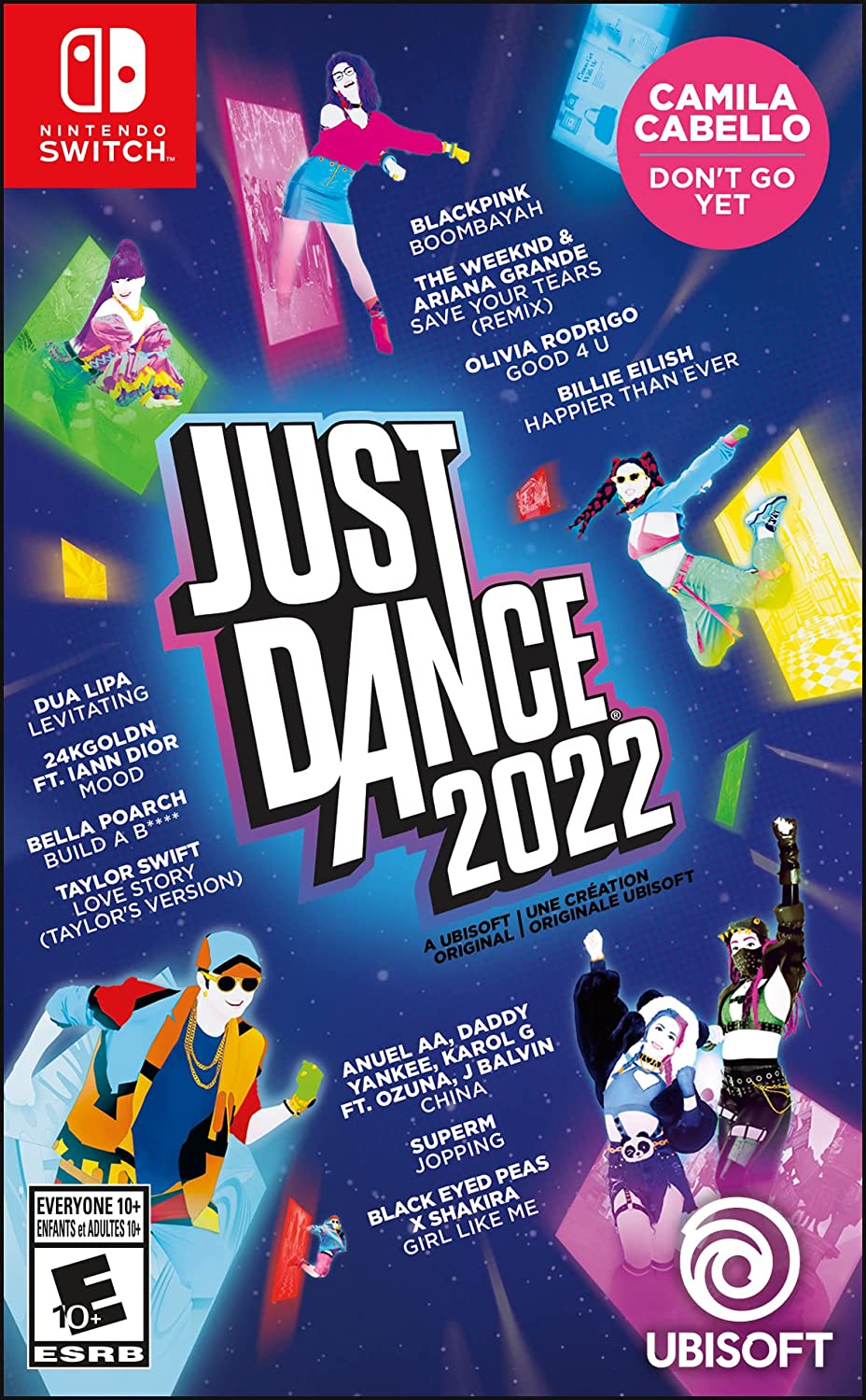 Game Info:
Just Dance 2022
Developed By: Ubisoft
Published By: Ubisoft
Released: November 4, 2021
Available On: Nintendo Switch, PlayStation 4, PlayStation 5, Xbox One, Xbox Series X, Google Stadia
Genre: Rhythm
ESRB Rating: Rated E10+ for Comic Mischief, Lyrics, Mild Suggestive Themes
Number of Players: 1-6 offline
Price: $49.99
(Amazon Affiliate Link)
Thank you Ubisoft for providing us with a review code!
It's the "Thanksgiving to Christmas" stretch of the year, which means it's time to start working on holiday shopping (among other family traditions)! Every year since 2009 has brought another Just Dance game to the table, and this time is no different with Ubisoft bringing out Just Dance 2022 for current generation platforms. While last year's iteration felt like an upgrade since the Wii version was finally ditched, this year's selection feels a bit more of the same with a more mature edge this time around.
If you read our review of Just Dance 2021 (or really any Just Dance game), then you won't be a stranger to this roundup; there are over 40 songs that you can play using just a Joy-Con (or smartphone), and up to 6 players will follow the on-screen coaches as they strut their stuff. By correctly copying the moves, you'll earn points which can earn you up to 5 stars (well, 7 since "Superstar" and "Megastar" ranks exist). The game keeps track of your high scores, and there are a few other modes that you can choose, like a World Dance Floor mode that acts like a pseudo-online mode complete with leaderboards.
Every Just Dance game has a set theme of songs offered, though the selection has changed as of the past few years. Gone are the days of 70s and 80s classics as well as J-pop filling up the song list; now it's full steam ahead with the top 40 tracks and K-pop songs. It's a nice touch that recent Just Dance titles have featured international hits as well, and you have Portuguese and Zulu songs alongside Spanish and Korean tracks. While I miss the mix of older tracks in the base games, I like the variety that comes from the sillier routines. Mr. Blue Sky's completely animated number is one of my all-time favorite series tracks now, while Last Friday Night (T.G.I.F.) is a wonderful homage to all the Katy Perry songs featured in years past.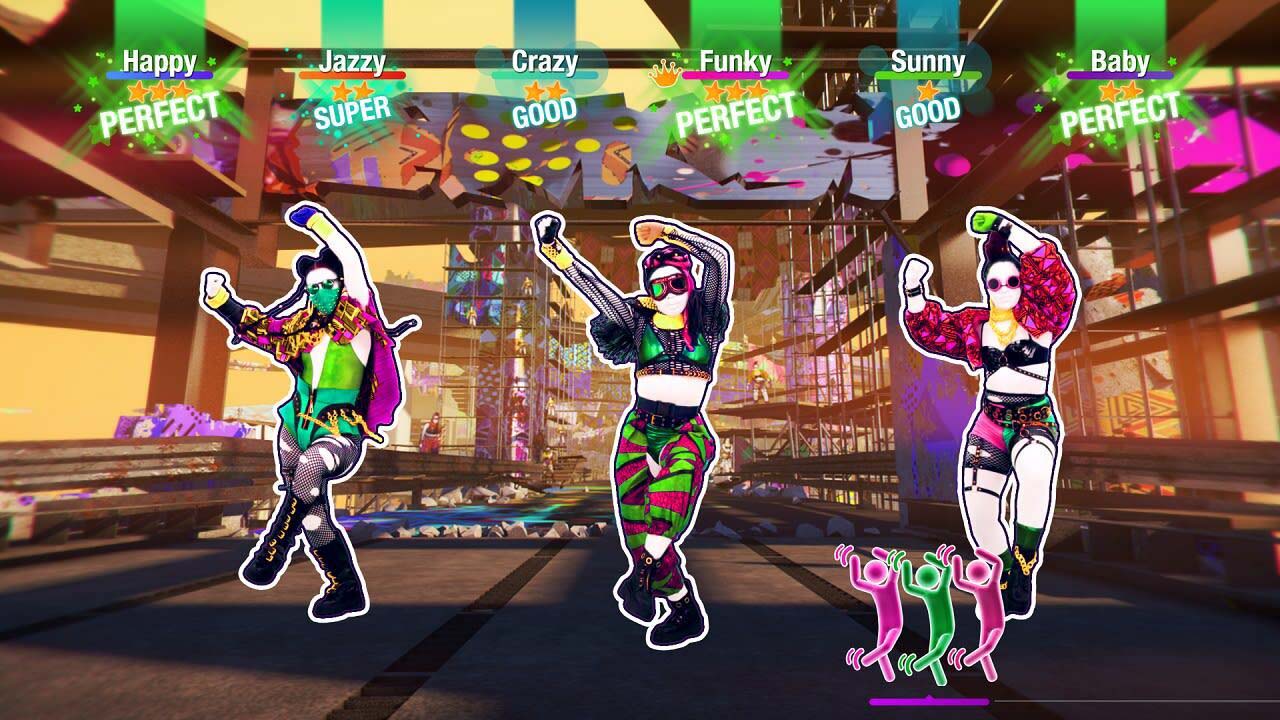 Highlights:
Strong Points: Nice-looking song numbers and choreography; easily accessible for casual audiences; Just Dance Unlimited is a nice touch
Weak Points: Kids mode has no new content this time around; not much has changed since last year
Moral Warnings: While explicit language is censored, the song "Build a B****" has its title intact (with another song being reworked as a clean version); some songs have suggestive moves and costumes; a couple songs explicitly mention and reference sexual themes
For those longing for older music, one month of Just Dance Unlimited is included, which offers more than 500 songs from previous games. It's a wonderful value proposition, and a good way to keep the party going long after you've exhausted the base songlist. However, the UI hasn't changed since Just Dance 2019, and unless you really want to play a majority of the songs here, you're better off grabbing last year's title at a cheaper used price. Keep in mind that any new song released for Just Dance Unlimited will be exclusive to this year, so you'll have to keep buying annual releases to get the latest songs; it's a solid system, but one that feels a bit recycled now.
A huge example of this is with the additional Kids subsection you can select at the beginning of the game; this has been a staple for years now and includes some original routines made just for kids using instrumental tracks. If you have Just Dance Unlimited, you can also pick a few curated tracks from the main game that's catered towards children, but other than that it's just a smaller version of the main game. What's odd about this year's edition is that none of the kids' tracks this time around are new, coming from prior titles. It's odd because I think Just Dance could benefit from having a strictly kids' title that's aimed for really younger audiences (much like how the Wii era had Just Dance titles for kids under the age of 6).
Speaking of kids, this year's iteration feels a bit more suggestive than usual. I'll only be rating the moral content based on the base game's 40+ songs, but keep in mind Just Dance Unlimited has a selection of songs that we have mentioned as moral warnings in the past. Perhaps the most egregious addition is the fact that Bella Poarch's "Build a B****" has its title remaining intact, even though the phrase "Build a babe" is used in the song proper. This is perhaps the first instance of the expletive being on display, with another song ("Boss B****") being reworked as Boss Witch.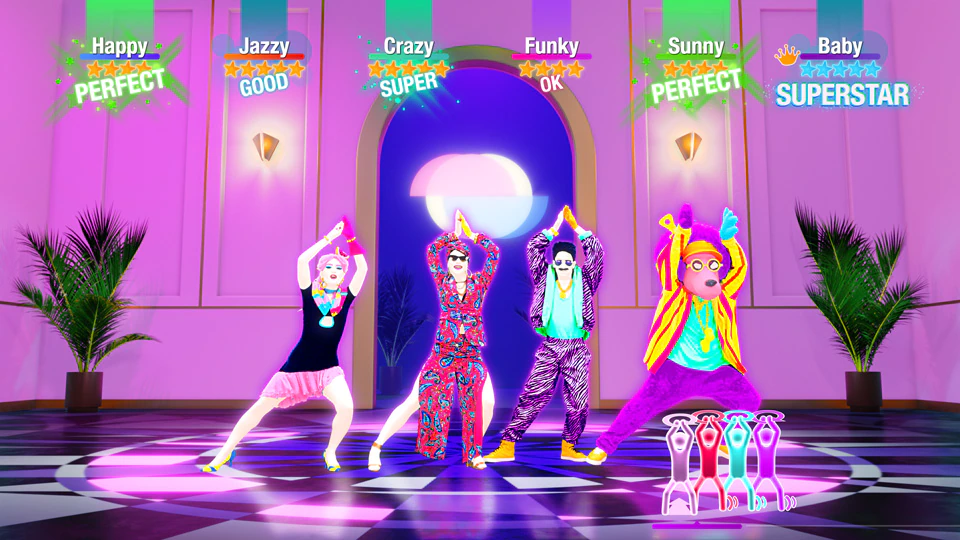 Score Breakdown:
Higher is better
(10/10 is perfect)
Game Score - 80%
Gameplay – 13/20
Graphics – 8/10
Sound – 10/10
Stability – 4/5
Controls – 5/5

Morality Score - 70%
Violence – 10/10
Language – 6/10
Sexual Content – 2.5/10
Occult/Supernatural – 8/10
Cultural/Moral/Ethical – 8.5/10
Related to the previous point, Boss Witch has a supernatural/Halloween theme to it, with imagery relating to tarot and witchcraft in the background, though players don't see anything explicit with magic like specific texts. Meghan Trainor's "Funk" has a lot of lines that could be misheard as the f word, as the gimmick in that song is that Trainor sings "I missed the way we used to funk", obviously meaning the double entendre. Lady Gaga's "Judas" is also included within the track listing, and inaccurate religious themes aside, has a negative message of still going back to a former lover who has done wrong to the singer.
Additionally, a couple of songs also promote LGBTQ themes, with "You Make Me Feel (Mighty Real)" featuring a drag queen coach, and Todrick Hall's "Nails, Hair, Hips, Heels" namedrops the term "LGBTQ+", with the routine also using the word "twerk" and the coach frequently moving his butt as per the dance move. Some other routines also include costumes that are scantily clad with suggestive movements.
Just Dance 2022 is still a solid music game for most audiences, but for those that are a bit wary about the songlist this time around, I'd suggest grabbing another year and picking up Just Dance Unlimited in the meantime.