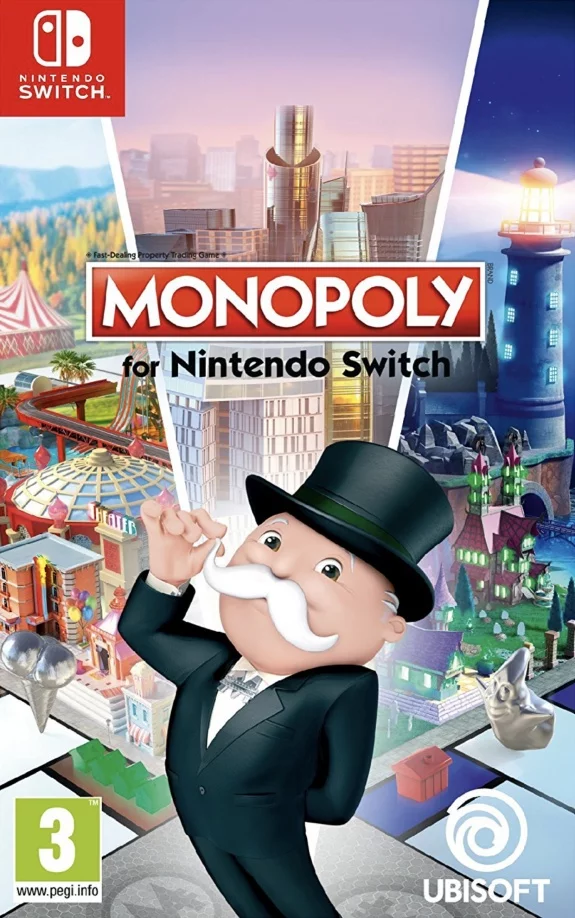 Game Info:
Monopoly
Developed by: Engine Software
Published by: Ubisoft
Available on: PS4, Switch, Windows, Xbox One
Release date: October 31, 2017
Genre: Board game
Number of players: Up to six
ESRB Rating: Everyone
Price: $39.99
(Amazon Affiliate Link)
Thank you Ubisoft for sending us this game to review!
We originally reviewed Monopoly when it first released in 2014. There are some additions in the Switch version and the biggest draw for me is the portability. With some of the long road trips we've been doing recently, an hour long plus game for the kids to play in the car is a big win. However, the portability comes at a cost since the Switch version sells for $25 more than other platforms.
My biggest concern with the Switch version was performance. Thankfully, I'm happy to report that this game ran great for us. When it first launched there was a glitch that caused load times lasting several minutes, but that has already been addressed and we didn't have any problems running the game.
All five of my family members were able to join in with the four joycons and our pro controller. I like how you can shake the controller or simply press a button to roll the die. The pieces have animations as they go across the board and you can skip them to save on time. Additional pieces unlock as you play the game more.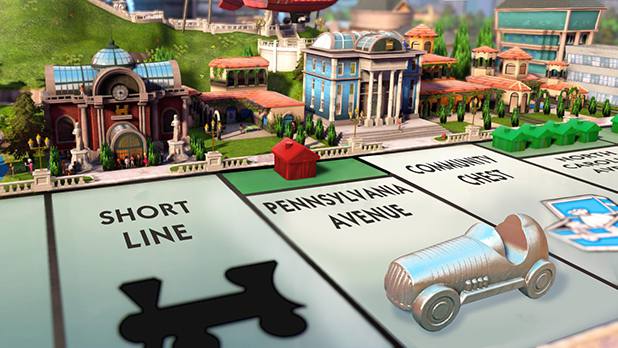 Highlights:
Strong Points: Classic and now portable board game
Weak Points: Way more expensive than other versions which have been out longer; no online games to join
Moral Warnings: The haunted board is Halloween themed and has references to ghosts and fortune tellers
There are living boards which are themed, detailed, and animated. The properties may be renamed as well. My kids liked the Halloween themed haunted board. There are also city and amusement park boards available. The classic boards have the traditional board along with a Rabbids themed one.
Monopoly games can take a while to complete and one of the advantages of the digital version is the ability to save mid-game. Switch profiles are automatically entered as players. Configuring the controllers for each player was easy to do.
On your turn you can roll the die, look at the board map, make a trade, manage properties, or declare bankruptcy. The trade menu lets you trade properties for cash and/or real estate. If you're badly in debt you can declare bankruptcy and the game will give all of your assets to the player you owed money to. When all of the players but one declares bankruptcy, the game is over.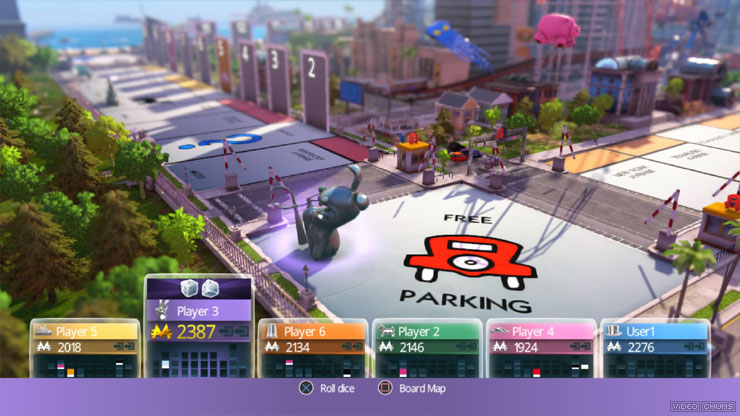 Score Breakdown:
Higher is better
(10/10 is perfect)
Game Score - 78%
Gameplay - 15/20
Graphics - 8/10
Sound - 7/10
Stability - 4/5
Controls - 5/5

Morality Score - 94%
Violence - 10/10
Language - 10/10
Sexual Content - 10/10
Occult/Supernatural - 7/10
Cultural/Moral/Ethical - 10/10
To shorten the game, there are many game mode cards available. You can change the winning conditions for the first player to own a hotel, or collect $500 in rent, or earn $2000 in cash, or have a certain number of properties or monopolies. House rules can also be applied like the Free Parking space giving out money collected from chance cards. Other rules include not giving any money by passing Go, giving the choice of collecting $400 or moving anywhere you want instead.
Online play is available, though I was not able to join any games using the quick match feature. I would only recommend buying this game if you have people nearby to play against or don't mind playing against the AI.
While the Switch version looks, sounds, and runs fine, I have a hard time justifying the premium price for it. The portability is great, but I would wait for a sale or price drop before picking it up since the online play is dead and the other platforms are much cheaper. If it was cheaper and more people were playing it online, I would say that this would be the definitive version.