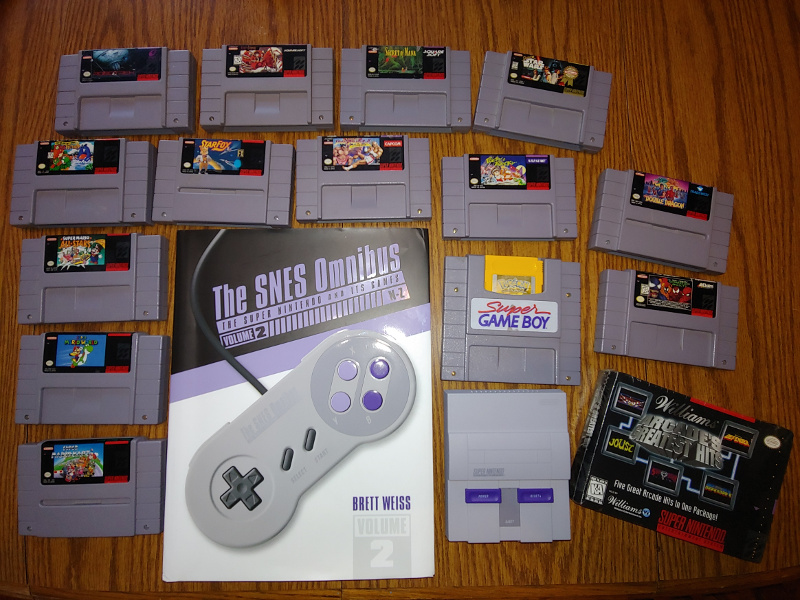 Author: Brett Weiss
Publisher: Schiffer Publishing
Hardcover book
464 full-color pages
Over 375 games covered
MSRP: $49.99
Thank you Schiffer Publishing for sending us this book to review!
As I mentioned in my SNES Omnibus Volume 1 review, I was blessed to grow up as video games did, and played tons of Atari, Nintendo Entertainment System (NES), and got my Super Nintendo Entertainment System (SNES) in what was probably early high school. Based on the release date of Super Mario All-Stars as mentioned in this book, I believe it was 1993.
This book celebrates this generation of gaming by devoting one or two pages to each and every game in the SNES library. This volume covers every game in alphabetical order, starting with 'Natsume Championship Wrestling' and ending with 'Zoop'. I highly recommend you check out Volume 1, as well as this one.
The first few pages include a foreword, where the technical specifications of the SNES are discussed, as well as a brief summary of the competitive landscape surrounding the system's release. There is also a preface, where the author talks a bit about his love for the SNES, along with his rationale for making the SNES Omnibus series into two books, rather than one. The game compilation itself starts on page 12.
Each page is in full color, with the title, publisher, developer, game type, and release year all notated at the top. Under that is the box art, a picture of the cartridge, and a general description and summary of the game. If it's particularly good or bad, you might find some commentary there, too. Sometimes they will compare the game with its Sega Genesis counterpart, if there was one. There are also screenshots, and some titles may have promotional art or a picture of an ad as well.
Other than the general overview, each page also includes a 'Notable Quotable', which is typically an excerpt from a review, sometimes modern and sometimes classic, or a comment from a famous YouTuber, game developer, or industry veteran. Some games also feature one or more 'Insider Insight', which is a story of how that game impacted one of the many contributors. There are eighty-seven people listed as contributors on pages 453-457. Having been recently honored by an entry in the Superstars of 2019 Walter Day Trading Card collection, it was really neat to see other Trading Card holders mentioned in the credits. There are also articles that go in-depth about the Super Game Boy, which is an accessory I treasured since I also loved playing Game Boy games on my TV, and Super Metroid, one of the greatest games of all time. There is also a bibliography.
Reading through this lovingly crafted archive, I was reminded both of the many great games that shaped my adolescence, and also the many that I remember looking at fondly but never having the chance to purchase for myself. I had a job in high school, so I worked for my games – but no kid can afford everything, so something always had to give. Thankfully, I often had great success scouring the used games at my old Blockbuster Video, which no doubt saved me a pretty penny in these early days before GameStop (as FuncoLand was the only used game store around).
A few notable games that I either own or owned, or borrowed from friends which are covered here include:
Pocky & Rocky (big garage sale win!)
Rampart (played at a friend's house as a kid)
Robotrek (love this game!)
Secret of Evermore (recent acquisition!)
Secret of Mana (one of the best games on SNES)
Shadowrun (borrowed from a friend - love this game!)
Soul Blazer (a friend of mine had this game when I was young. If anyone is willing to sell for a reasonable price, please let me know!)
Star Fox
Star Fox 2 (SNES Classic only)
Street Fighter II Turbo: Hyper Fighting (I have so many wonderful memories of this game!)
Super Castlevania IV (SNES Classic/Wii VC)
Super Double Dragon (garage sale find)
Super Ghouls 'N Ghosts (I played this at a friend's house, and now own it on SNES Classic)
Super Mario All-Stars (my SNES came with this and I loved it!)
Super Mario Kart (I love all of the sequels, but this one never really worked for me)
Super Mario RPG: Legend of the Seven Stars (SNES Classic only)
Super Mario World (love this game! I got all 96 stars)
Super Mario World 2: Yoshi's Island (mind-blowingly good game!)
Super Metroid (one of the best games ever. Borrowed a friend's copy as a kid. I never owned a cart, but I own it now on SNES Classic and Wii VC)
Super 3-D Noah's Ark (Okay, I never played the SNES version, but we reviewed the Steam re-release!)
Super Punch Out!! (borrowed it from a friend as a kid, now own it on the SNES Classic)
Super R-Type (I remember playing this at a friend's house)
Super Scope 6 (never had one, played it once, but it looked really cool!)
Super Star Wars (played at a friend's house, and years later it was a garage sale find!)
Teenage Mutant Ninja Turtles IV: Turtles in Time (I never owned this, but have good memories playing with friends)
Venom/Spider-Man: Separation Anxiety (garage sale find)
Williams Arcade's Greatest Hits (a friend gave me an unopened copy!)
Wing Commander: The Secret Missions (I played a friend's copy. Great game, but even better on PC!)
And, of course, the awesome Super Game Boy, which has a dedicated article about it.
As an aside, many, many games of that era would call themselves 'Super' if they were on the Super Nintendo. If you want proof, pages 228 through 312 all deal with games that start with 'Super'.
This book is an excellent retrospective, and reminded me of several games that I wanted to pick up when I was younger, but never had the chance, as well as some new ones I hadn't heard of. I had no idea Paladin's Quest was a good game. I had no idea that the NBA Jam games were popular because they were good (I've never been a sports game person). I ended up getting some new-to-me SNES games recently, including Secret of Evermore, thanks to reading more about them in this book. I'm sure my wife is thrilled!
If you want to be tempted to hunt down old games, or simply long to read about more games from arguably the greatest video game console of all time, then you owe it to yourself to check out The SNES Omnibus: The Super Nintendo and Its Games Volume 2. If you are a collector, or simply love the SNES, then I highly recommend that you pick up this book and its companion volume. It may be pricey, but it's worth every penny.

(Amazon Affiliate Link)