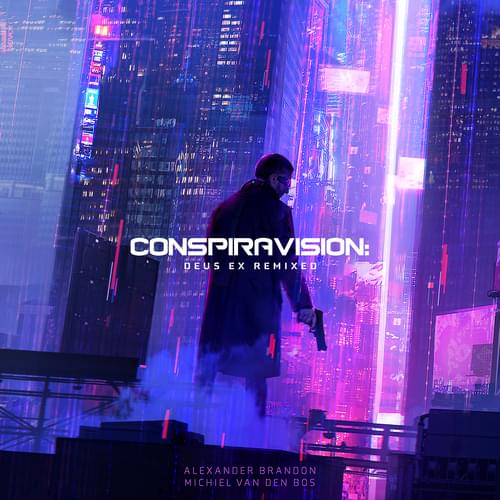 Thank you Materia Collective for sending us this digital album to review!
Deus Ex was originally released in 2000 and this album was released to coincide with its 20th anniversary. While Deus Ex doesn't look great by today's standards, it was a revolutionary first-person shooter (FPS) for its time. The story is engaging and the ability to upgrade your augmented body adds strategy to the gameplay. While violence is always an option, you can opt to simply knock out most of the foes if desired.
The electronica background music for this title is phenomenal. I remember extracting the Unreal music files and burning it to multiple CDs since I really enjoyed the music from this game. Not all of my favorite tunes made it onto Conspiravision: Deus Ex Remixed, but most of them are there.
This album consists of seventeen tracks ranging from three to four minutes apiece and will keep your ears happy for over an hour. Alexander Brandon did a fine job staying true to the original songs while giving them all a nice tune-up.
If you play this album in order, you'll be treated to the iconic menu music followed by training tunes. From there you may recognize theme and battle music from Liberty Island, UNATCO, Battery Park, New York Streets, Lebedev's Airfield, Paris Club, Duclare Chateau, The Synapse, Majestic 12, Oceanlab, and Area 51. The ending theme and credits music is also provided for your listening pleasure.
You can own this tribute to video gaming history in MP3 format for $9 on Amazon. If you prefer lossless formats like FLAC you can get the digital album on Bandcamp for $10. Physical CDs are also available on Bandcamp for $15. Fans of this series should definitely give this album a listen and consider adding it to their music library!

(Amazon Affiliate Link)