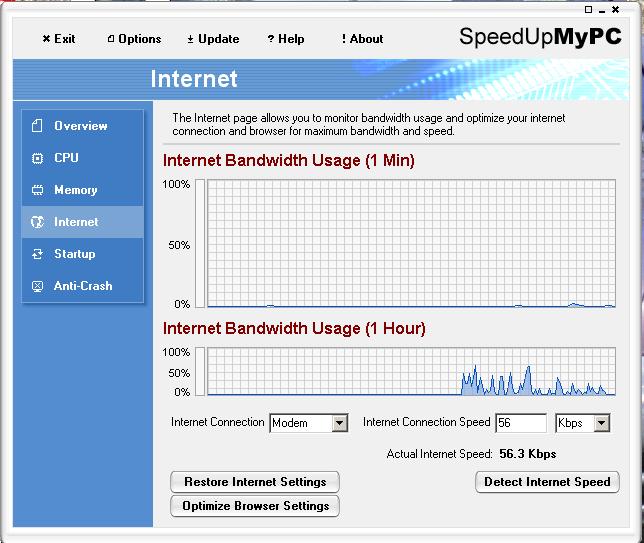 System Requirements
CPU: 300mhzWindows 98,2000, XP HDD: 10MB free space RAM: 32MB RAM
This software is for anyone interested in getting the most performance out of your machine. SpeedUpMyPC allows you to optimize your internet (dialup) connection, boot up time, page file/memory usage, and helps prevent crashes. This software is ideal for those with low-memory systems. Many of the features can be obtained freely; so the question is: Is this program worth $30?
How do I optimize my boot up?
SpeedUpMyPC records your boot up times for you which I think is nifty. This may or may not be accurate for me since I have a couple of boot loaders with selection timeout delays. But in either case there is a section where you can enable and disable your programs that auto start. This is very similar to the msconfig utility. Windows 2000 does not come with this program anymore but the Windows XP version will work with it. When I optimized my boot up I gained 3 seconds but your mileage may vary. My boot up times vary every time so the gain or loss is hard to determine.
Internet
For those of us with 56K we can use all the bandwidth help we can get. There is an internet speed detector which can help you gauge your kb/sec download rates. From this section you can have the program automatically optimize your internet for you. Again your results may fluctuate as internet connections do. I was getting varied results after testing out my internet speeds. I am getting from 49.2 to 56.3 kb/sec. If you are unhappy with your optimizations there is a restore internet settings button. Phew! Again if you swing by www.download.com you can do a search for \'internet optimizer\' and you will see some shareware and freeware applications that do this. Make sure they have an undo function because they do modify your registry!4MemoryIn the memory section of SpeedUPMyPC you see graphical charts of your memory and page file usage. There are some options you can enable like Free up memory automatically if it exceeds 75% usage. You can even set quick keys to free it on the fly. There is an option to display a warning when the page file usage exceeds 90%. These % variables can all be changed. There are also Free RAM and Deep RAM Recovery buttons at your disposal. I really didn\'t get to test this feature since my Windows 2000 machine has plenty of memory and hard drive space. :)
Anti-Crash
Don\'t you hate it when your system locks up? Ever want a key sequence to try and recover it? Well this program tries to offer that plus detect the problems before they happen! If it does happen you can enable it to restart the Windows shell for you. To run the crash recover you can click the button or try the default key combo CTRL+Shift+R. You can set your own key combination if you like.
CPU optimization
This is the part of the program that impressed me the most. In here you can select processes to run silently in the background. There is also an option to prioritize Windows system functions when the CPU reaches 80% usage. My favorite area is the Assign more CPU resources to a certain application. By default you can scroll down to what\'s currently running but you can also type in the exe you want to optimize. It does not keep the settings so you have to manually type in your executable names each time you change programs. Feature request: Remember the programs to optimize for future uses! I typed in the UT2003 executable and the 3dmark03 executables and ran them with and without the CPU resources feature. Both times I got a performance boost. So this program DOES work! In UT2003 without the optimization my lowest frame rate was 38. With the optimization running I got a low of 73! The overall benchmark score jumped from 147 to 149 with the optimization. The 3dmark03 score went from 1452 without the optimization to 1464 with it enabled. You can get the same results from running the programs with a high priority level. In order to do that you have to either make custom batch files, tweak your registry, edit the shortcut, or execute it from a command line. This program just makes it a little more convenient. It would be even more so if it allowed you save the exe files you add.
Final Thoughts
This program does do what it promises. Although I didn\'t see a huge difference in internet or boot time, this will vary from system to system. I was very impressed with the convenience of the CPU optimizer though. I\'d say if your looking for ways to clean up and stabilize your system you\'re better off getting Norton System Works for your $30. But if you\'re a gamer and would like get an edge in your games this software is worth looking into! I\'d get it for the CPU optimizer and consider the internet and boot up tweaks a bonus. :)