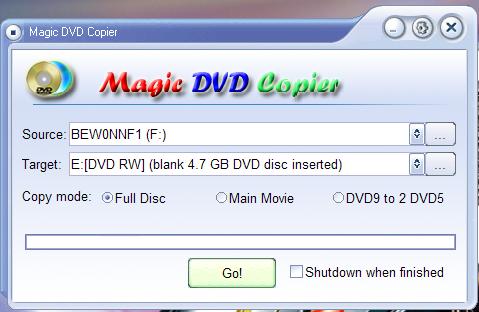 Magic DVD Copier System Requirements: · Windows XP/2000/2003 · Pentium III 733 MHz · 128 MB of RAM · 8 GB of Free Hard Disk Space · A DVD Writer Drive I have a toddler at home who loves her Baby Einstein DVD's. So much so that she often ejects and inserts them into the DVD player by herself. This can result in fingerprints, smudges and worst of all, scratches on these DVDs. Magic DVD Copier is a $35 program that allows me to make backups of my DVDs. It doesn't matter what size the DVD is because it can compress it to fit onto one DVD disc at the cost of image quality. If you don't want to lose picture quality you can burn one DVD to 2 discs or better yet just burn the movie without the previews or special features etc.
Do I need a PHD to run this program?
This program is so easy I think my grandma can operate it. It automatically detects your burner and your source drive for you. It even detected a good drive to use for temp space for me. All you need to do is insert the DVDs and click on Go, and the program will do the rest. There is even a check box to have it shut down your machine when it's done. I tested that feature out and it works.
What can this program do?
Here is the list of features mentioned on their site: · Copy DVD movie to blank DVD in 1:1 mode · Compress a DVD9 movie to a 4.7 GB blank DVD · Split a DVD9 movie to two 4.7 GB blank DVDs without any loss of quality · Copy main movie only · Copy DVD movie to hard drive and burn DVD movie from hard drive · Remove all the restrictions of DVD (CSS, Region, RCE, Sony ARccOS, PuppetLock) · High speed, copy a full DVD disc in 1:1 mode within 20-40 minutes · Very easy to use, just by one click This program works as advertised. It allowed me to copy DVDs that Nero did not let me copy. I now have backups of Baby Einstein Wordsworth (just copied the movie file) and The Incredibles (over 7GB to 4.7GB disc). This program is very easy yet powerful. I ran into no problems using it.
Advanced Features
There are many areas you can tweak in the configuration menu. I set it to automatically compress to fit onto one disc. There are more advanced features such as setting the read error tolerance, removing prohibited user operations, and always keeping the DVD menu while splitting. By default the programs will clear the temp space it uses upon finishing.
Final Thoughts
If you're looking for a good DVD backup program I highly recommend looking into this software. There's a free demo and the price is very reasonable, as I have seen comparable programs for close to $100. Upgrades are free for a year and you get lifetime support. You can buy the software by either getting a digital registration code or by purchasing a CD-Rom for an additional $9.95. Like many programs this software can be used to make illegal copies of movies. I only endorse it for making legit copies of DVDs you already own.