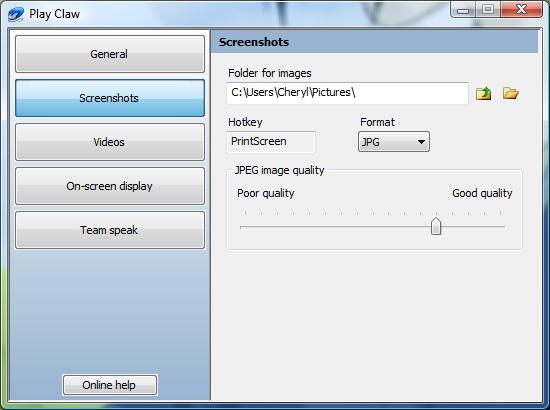 Many reviewers and gamers like to capture multiple screenshots and even videos of their game play. Play Claw can capture video, screenshots, display the frames per second, and it can even display TeamSpeak information so you know who is talking to you in multiplayer games. You can have PlayClaw launch with Windows, and it can run minimized or in your system tray. I prefer the latter.

As a Vista 64 user I have often taken many black screenshots and with Play Claw I get good screenshots every time. It sure beats having to do a print screen, end my game, and paste it in paint and then restart my game again and repeat. You can bind whatever key you want for taking screenshots and you can choose the format to save it in (BMP, JPG, PNG, TGA). The quality and saving location can be adjusted as well.
The screenshot and video capturing didn\'t make the system take too horrible of a performance hit on my system, but it was noticeable. If you\'re playing a game like TrackMania where every 100th of a second can count, DON\'T capture screenshots and expect to win the race. In all fairness, Fraps has the same performance hit.

If you want to benchmark, you can see your frame rate and even overlay the value onto your screenshots. The location of the FPS counter can be customized or disabled altogether.

There\'s a lot of options when it comes to capturing video. If you have a multi-core system you can choose how many cores to dedicate to PlayClaw. The size of the video will be determined by how compressed it will be, and there\'s low and high compression as well as no compression options available. Capturing full or half of the frame size will affect the file size as well. You can set the capture frame rate to 15, 30, or 60.

Sound can be captured as well, but it may take a few tries to get it configured right. The sound options will vary with the different sound drivers out there. The video is saved in .avi format and it uses its own codec which is problematic if you want to upload the video to youtube. If you want to upload and share your video on a site like tangle or youtube you\'ll have to convert the file first. There are some free utilities out there that can do it but the ones I tried either didn\'t recognize the video or I lost the sound afterward. According to the developers, future versions will have more codecs/software supported. When I record video using FRAPS I can edit and upload the video to youtube with no problems. For this review I hoped to post a comparative video, but only FRAPS gave me something that I could easily share. I gave up on my Play Claw captured video.

I didn\'t have any problems running Play Claw, but while it was running some of my media programs were not closing gracefully. It\'s not the end of the world, but a little annoying.

Play Claw has a 30 day demo that will watermark your screenshots and limit your video recording to 30 seconds. The FRAPS demo has the same limitations. Play Claw costs $30, which is $7 cheaper than FRAPS.
Interface 10/10
Stability 8/10
Value 16/20
Usability 40/60
Overall 74%