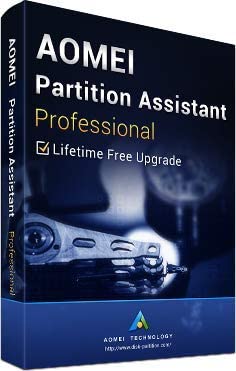 Thank you Aomei for sending us a Professional Version license key!
Aomei makes some great backup and partition management tools and we covered a previous version of their Partition Assistant in 2019. We've been provided with updated license keys to check out the enhancements of their products since our previous reviews. Before I upgraded my laptop to Windows 11 I used their Backupper Professional to clone my drive incase anything went awry. Thankfully it went smoothly!
Windows 11 is now available on new PCs and as a free upgrade for people blessed enough to have compatible machines. The Windows Update tool will let you know if your machine meets the strict requirements. To install Windows 11, you'll need to have Secure Boot with UEFI (Unified Extensible Firmware Interface) and "TPM 2.0 (Trusted Platform Management) enabled. If you dual boot in legacy mode you won't be able to upgrade your operating system.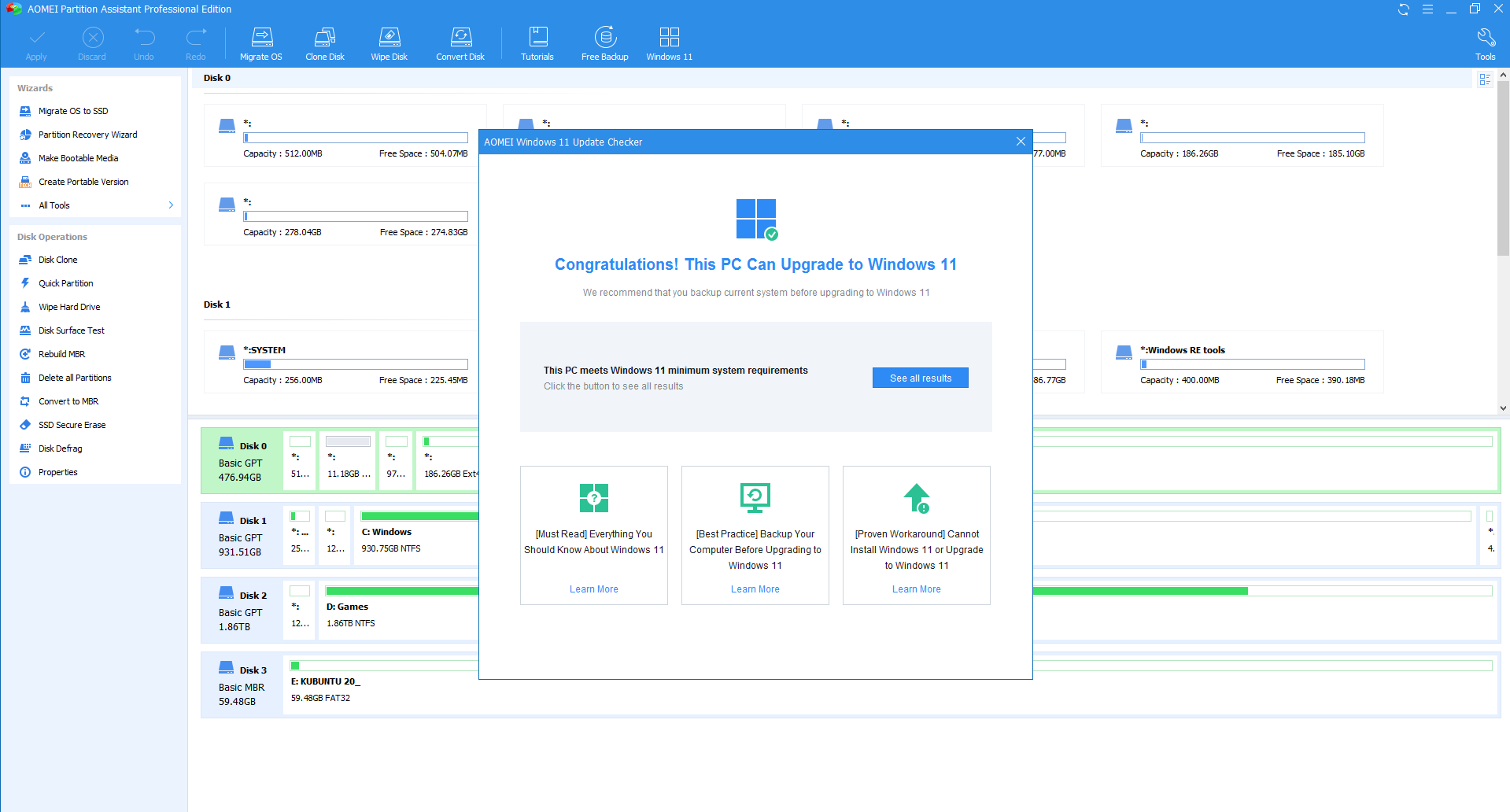 Highlights:
Strong Points: Great set of tools for a reasonable price
Weak Points: Despite saying the software updated, I had to manually reinstall it to get the latest version
The rest of the requirements are pretty reasonable with needing a 1GHz CPU, 64GB of storage space, and 4GB of RAM (please use at least 8GB though!). Another hardware requirement is a graphics card that supports Direct X 12.
If your computer meets those requirements, I strongly suggest doing a hard disk clone or cloning your Windows partition before upgrading so you can roll it back if anything goes awry or if you're not happy with Windows 11's performance. Having a backup regardless is a good idea in case you experience a hard drive/SSD failure.
Aomei Partition Assistant Professional can cover all of your bases for creating, cloning, and restoring partitions. As of version 9.4.1, you can check to see if your PC meets the requirements of Windows 11 within the application. The Windows updater will also let you know if your system is ready or not.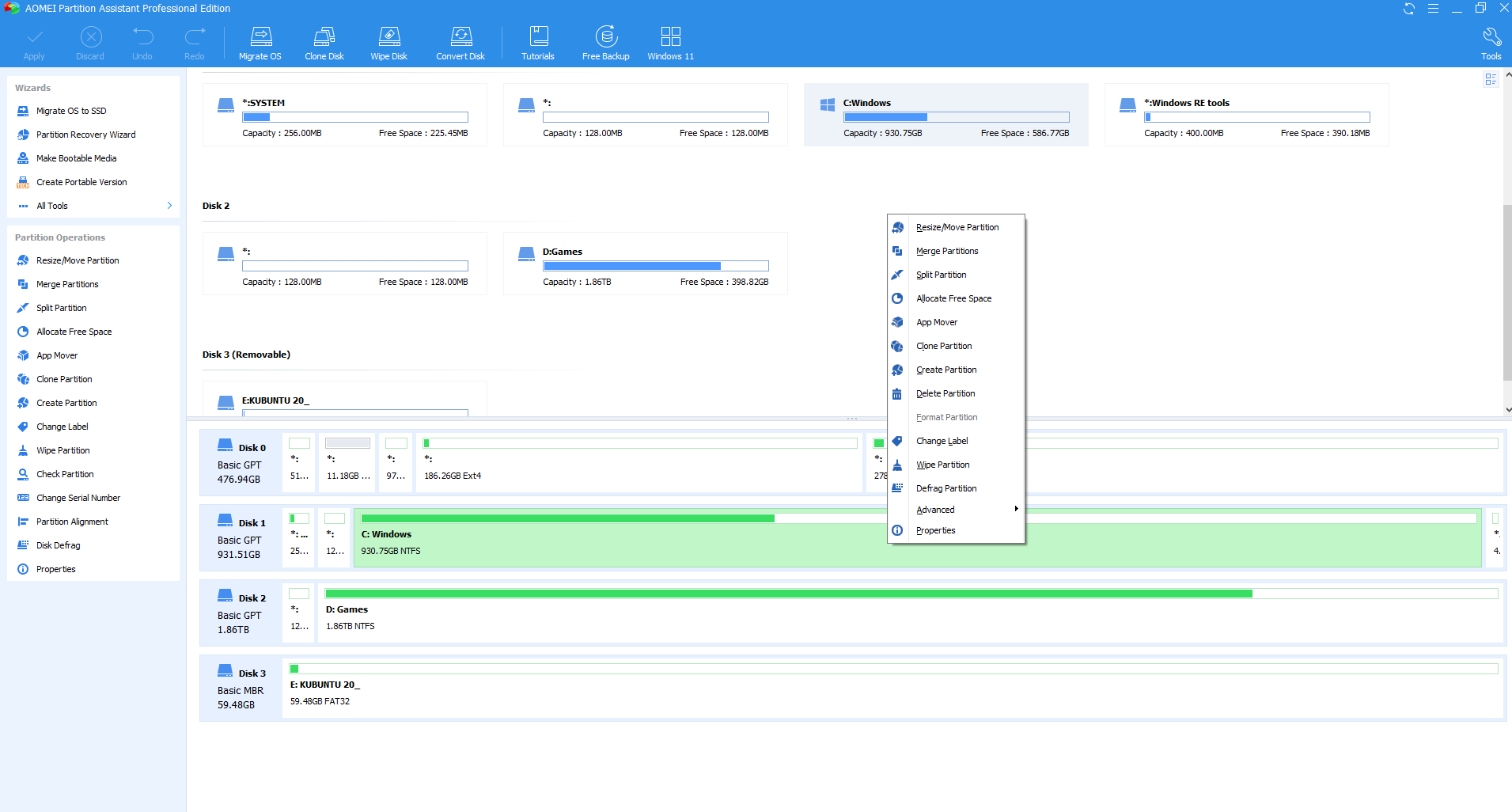 Most operating systems have user-friendly partition management in their graphical installer. You can still create or alter partitions before or after installation with this software. There are many nice wizards for Migrating an OS, Cloning a Disk, Wiping a Disk, and converting between GPT and MBR partition tables. Other nice tools include a Disk Surface Test to see if your drive is going bad, and Disk Defrag to organize the data to speed up the fetch speeds.
When it comes to partition management you can resize, merge, split, wipe, defrag delete, clone, and change the label with a few simple clicks. The Tools menu has even more nifty features like creating bootable media, shredding files, and NTFS/FAT32 conversion. There's an App Mover utility that makes sense in freeing up space, but I'd be pleasantly surprised if the app also took care of updating the Windows registry to the software's new location.
Overall, Aomei Partition Assistant Professional is easy to use and has lots of great features. The only drawback I've experienced is that the automatic updater claimed to update my version 9.1 software to 9.4.1. However, the version number remained at 9.1 after claiming to be updated. To remedy the issue I downloaded the latest installer which prompted me to remove the previous version and keep the licensing information. After reinstallation, my software was current.
If you're in the market for partition or disk management software Aomei Partition Assistant Professional has you covered with many great tools for a reasonable price. The extra couple of dollars for a lifetime of updates is well worth it.