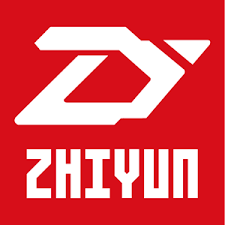 Hardware Info:
Zhiyun Crane M3 Gimbal Stabilizer
Developed by: Zhiyun
Release date: November 8, 2021
Specifications:
Stabilizer:
Following Deviation in Static State: Max: ± 0.04°, Min: ± 0.01°
Following Deviation in Motion State: Max: ± 0.3°, Standard: ± 0.1°, Min: ± 0.05°
Tilt Mechanical Range: 309°
Roll Mechanical Range: 333°
Pan Mechanical Range: 360°
Battery:
Operation Voltage: Max: 11.1v, Min: 9.8v
Operation Current: Max: 4700mA, Min: 130mA
Output: 5V, 1A
Battery Runtime: Max: 8h (lab data)
Charging Time: 2h (lab data)
Size & Weight:
Product Size (W*D*H): 208*102*290mm
Net Weight: ~700g/unit
Features:
1.22" Touch screen for single-handed operation
Built-in dual color temperature fill light
PD 12W fast charging
Price: $369
(Amazon Affiliate Link)
Thank you Zhiyun for sending us a review and giveaway units!
The Zhiyun Crane M3 is a 3-axis gimbal stabilizer that will keep your camera steady while its supporting platform moves. Nobody wants to watch a video with jittery movement and this device will alleviate that problem (within reason). It supports multiple modes including:
Pan Follow – Tilt axis is locked
Lock – Ideal for focusing on one target object
Follow – Tilt and Pan Axis are enabled, great for top down shots
POV – Roll axis control, 45-degree angles on right and left side
GO – Increase the responsiveness of all of the axis
Vortex – 360-degree roll movement for barrel rolls!
Portrait – Great for selfies!
Before purchasing this device, you'll want to make sure your camera is supported. There are two lists to check. The compatibility list is to ensure that you can attach your camera to the device and the control list will let you know if you can use the gimbal buttons for activating functions on your camera. Camera control is nice, but not required. Phones and action cameras are supported but you'll need additional mounting hardware to get them to work.
Once you have the gimbal and compatible camera in hand, it's time to get this device set up! Your first order of business will be to charge it with the included USB-C charging cable. An AC adapter isn't included, but you can use any fast-charger to have it fully charged in two hours or less. There are several (extremely short) USB micro and USB-C cables that can be used to charge your camera from the gimbal's battery.
Connecting the black tripod bottom is pretty easy by just screwing it in. You'll want to mount your camera to the quick-release plate by adjusting the included thumbscrew. The quick-release has a black lock/unlocking button and a red release switch that you'll need to activate to mount and unmount your camera. Once you get the hang of it, attaching and removing your camera will be done in a couple of seconds.
Balancing your camera takes a bit more work as you'll have to unlock, align, and then lock each of the three axis. The tilt axis needs to be horizontally and vertically balanced. Once that is complete, you'll need to balance the roll axis and pan axis. The instruction manual covers this process, but if you're a visual person, I highly recommend watching
 as a guide.
Highlights:
Strong Points: Sturdy design; built-in touch screen and LED lighting; lots of modes
Weak Points: Auto-calibration is finicky; device needs to be rebooted as the app controls stop working randomly
Once you have the camera balanced, it's time to turn on the Crane M3 to calibrate and connect it to the ZY Play app. The black power button is on the right-hand side and you have to hold it for three seconds to power the device on or off. The touch screen display will first prompt you to select a language and then you'll be shown a simple four-button menu interface. From the Settings menu, you'll want to do an auto-calibration. If the camera isn't balanced properly the auto-calibration may fail. Even when balanced, the calibration hung or failed outright for us numerous times. When it does calibrate, the device will vibrate quite a bit. The vibrations didn't end with calibration and it would sometimes randomly vibrate in use too. Lowering the motor strength to low in the settings seemed to help with that issue.
To use most of the features of the Crane M3, you'll need to download the ZY Play app for Android or iOS. You'll have to create an account and register the device before connecting to it via Bluetooth. Chances are there will be a firmware update and you'll want to run that to get the most functionality out of the Crane M3. Currently, the black and red control wheel can do Roll Control if you have the 1.74 firmware. Before updating the firmware, the menu for the control wheel was grayed out. Updating the firmware takes a few minutes and it did fail on us once. Thankfully it succeeded after rebooting the Crane M3.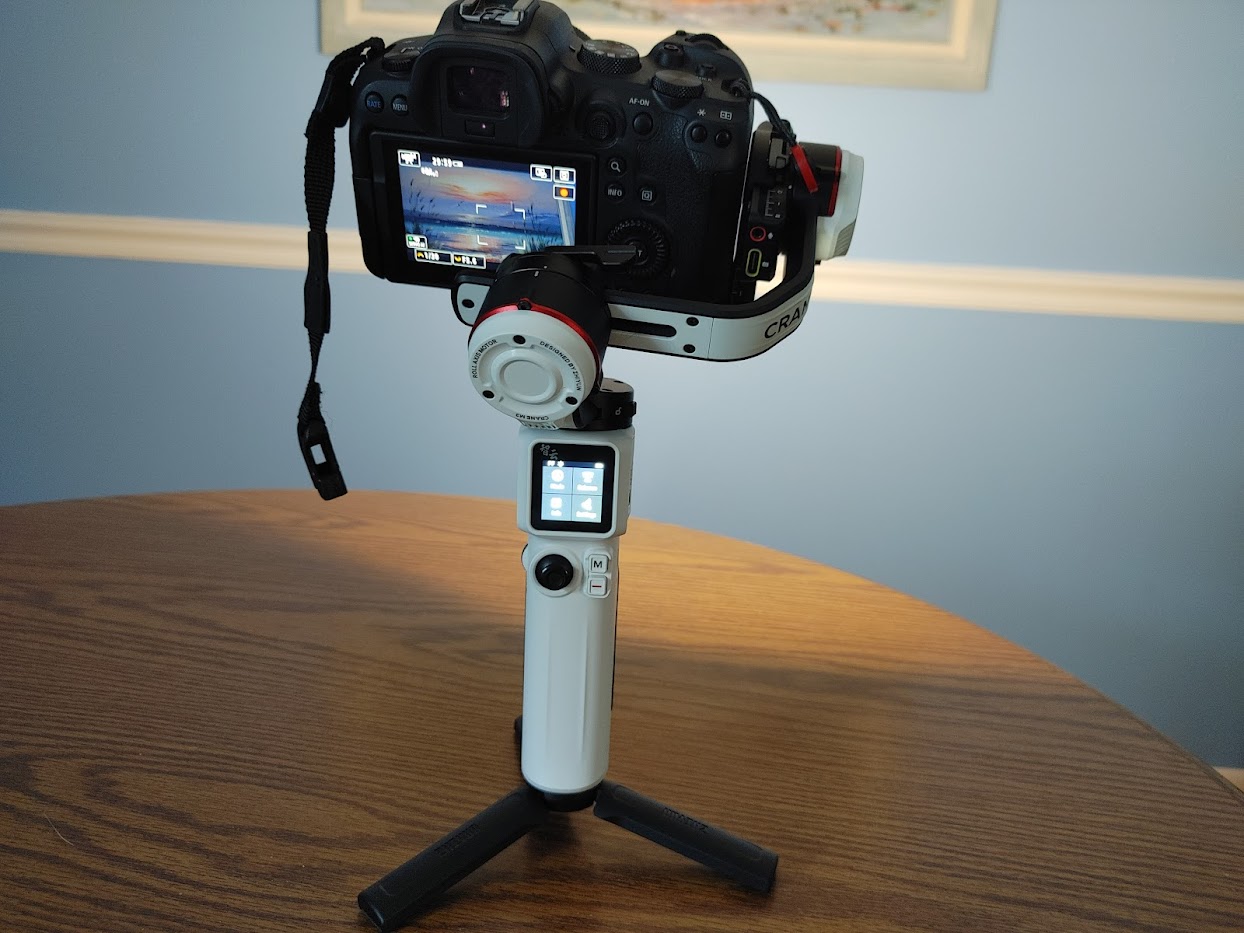 The gimbal modes can be selected on the app or on the Crane 3's Mode menu. The Balance menu will show the tilt positions of the different axis while the app is in use. We experienced an occasional disconnect between the gimbal and the app and to remedy this, we had to power off and power back on the Crane M3. Sometimes the gimbal would enter onto a sleep mode causing the joystick on the device and app to stop responding. By pressing the M button on the Crane 3 it would change modes and everything would work again.
The mode and record buttons will only work with limited models of Sony, Fujifilm, Panasonic, Sigma, and Nikon cameras. All the other models will have to have the mode setup and the record button pressed on the camera itself.
The Crane M3 LED light is activated by pressing the black scroll wheel on the left for a couple of seconds. By scrolling the wheel you can adjust the brightness and warmth. The Kelvin range is 2600-5400. There are magnetic color filters included to change the fill light hue.
Zhiyun offers different bundles of the Crane M3. We were sent the standard model to review and tested it with a Canon EOS R6 camera. The Pro ($449) and Combo ($649) kits both include a backpack and a phone adapter. The Pro kit also has a microphone and an expansion base. The base model is $369 and is available on Zhiyun's website and on Amazon. I found a phone adapter on eBay for $16, but it won't arrive for a month. I look forward to trying this out with my cellphone and I hope that some of the kinks are ironed out by then.