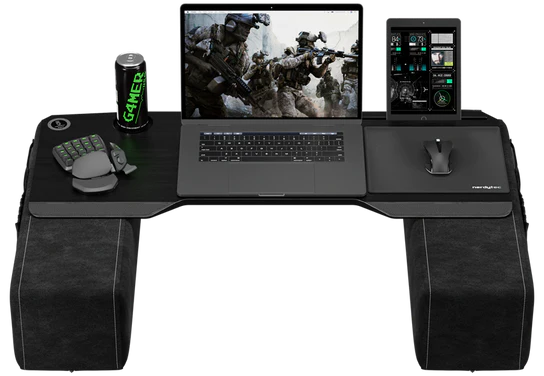 Hardware Info:
Couchmaster Cyboss – Extra Wide Ergonomic Couch Desk
Developed by: nerdytec
Release date: November 14, 2022
Price: $175.00
(Amazon Affiliate Link)
Thank you nerdytec for sending us a review unit!

I've been blessed with the ability to often work from home. My husband is fully remote and uses the office downstairs. I'm a firm believer in distance making the heart grow fonder and prefer to work in the living room upstairs. Before the Couchmaster Cyboss came into my life, I just camped out with my laptop on my lap. While getting up was easier that way, the Couchmaster Cyboss is way more comfortable and extends my workspace.
Highlights:
Strong Points: Well made with high-quality materials; ambidextrous design; ventilation grille keeps gaming laptops cool; easy to assemble
Weak Points: The cup holder is better suited for mostly sealed beverages; the tablet/phone prop isn't very useful
The velvet-like memory foam sides measure 25.6" long, 9.4" wide, and 8.3" tall. They each have a two pockets with one being fabric and the other mesh lined. Resting your elbows on these is quite comfortable. My dog likes to rest her head on it as well. My cat also likes laying on it and leaves her hair behind as proof. If this was available in gray her hair would be less obvious! The black does look sharp though.

The bamboo top measures 39.4" long, 15.5" wide and roughly .6" thick. The edgework is nice and there are no rough spots or splinters to worry about. There are some adhesive faux leather strips to place where your wrists will rest. The included mousepad can be adhered to the top if desired and the necessary sticky tape is included. Make sure you get it aligned right the first time as you only have one shot at it! My OCD husband did not approve of my adhesive work.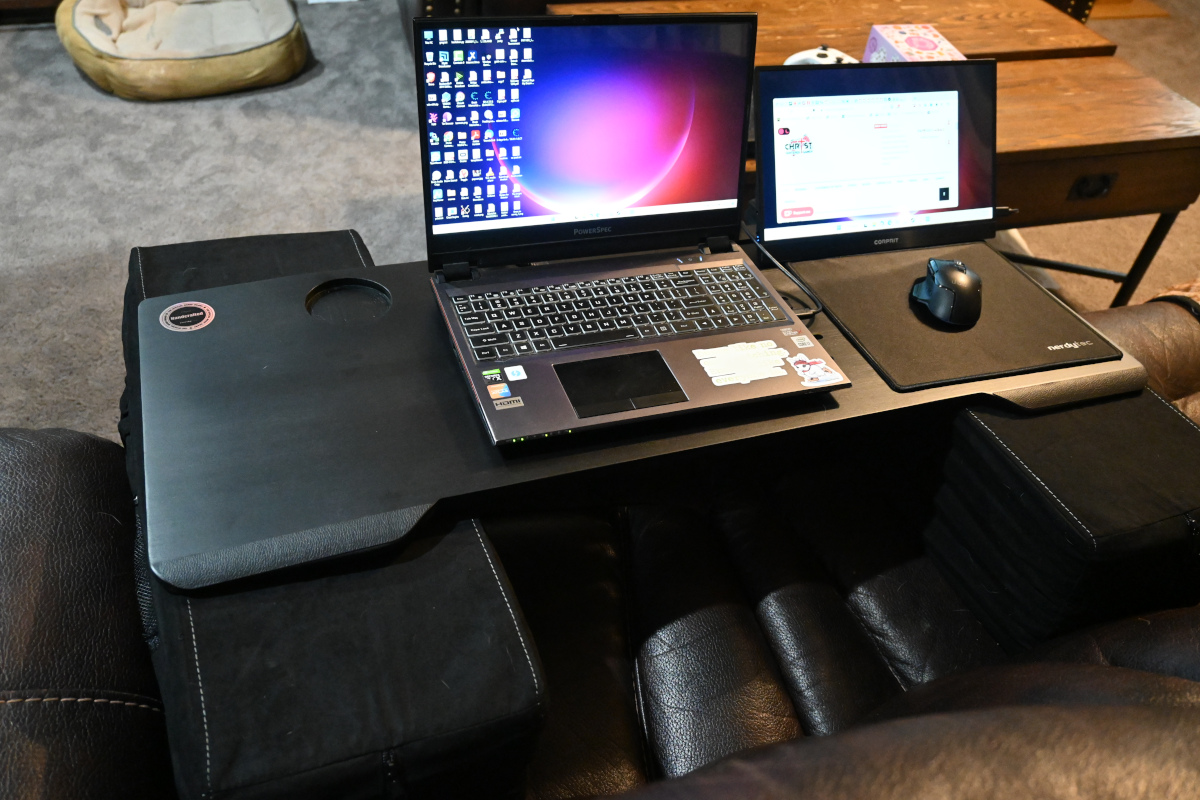 In the middle of the top, you'll find venting slits which will aid in keeping your gaming laptop cooler. There is a beverage indent that works great for covered containers, but open mugs and glasses may drip into it if the desk is bumped slightly. There's a groove for cellphones or a tablet. I didn't find a use for the included propping device. In order to use a secondary portable monitor, my 9"X6" mini cutting board made a spectacular leaning apparatus. Unfortunately, my work laptop doesn't put out enough power to run the secondary monitor.

The Couchmaster Cyboss is great for gaming and working from home. It can be used in bed or on a couch. Just be prepared to lose multiple seats on a couch! There are slimmer models available as well as ones that have wire management. I look forward to checking out future products from nerdytec. My husband is jealous and wants to review something similar if given the chance.