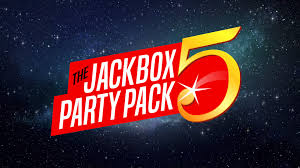 Game Info:
Jackbox Party Pack 5
Developed by: Jackbox Games
Published by: Jackbox Games
Release date: October 17, 2018
Available on: Linux, macOS, PS4, Switch, Windows, Xbox One
Genre: Party
Number of players: Up to eight
ESRB Rating: Teen for Fantasy Violence, Sexual Themes, Drug Reference, Mild Language
Price: $29.99
Thank you Jackbox Games for sending us a digital copy to review!
My kids love Jackbox Party Pack games and their all-time favorite is Jackbox Party Pack 2 because of the game Ear Wax. Though Jackbox Party 5 has some fun games, it still hasn't dethroned the second installment in the Party Pack series.
Here's a breakdown of each of the games in this collection:
You Don't Know Jack – All the fun and sassiness you've come to love from this game show-like quiz show with modern topical questions. Up to eight players can partake in it and there are no family friendly options. You can expect to find some alcohol and sexual references in this one.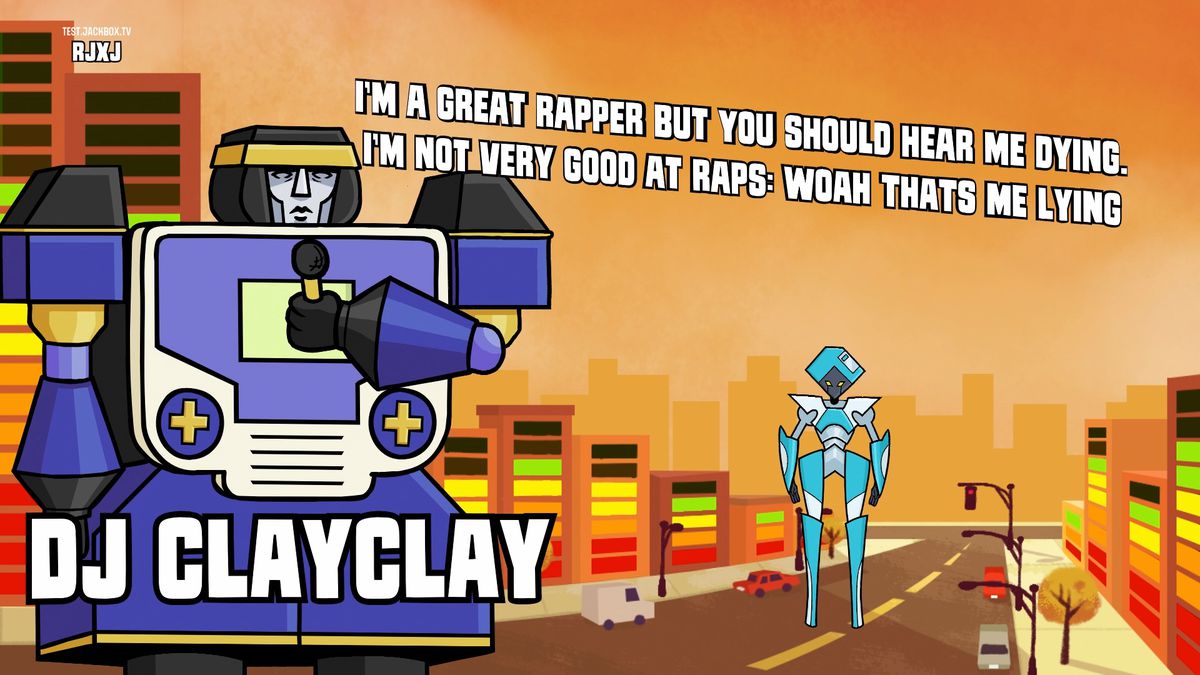 Highlights:
Strong Points: Fun collection of party games that are guaranteed to make people laugh
Weak Points: Network drops may interrupt a game
Moral Warnings: Not all of the games support family friendly modes and will have sexual and alcohol references in them
Split The Room – This is our favorite out of the bunch. Your goal in here is to make tough scenarios intended to divide the audience on which one to pick. One of the examples is that you're flying in space with two more months before coming back to Earth. Your ship is overweight and you need to abandon a section. The default choice is the bathroom and it's up to you to create an equally important alternative for people to pick. Up to eight people can play this game and if you have an even number of people you can score more points for a perfectly divided room.
Mad Verse City – This is our family's least favorite in the collection. It's like a rapping version of Mad Libs where you have to provide a word and then a line to make it rhyme while keeping a coherent theme. If you're not good you can have the game come up with a rhyme for you, but don't expect it to be that great. Thankfully, this game has a family friendly option and can be enjoyed by up to eight people.
Zeeple Dome – This game is very action oriented and can be played with up to six players. Your goal is to fling your differently colored alien Angry Birds-style at various threats. Sometimes the enemies and power-ups are color-coded and require a specific player to get them.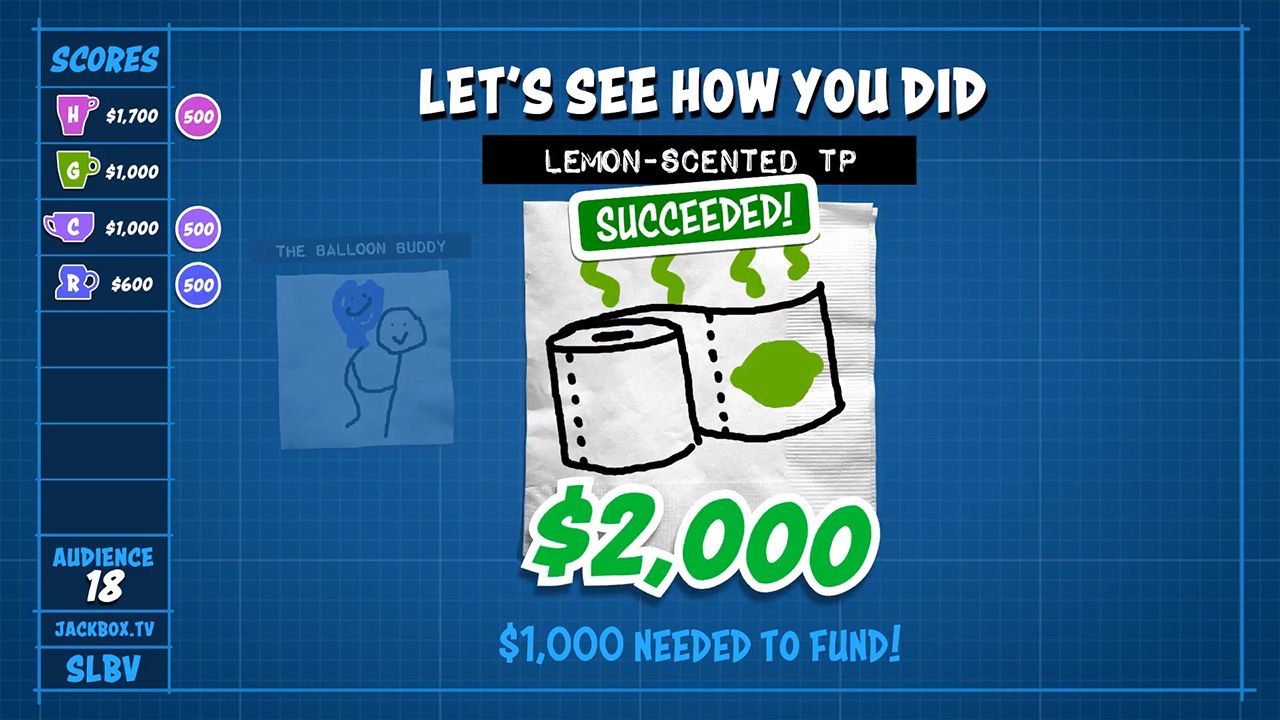 Score Breakdown:
Higher is better
(10/10 is perfect)
Game Score - 84%
Gameplay - 17/20
Graphics - 8/10
Sound - 8/10
Stability - 4/5
Controls - 5/5

Morality Score - 83%
Violence - 10/10
Language - 6.5/10
Sexual Content - 8/10
Occult/Supernatural - 10/10
Cultural/Moral/Ethical - 7/10
Patently Stupid – Your goal in this game is to come up with a solution to a problem scenario that some other player created. A drawing, title, and tagline must be supplied. You can present your idea or have the gameshow hosts do it for you if you're shy. Up to eight players can solve each other's problems in this game.
Like other Jackbox Party Pack games, you'll need internet-enabled devices to connect to the randomly generated room code on www.jackbox.tv. We did experience one dropped game, but all of the others ran fine. Twitch integration is available and can even be mandatory if you desire it to be. Zeeple Dome supports using the Switch controller instead of a mobile device and it's fun enough to play solo.
All in all, Jackbox Party Pack 5 is a good collection, but I'm not sure if I'd want to pay full price for it. I have seen it on Steam for less than $25. The $29.99 Switch version is super convenient, but the least likely to go on sale anytime soon.