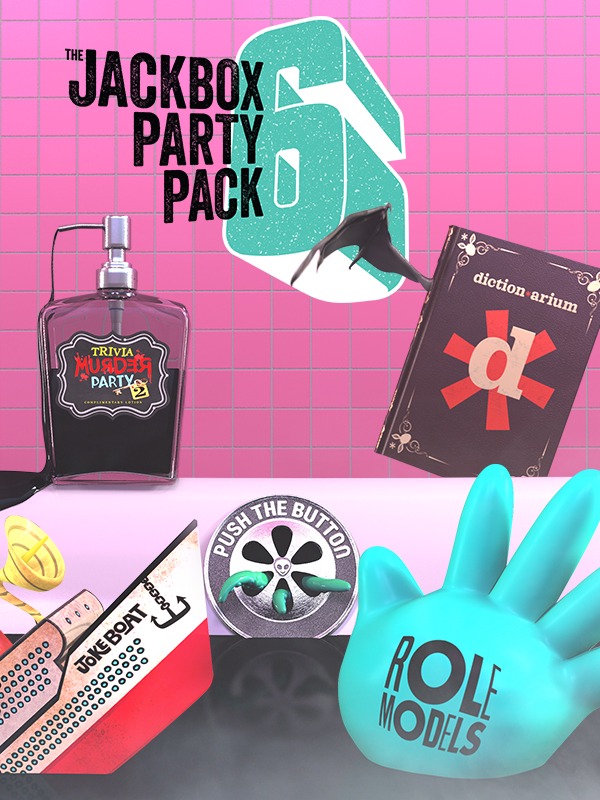 Game Info:
Jackbox Party Pack 6
Developed by: Jackbox Games, Inc.
Published by: Jackbox Games, Inc.
Release date: October 16, 2019
Available on: Linux, macOS, PS4, Switch, Windows, Xbox One
Genre: Party
Number of players: Up to ten players (local and online)
ESRB Rating: Teen for fantasy violence, sexual themes, crude humor, drug references, language
Price: $29.99
(Humble Store Link)
Thank you Jackbox Games, Inc. for sending us a review code!
My kids and their friends love to come over and play Jackbox Games at our house. Their favorite game by far is still Jackbox 2 because of the Earwax mini game. None of the succeeding titles have managed to dethrone that one. Even though we really enjoyed some of the games in this 6th collection, Earwax is still their favorite.
Jackbox Party Pack 6 is available on multiple devices and the platform doesn't really matter as long as everyone can hear what's happening. All of the interactions are done on separate devices connected to the internet via jackbox.tv and the four letter room code. Anyone who knows the room code can join your game. Most of the contestants use cellphones or tablets to join in the fun.
Before you get your room code, you'll need to select one of five mini games to play as a group. Each mini game has a different number of players it can support. Here's a breakdown of each one:
Trivia Murder Party 2 – Up to eight players are trapped in a hotel known for murdering its visitors. Only one can make it out alive. Who will it be? Answering trivia questions correctly will keep you out of the hot seat. If you answer a question incorrectly, you'll have to complete a challenge to stay alive. Some of the challenges include guessing the player's four letter password or seeing who can follow the most rules before the timer runs out. If you die, you have a chance of swapping souls with the living player in the final round as they try to make their escape.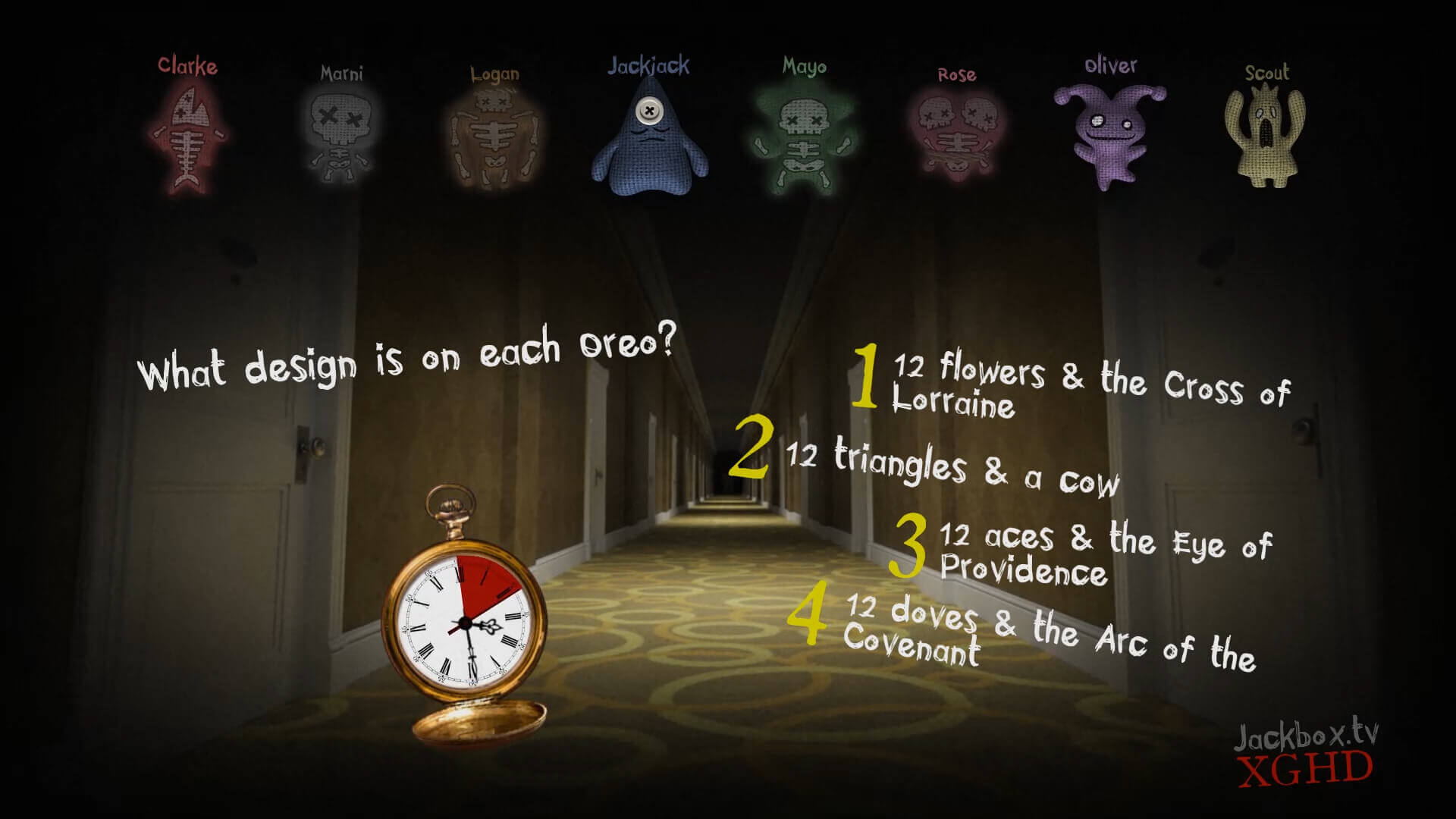 Highlights:
Strong Points: Some fun games in this collection
Weak Points: A couple of the games are duds
Moral Warnings: Some sexual jokes; virtual murders in the Trivia Murder Party 2 game; mild language (crap) 
Role Models is by far our favorite mini-game in this collection. Up to six players can assist in classifying each other into various personality types. You may find out more about yourself or what others really think of you while playing this one. If you're not easily classified you have to do a tie breaker and may get a consolation role. I earned a Steam achievement for getting a consolation role.
Joke Boat supports up to eight aspiring comedians. In this game you come up with joke topics by typing in various words "Mad Lib" style. You must then string together these topics and fill out a punch line. You can have the game make a joke for you for half of the points it would normally be. Jokes are then performed by the player or spoken in gibberish by the game and read by the contestants. The joke with the most votes wins the round. Some points are awarded to players whose topics/words were used by the comedian. The final round has people rewriting joke punchlines to see if they can outdo the original author. This game has some sexual prompts so be sure to enable the family-friendly mode in the settings. Censoring is also available for the VIP (first player to join the game).
Dictionarium allows up to eight players to define and utilize various words and slang phrases. Even if a definition or sentence doesn't win the round, players can give runner-ups "likes" if desired. This mini game was our least favorite.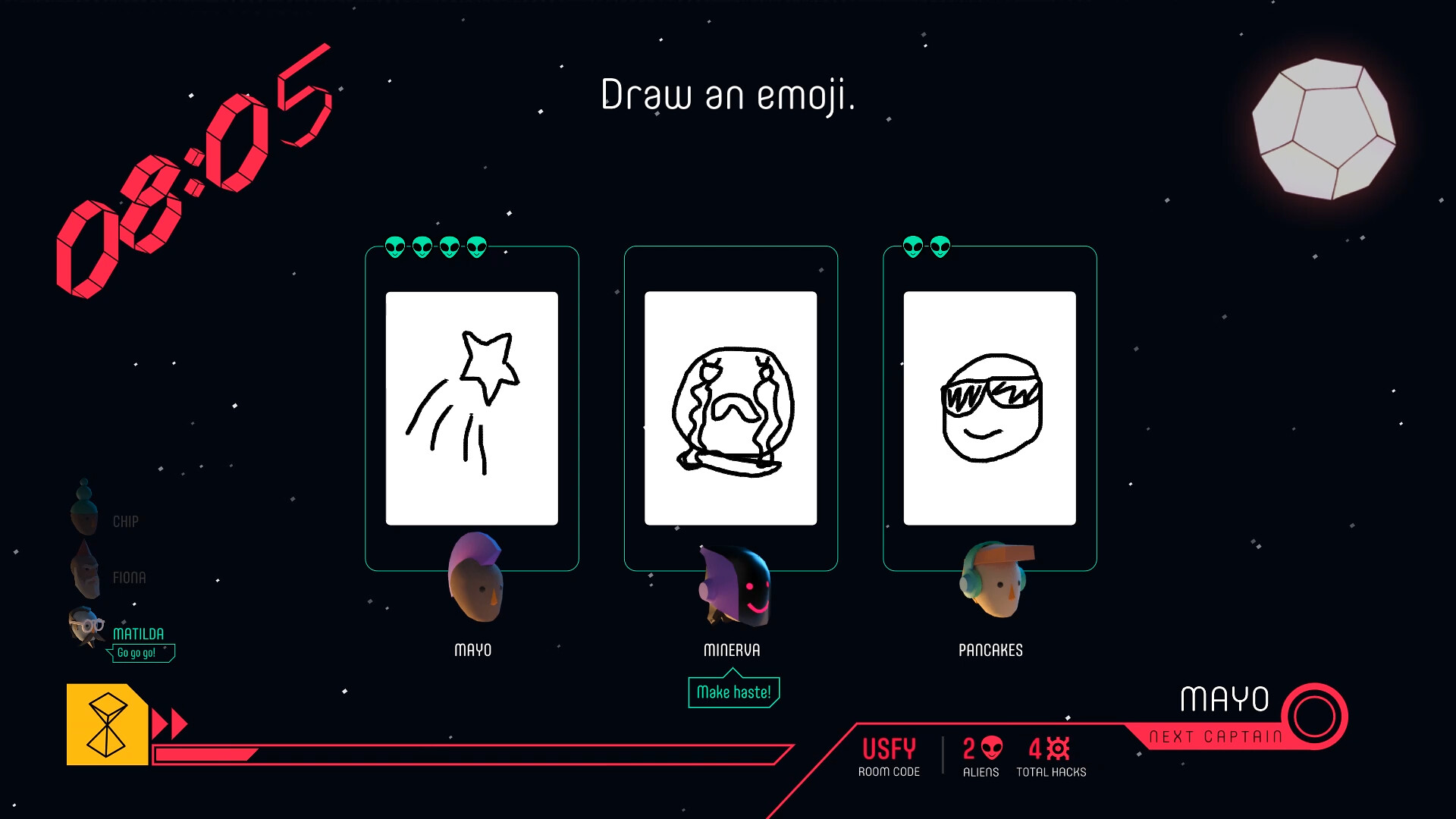 Score Breakdown:
Higher is better
(10/10 is perfect)
Game Score - 86%
Gameplay - 17/20
Graphics - 8/10
Sound - 8/10
Stability - 5/5
Controls - 5/5

Morality Score - 77%
Violence - 8/10
Language - 6.5/10
Sexual Content - 8/10
Occult/Supernatural - 8/10
Cultural/Moral/Ethical - 8/10
Push The Button supports up to ten players stranded in outer space with an alien among them on the ship. Players have a limited amount of time to determine who the alien is by how they answer various questions and complete random tasks. As the game goes on, the alien will have the ability to manipulate the questions and potentially frame other players so be careful on who you jettison from the ship!
Jackbox Party Pack 6 is rated Teen by the ESRB and I agree with that rating. I'm thankful for the options to disable most of the provocative content. Some games allow the players to draw their faces or type in words and you can't control their actions. The language I encountered was pretty mild, just some instances of crap. Like other Jackbox Party Pack games, you can expect to hear various bodily noises as sound effects.
If you enjoy the previous Jackbox Party pack games, you'll definitely want to pick this one up. The majority of the games are good in this bundle, but there are a couple of "meh" ones too. It's definitely worth adding to your Steam Wishlist and grabbing it when it goes on sale.