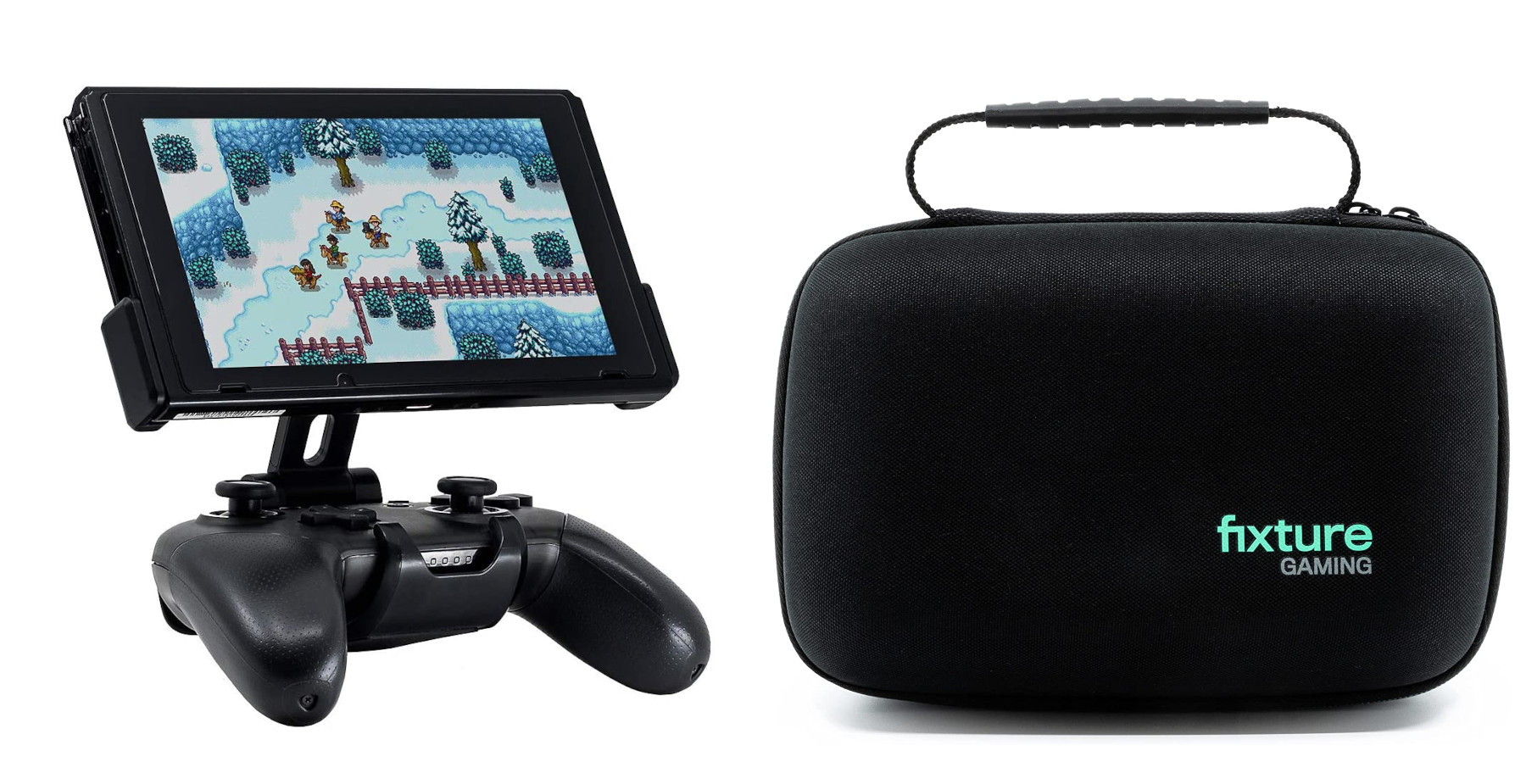 Game Info:
Fixture S1 Switch Pro Controller Grip and Carrying Case 
Developed by: Fixture Gaming
Release date: May 21, 2021
Price: $49.99
(Amazon Affiliate Link)
Thank you Fixture Gaming for sending us a review sample!
In November of 2019 Fixture Gaming successfully crowdfunded their S1 Controller Mount and carrying Case. Early adopters were able to snag the case alone for $19. Backers were also able to save a dollar by getting the two bundled together for $49.
Fixture Gaming released the S1 Pro Controller clip in the fall of 2020. What this device does is clip the original Switch to the Nintendo Pro controller. It's a pretty handy device that has an Amazon's choice rating and nearly five-star reviews. After doing an unboxing of the Switch case, I was sent the S1 Switch Pro Controller Grip to check out. I'm happy to report that it's very nice and works well with the Nintendo Pro Controller and the third party JYSW controller. Unfortunately, the PDP Afterglow controller is not compatible with it. Another drawback worth noting is that this design makes the Switch/controller combo a bit top-heavy and may add strain to those suffering with carpal tunnel.
Highlights:
Strong Points: Crevice for Nintendo Pro Controller that also works with third-party controllers
Weak Points: Without the Fixture S1 device your switch will be flopping around in the case a bit, it's still usable though; the Pro Controller grip is a little top-heavy 
Since I didn't read the manual, I connected the Switch to the clip upside down. Thankfully, I was able to correct this mistake without hassle or damage to either device. The clip is well designed and sturdy. It also fits amazingly well in the case and secures the Switch so it doesn't slide around as it would without the device. In front of the zippered pocket is a holder for ten of your favorite Switch cartridges.
The case is designed to house the controller clip, Switch, Pro Controller, and 10 games seamlessly. If you're in the market for both the case and the clip mount, you can save $10 by purchasing them in a $49.99 bundle.
The first thing I noticed about this case is that it's less than 10" long. In order to fit a standard Switch in it, the Joy-cons have to be detached. A Switch Lite will fit in it though. The bottom has a placeholder for a Nintendo Pro Controller. I also successfully tested it with a PDP Afterglow Wireless Deluxe, and a JYSW Wireless Pro Switch Controller.
The exterior of the case has two zippers with rubberized grips and a rubber handle cover. The case's material has a rugged canvas feel and seems sturdy. Fixture Gaming's logo is on top but it seems like that may rub off over time. Attached to one of the zippers is a tag indicating that the case was designed on Earth and Made in China. As far as I know, I don't own anything not designed on Earth, but that would be pretty cool to have someday.
If you're looking for a compact case that can hold your Switch, charger, and a Pro controller, this one can do the job. It's not ideal, but it does work. The OEM dock will not fit in this case but a portable RReaka one will. The $25 asking price is on par with other Switch cases that can hold Pro controllers and the OEM dock. If you have the clip mount already, you'll definitely want this case.