Thank you Tyler Barnett PR for sending us this Frisbee to review!
In 1994 Data East released Windjammers on the Neo Geo arcade system. In 2010, Wii owners were able to add this title to their virtual console library. Now that Data East is no longer around, DotEmu is handling the latest port to PlayStation 4 and Vita systems on August 29th, 2017. For those who are not familiar with the series, it's a sports arcade style game with intense Frisbee action. Long Pong or air hockey, your goal is to get the Flying Power Disc into your opponent's goal.
Like the real game of Frisbee, there are various ways to throw it to slip past your opponent's defenses. If you want to practice your moves outside of the video game, Wham-O has got you covered. The creators of the original Frisbee have released a special edition 175g Flying Power Disc.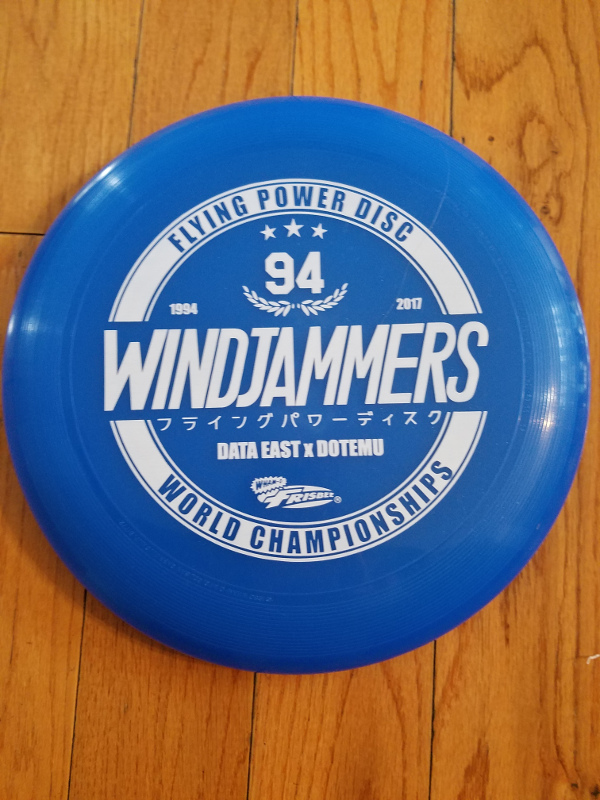 The bright blue disc is easy to keep track of in the sky and on the ground. Hopefully, you'll have a playing partner to catch it so it doesn't land on the ground though. The Windjammer title is displayed in English and Japanese. Both Data East and DotEmu are represented along with the original and re-release years. Wham-O's logo and trademark text are present as well.
As the name implies, it flies accurately and has a quality feel to it. Unlike cheap imitations, this one does not feel flimsy. I doubt it would survive a big dog's teeth very long though. Thankfully, my dog is too old to care and has never been trained to fetch Frisbees. My kids on the other hand are attracted to it.
If you're a fan of Windjammers or enjoy playing Frisbee then this Flying Power Disc is worth picking up. The asking price is a reasonable $12 and is exclusively available at FanGamer.com.