Since the dawn of time, humans have strived to build vast civilizations on earth. Rulers have sought to leave their mark on history by making advances in construction, culture and technology and by taking as much stuff from their neighbors as possible. The civilization series depicts this struggle from the Stone Age through to the modern era and beyond.
The PC versions of Civilization have given me more than a few bouts of 'one more turn' fever over the years. They are compelling classics that are epic in scope. But what of the trimmed down version for consoles and mobile devices? I played Civilization Revolution 2 on the iPad to see whether it could recreate the complex joy of the PC experience.
The game starts as all Civ games do. You control a group of wide-eyed settlers looking for the perfect spot to found their first city. Once the foundations of your soon-to-be great civilization are laid, it's time to turn to the serious business of world domination. Explore your surroundings, choose technologies to develop, train units, and build municipal buildings for your city. The choices you make determine how quickly your civilization develops, scientifically, culturally, financially and militarily. Each of these four areas can lead to victory, so it is important to decide where to focus your efforts.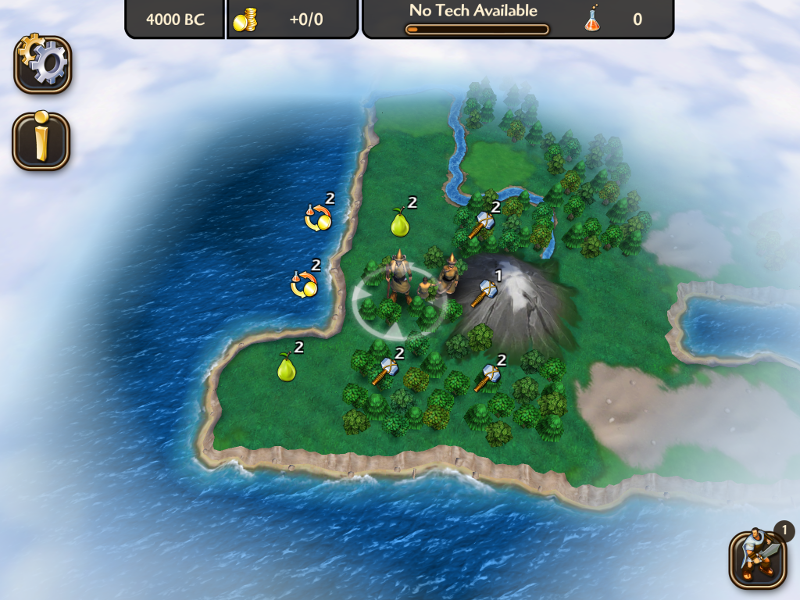 You encounter rival civilizations along the way with which you can trade, swap technologies or fight. Most of the fighting occurs as a result of direct competition for land. Everyone is vying to found their cities in the juiciest spots, and this is where friction arises. There can be rewards in combat - If you manage to capture all three enemy capital cities, you win the game. But it also comes at a great cost - war is expensive, after all. Get bogged down in a long, protracted war and more peaceful civilizations will outstrip you in other areas of the game.
Though stripped down from the PC version, Civ Rev 2 manages to pack in a lot of features. Games can last for many hours and there is great pleasure in seeing your people rise from stone huts to build great wonders and powerful cities. There is a lot of replay value with many civilizations to choose from, each with their own bonuses and special troops. You earn achievements for winning in various different ways and unlock new civilizations to play with. There are also a variety of scenarios to play through that change the gameplay up, such as focussing solely on the space race, or defeating barbarian hordes.
Civ Rev 2's graphics are crisp and clean with a style that supports understanding of gameplay. Units are slightly cartoonish without being too kiddy, and the UI is easily readable if not beautiful to behold. Given the platform, the scope of the terrain is pretty respectable and different land types and city bonuses are easy to make out.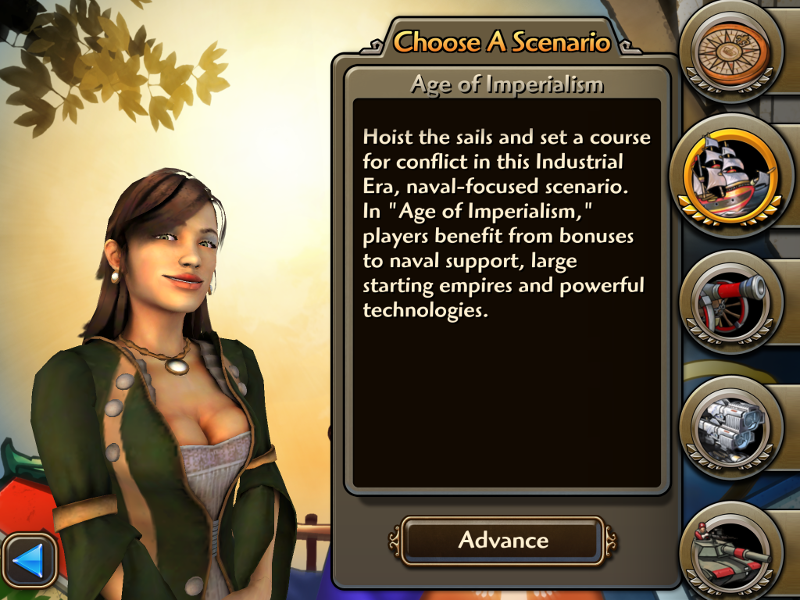 The menu music of Civ Rev 2 has the same orchestral world music vibe of the original games. It can sound a bit like a mixtape in a massage parlour, but is pretty unobtrusive, which is no bad thing. In game the ambient country noises and city sounds can get a little repetitive but they do add some character. There is very little music in-game, which is a good thing as any track would get stale over three to four hours of play.
Civilization Revolution 2 is obviously not as deep as the PC versions of the game. There are some great design decisions that have simplified it in a way that makes it easier to handle on the smaller screen but also a few more questionable ones. City management is mostly automated, which is great - I often found myself bored of moving workers around in the PC version. The stacking of units into three-strong armies is a little bit confusing though. At later stages of the game, individual units are pretty worthless so you have to wait till you have built three. When units become obsolete you cannot build them any more so any individual units not in armies are left in limbo. Curiously you are unable to disband these units so they just hang around, getting in the way.
Minor issues aside, Civ Rev 2 is a very strong iPad game. There are lots of features and oodles of replay value. This is a great introduction to the Civilization franchise for those who haven't experienced it yet. Even if you have played the PC version, it's still good for long train journeys or away days when you need to get a Civ fix.
Andy Trowers is a game design consultant, freelance ne'er do well and staff writer for www.canada.for-sale.com