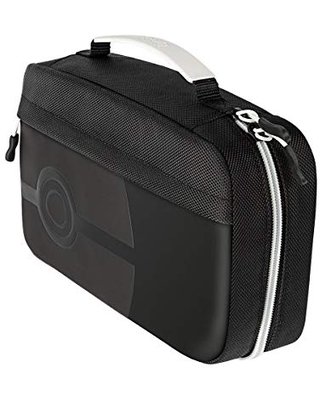 Product Info:
PDP Nintendo Switch Pokemon Pokeball Commuter Case
Notable features:
Black case, with white handle and zippers
Subtle, classy pokeball emboss that does not draw attention to itself
White handle with the Pokemon logo
Front pocket zipper pouch
Fourteen cartridge slots
Velcro strap and screen protecting pad with support for Switch or Switch Lite
Small netting pouch
Larger velcro sealable pouch
Two smaller elastic loops for Joy Cons
One large velcro strap for a Pro Controller or other similar full-sized controller
MSRP: $29.99
(Amazon Affiliate Link)
Thank you PDP for sending us this case to review!
We own multiple Switches, with our first one being purchased on launch week. At the time, we got the very sweet-looking Breath of the Wild officially-licensed carrying case, and it had served us well. The main problem I have with it is that is has a rather inefficient use of space; there is a lot of wasted room near where the cartridge holders are, and only a small pouch to hold your extra things. So, you can carry up to eight games, two extra Joy-Cons, four Joy-Con grips, and that's pretty much it. If you want to bring along a power adapter, or pretty much anything else, you'll be needing another bag. So, when we had the chance to review this case, I took the chance, because as nice as the Zelda case is, there are some things I wish it could carry.
As you can see in our unboxing video, we were pleasantly surprised by how these things look. I have played (and reviewed) Pokemon games in the past, but I don't have a strong attachment to them like I do for other Nintendo properties. As a result, I was concerned that the case could be covered in bright, garish colors; thankfully, that is not the case. It looks great! There is a subtle Pokeball embossing on the outside, with an all-black aesthetic. I really like how it looks; I'll no doubt keep using it after this review, despite not really having strong feelings for Pokemon.
Highlights:
Strong Points: Looks and feels great; strong materials makes it seem like it will last a long time; good use of space; external zipper pouch is a nice touch that's appreciated; classy looks that doesn't make an adult embarrassed to carry a Pokemon Switch case
Weak Points: Pro controllers may unintentionally activate because they are quite sensitive to movement
One of the best things about the Switch is being able to support both deep singleplayer gaming experiences, and the ability to just pop it up on its kickstand and start playing Mario Kart with friends. As a result, for some of us, the ability to transport a power adapter, as well as a Pro Controller, is a must. The Joy Cons are for little people with little hands; as for me and my man hands, a Pro controller is more than a nice-to-have; it's necessary. The fact that this carrying case has room for a Pro controller is a huge plus in my book. That it can hold that, along with two spare Joy Cons (for a total of four)? That's just icing on the cake.
There is also a pouch that is closed with velcro that seems like it's meant to hold a power adapter in it, along with whatever other small accessories might come in handy. I keep an AC adapter, a USB-C to USB-A adapter, and a controller adapter so I can use other controllers with my Switch. All of these fit pretty well, and I was able to put my third-party USB Switch dock in there as well; now I have a fully portable gaming station I can take with me anywhere I go. An HDMI cable fits just fine on the outside zipper pouch.
While this case is a bit larger than most, the two or so inches taller it totally worth it for me. It's still small enough to carry around, throw in a bag, and so on, while being big enough to fit everything I need.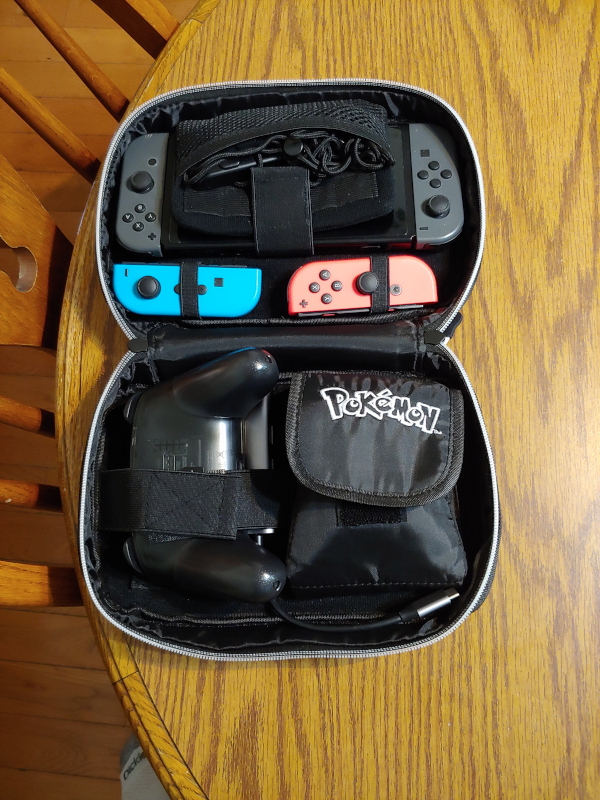 There's only one downside that I noted, that apparently angered some reviewers on Amazon, is something I was able to confirm: if you install the Pro controller a certain way, the straps can activate the joysticks, and even cause the fit to be too tight to work well. The easiest solution for this is to flip the controller around – push the sticks into the back of the case, and have the back of the controller stick up. The buttons might still activate, but the Pro controller fits in there much better along with everything else. The way Nintendo made the controller, it's nearly impossible to avoid potential button activation; I would recommend using the charger when you get to your destination.
Given my needs to always 'be prepared' when I take my gaming stuff with me, I am pleased to carry a Switch case that is a bit bigger than the standard size, in order to able to carry pretty much everything I need. It's totally worth it to me, and if you have similar needs, I think you'll be really, really pleased with the PDP Nintendo Switch Commuter Case. And this Pokemon model is excellent as well, as it looks great!