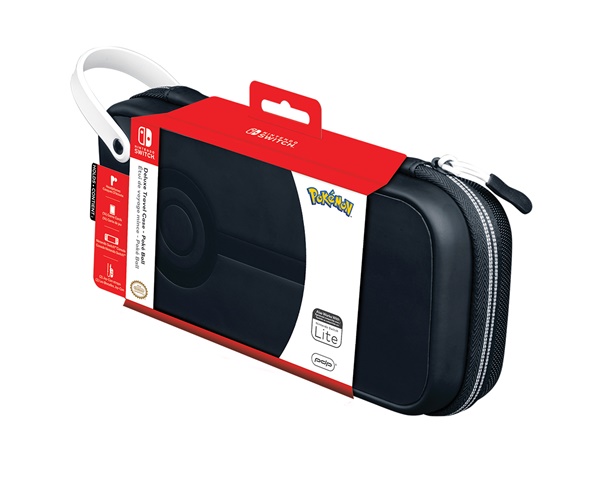 Game Info:
PDP Deluxe Travel Case for Switch
Features Included:
Large but humble Pokemon emboss on the front
Handle that can be detached on one side to be attached to other things
Large pocket to hold any extra gadgets
Fourteen cartridge slots
Insert to fit a Switch Lite
Handles on various parts of the case that can double as stylus holders (if one so chooses)
Special protection for the screen so that items above it don't make it crack
Price: $19.99
(Amazon Affiliate Link)
Thank you PDP for sending us this case to review!
The PDP Deluxe Travel Case is a very well-designed case made for the purpose of carrying a Nintendo Switch (or Switch Lite) on everyday excursions. As a result, it is very spacious, and it has a handle attached on one side with the ability to snap off on the other, so that it can be attached to other bags if need be. Since my parents have had a Switch since the day of its birth to the world in March 2017 (and they ended up buying a second one later), they have several Switch cases laying around for use of comparison.
As my siblings and I received Switch Lites for Christmas, the spare cases sitting around doing nothing were finally able to be put to use, this one among them. As a result, I was very pleased to find that this case has a Switch Lite insert (although it no longer fit my Switch after I put a protective case over it, which is a shame. It proves how well tailored the insert is to the shape of the Switch Lite, however). The insert also takes advantage of a strip of cloth built into the case, which is placed under the device so that the user can lift the strap to lift their Switch from the case. This action is actually quite satisfying and leads the console right to my hand.
Highlights:
Strong Points: Has lots of extra storage for things that might be needed, such as chargers; has fourteen cartridge slots; is very easy to carry around
Weak Points: Switch Lite with a protective cover no longer fits
However, there were a few features that I did not know the purpose of. There is a pouch on the backside of the cartridge storage slots that has two open walls, and I later found that it was probably extra screen protection from whatever lies above (as it covers said part). It can also double as a place to insert Joy-Cons. There is also a strange band of some sort that stands next to the cartridge slots, with a purpose I was unable to properly figure out, until I was told that it was a holder for Joy-Con straps. Being a Switch Lite owner, I wouldn't find too much purpose here (but I did find it able to hold a singular Joy-Con).
The cartridge slots themselves, of which there are fourteen, cover about two thirds of the cartridge when it lies inside, and I expected them to cover more area. When I stuck a cartridge in the slot for the first time, I was honestly a little bit nervous that it would fall out, despite how tightly the elastic hugs the body of the game, which is something else I noticed. The slots themselves are also very tightly spaced; if they were sewn any smaller, the cartridges would not fit. However, there are more cartridge slots in this case than there are in other cases that our family owns, such as the Amazon Basics case my mother used for a while, which has ten slots, or the red case my younger sister uses, which has eight.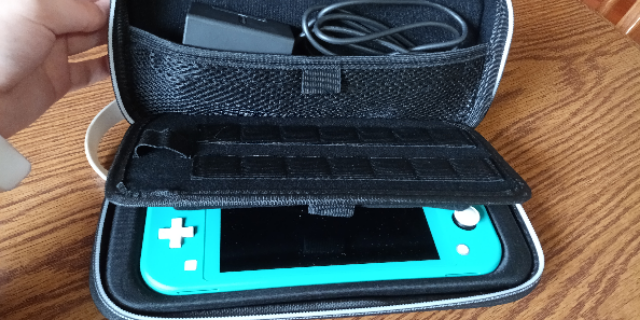 There is a large pouch inside the case that closes by using the velcro material to attach itself to the wall of the case. I found it quite useful, and it typically carries a pair of earbuds. However, it can hold my Switch Lite charger (with much difficulty), and the case can still close with the Switch and the thick, bulky charger in it, with some effort. This came as a big plus for me, as it means I can carry and charge my Switch on the go. I also liked the fact that it showcases the Pokemon logo, as I have taken a particular liking to the series.
Overall, the case is designed extremely well, and it is something I will definitely be using in the near future. Its implied durability means that I won't be getting a new case for a while, and I don't have plans to anytime soon.
- Kittycathead