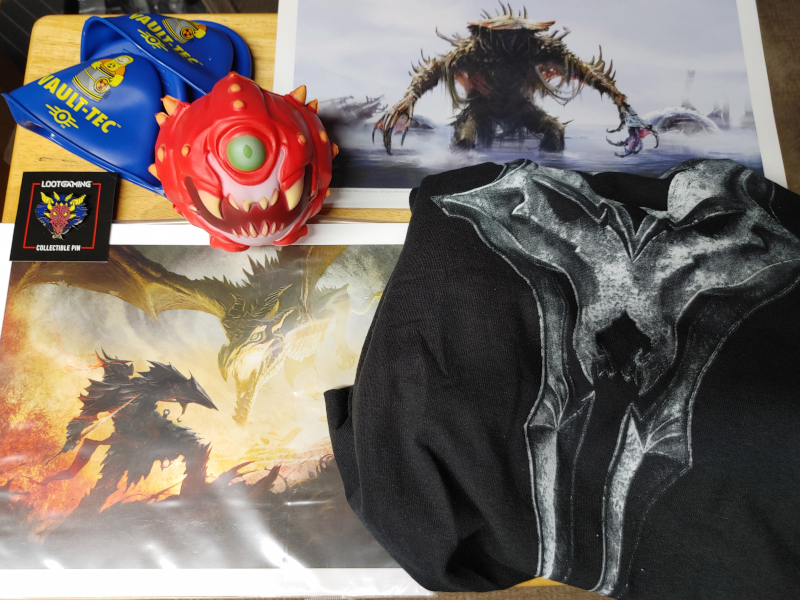 Thank you Loot Crate (Affiliate Link) for sending us a review sample!

Loot Crate is an interesting service that surprises you with random stuff delivered to your door for a monthly fee. There are many different themes available including gaming, anime, film/TV, and Pop Culture. Each of those themes are further broken down into sub categories for die-hard fans of particular games, movies, anime etc. They also have apparel only crates available. Those are broken down into subcategories including hats, tees, socks, underwear, wearables, etc.

We recently received and unboxed the November Crate and here's what we found inside:

• Beast Pin
• DOOM Eternal Cacodemon Stress Ball
• Fallout Art Print
• Fallout Silicone Oven Mitts
• The Elder Scrolls Art Print
• The Elder Scrolls T-Shirt

I can definitely see myself wearing the shirt and using the oven mitts. While the mitts are functional, they're thinner than my current neon green set. I still think they'll handle the task of removing freshly made hard boiled eggs from my Instant Pot just fine though! The Doom stress ball is nifty and thankfully, I'm not super stressed so I don't know how much use it will get. Given that it's made out of foam, it wouldn't survive my puppy's jaws for more than five minutes. To avoid that from happening, it looks nice on our shelf in the office along with the art prints.

Each crate is said to have at least $50 or more worth of items inside. I wouldn't pay that much for the stuff I got, but the monthly cost of $28.95 is reasonable and I can definitely see the contents being worth that much. If you subscribe for three or six months, the cost is reduced by 9% and 11% respectively.