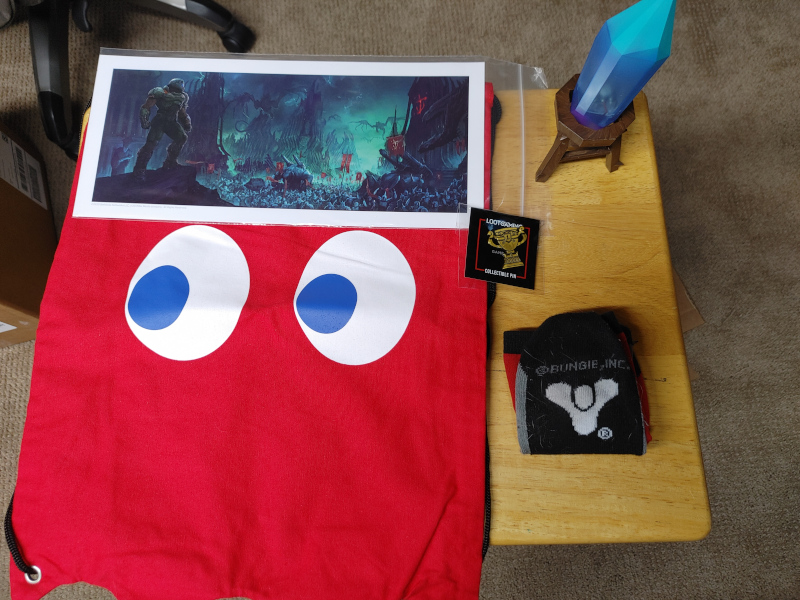 Thank you Loot Crate (Affiliate Link) for sending us a review sample!
Loot Crate is an interesting service that surprises you with random stuff delivered to your door for a monthly fee. There are many different themes available including gaming, anime, film/TV, and Pop Culture. Each of those themes are further broken down into sub categories for die-hard fans of particular games, movies, anime, etc. They also have apparel only crates available. Those are broken down into subcategories including hats, tees, socks, underwear, wearables, and more. The Loot Gaming Boxes we have been getting have usually included some clothing, art prints, pins, and other nifty trinkets from popular game franchises.
We recently received and unboxed the "Best of" December Crate and here's what we found inside:
An art print from DOOM Eternal
Destiny Crucible Socks
Elder Scrolls USB LED Soul Gem Lamp
Pac-Man Blinky Drawstring Bag
Trophy Pin
I can usually find information about the crates on LootCrate's website, but the December crate doesn't have an entry. I didn't recognize the inspiration behind this month's art print, but thanks to a YouTube comment it has been identified as coming from DOOM Eternal. The trophy pin is vague, but fitting for the "Best of" theme. Like the other pins, I don't plan on wearing this one either. The Soul Gem lamp is awesome and makes my computer desk look nicer. I also adore the Blinky drawstring bag and have to figure what to put inside of it. I look forward to wearing the Destiny socks.
Each crate is said to have at least $50 or more worth of items inside. I wouldn't pay that much for the stuff I got, but the monthly cost of $28.95 is reasonable and I can definitely see the contents being worth that much. If you subscribe for three or six months, the cost is reduced by 9% and 11% respectively.