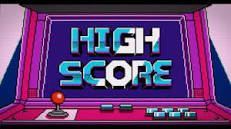 Thank you Netflix for supplying us with complimentary access to review this series!
Level Up is the season finale that clocks in at thirty-seven minutes long. The main focus on this episode is DOOM and the impact it had with PC and online gaming. John Romero is interviewed and explains how he worked with John Carmack at Gamer's Edge back in 1989. They soon joined forces and formed id Software in 1991. During that time, Nintendo was dominating the gaming market and the PC couldn't match the graphical performance.
That is until John Carmack figured out how to master side scrolling and used John's Romero's Dangerous Dave character and inserted him into a Super Mario 3 like world and called the game "Dangerous Dave in Copyright Infringement". They further revolutionized PC gaming with their 1992 first-person shooter hit, Wolfenstein 3D. This game was revolutionary in terms of graphics and gameplay. Their next goal was to implement online networking which they promised to deliver in their 1993 game, Doom. When this game launched on December 9th, the servers hosting the shareware (remember that?) file were crashing from being overloaded.
The PC gaming market wasn't the only one getting a 3D overhaul. Dylan Cuthbert is featured in this episode and he figured out how to implement 3D graphics on a Gameboy. Instead of suing him, Nintendo flew him and his partner, Giles Goddard, to Japan to learn more. Together, they worked on the Super FX chips used in SNES cartridges to implement 3D graphics. Innovations like this made Star Fox a successful reality.
Although this episode is fascinating, it has some moral issues worth noting. There is some language (kick *ss) and blaspheming. An extended middle finger is shown along with a pentagram. If you don't mind those rough spots, there's a lot of nostalgia and information here.