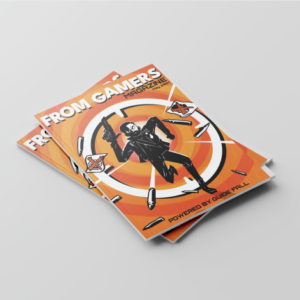 Thank you From Gamers Magazine (published by Guidefall) for sending us a digital copy to review!
From Gamers Magazine was successfully Kickstarted in April of 2021 and the inaugural issue was released in May and physically shipped out in June. The funds received from the Kickstarter cover the costs of making two issues and the next one is set to release later this year.
The goal of From Gamers Magazine is to prolong the lifespan of printed gaming media while bringing back the passionate voice of gamers that is no longer present in other media outlets. From what I've read of this 56-page magazine, I think they're living up to these goals.
Along with crediting the Kickstarter backers, you can expect to find a few ads promoting various games, gaming magazines, and podcasts. You'll also find insightful previews, reviews, and opinion pieces. There are informative articles that talk about the history of Far Cry and opinionated articles on how to improve the Halo series going forward and a list of game franchises to bring back. I like how the articles have QR codes to scan to view official trailers for the games being discussed.
The game reviews are well written and have a breakdown on the bottom of the page indicating the strengths and weaknesses a title has. There is a big numerical score awarded as well with a 10 being the highest available. This first issue has reviews for Bravely Default II, It Takes Two, Monster Hunter Rise, Outriders, and Persona 5 Strikers.
At the end of the magazine you'll find a QR code for pre-ordering issue #2. Print copies for the first and second issues can be ordered from the website for $12 (free shipping in the United States). There is a limited number in stock so if you prefer holding and reading magazines in your hand, act fast! Digital copies are $4.99.