Thank you Citysports for sending us this massage gun to review!
After looking at the Amazon store page for this deep tissue massage gun, I wasn't sure if I would be qualified to use it. The people in the pictures have chiseled muscles and six-packs that I'll never achieve in this lifetime. I'm happy to wait for my glorified non-photoshopped body. Though I don't workout to the point of injuring my muscles, I do consider myself fairly active and spend time outside walking and riding my bike on a regular basis. Thankfully, I haven't injured myself working out. It's sleeping in weird positions (to accommodate the 2 cats and 1 dog that sneak into our bed) that makes me sore. As fate would have it, I woke up with my left shoulder reminding me that I'm not getting any younger.
I'm glad I had the Citysports Massage Gun handy! The question is which tip do I use? This massage gun comes with six interchangeable tips that range in hardness and materials. Swapping them out is easy to do and only takes a couple of seconds. Most of them are a rubberized plastic, but a couple of them have a "Nerf-like" texture to them. For my shoulder soreness, I used the shovel-shaped head which is good for the whole body. The mushroom head is intended to be used on the back on either side of the spine. The flat head is designed for the hips, legs, and hands. The U-shaped head is meant to be used in soft parts of the body. The bullet head is intended for local and small muscle groups. To be on the safe side, stick with the softer ball-shaped head which is good for all around use and less likely to hurt as it's the softest option. Some of the harder tips may hurt bones or cause bruises if you're not careful.
Once you have the head picked out, your next goal is to determine which speed is right for you. There are twenty to choose from and they all feel good! As you push the massager gun into the sore muscles, the speed and angle may change automatically for you. While I was able to use this massager on my own, enlisting someone to point it on my back head on, felt great. Of course, I had to give them a back massage in return, but fair is fair.
This device is rather big; it's not much smaller than my husband's power drill. It's 2lbs and comes with a nice carrying case. The velvety black bag for holding the attachments is a nice touch. The 2000mAH Lithium-Ion rechargeable battery should last around 7 hours according to the Amazon store page.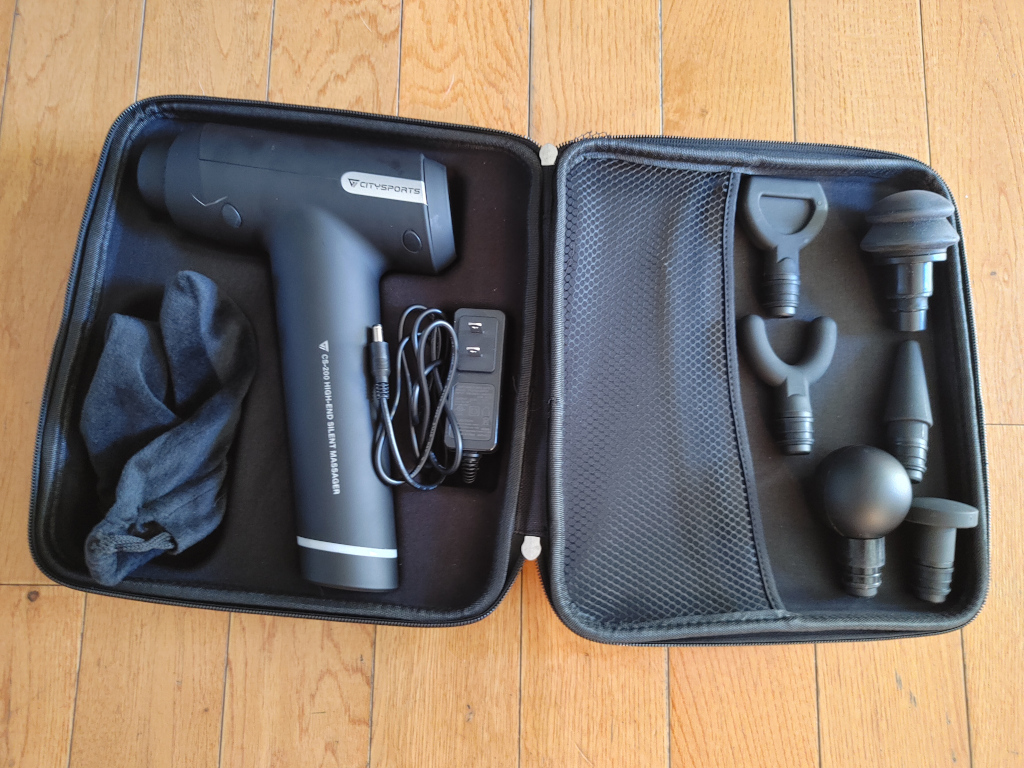 Though the manual has a "Warrenty" section, it does not spell out how long it is. It just mentions what's not covered. According to the Amazon page, there's a 1-year warranty. There's an insert in the packaging that says if you e-mail them your (presumably positive) Amazon review, you'll get an extra three months added to your warranty.
This massager looks and feels high-quality so I expect to keep it around for a while. There are cheaper variants out there, but this one has been great so far and I highly recommend it.

(Amazon Affiliate Link)