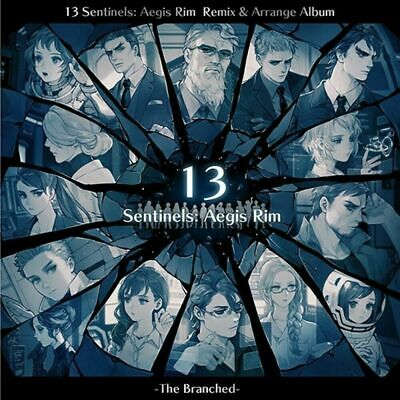 Thank you Scarlet Moon Productions for providing a digital album to review!
I find it very interesting that the game 13 Sentinels: Aegis Rim was nearly considered by publisher Atlus to be written down as a loss. When the game was originally released in Japan back in 2019, it didn't even sell well in the beginning. It was only by the generous word of mouth by well-regarded game developers Masahiro Sakurai (Super Smash Bros. series) and Yoko Taro (NieR: Automata) that sales started to pick up—and eventually considered a sales success by Atlus despite its long and troubled development time. I previously reviewed said game here where I more or less gush about it for 2000+ words. If you're a fan of sci-fi or adventure games and have a PS4/PS5, I highly recommend checking it out.
The soundtrack of 13 Sentinels is praised all around by the reviewers and players who experienced it. Basiscape Records, who previously worked on the game's soundtrack took another crack at it with this arranged and remixed album, officially titled "13 Sentinels: Aegis Rim Remix & Arrange Album -The Branched-". Basiscape was founded by world-renowned video game composer Hitoshi Sakimoto (best known for his work on the Final Fantasy Tactics series). This album, spearheaded by Yoshimi Kudo takes twelve pieces from the Remembrance (adventure) segments and Destruction (battle) segments while introducing two completely new tracks, making a total of fourteen. The first new track, titled -[PROTEASE]- is in the style of the battle segments. The other new track, Stellar Memories is completely original, with vocals sung by one of the characters, Miyuki Inaba. 
The other twelve tracks are an alternative take, almost as if the story went along a different path. Some pieces tend to either double down on the intensity of the overall feeling, incorporating genres or inspiration from techno, dubstep, and digital instruments. Other pieces even slow down the pace, taking a more muted and mellow approach. My favorite track out of the remixed album is Halcyon Days -Branched- as it takes a soothing and relaxing theme that I already enjoyed a lot and energizes it, giving a bouncy and peppy feeling to it. It almost sounds like it could be the music to the first level of a platformer. 
I felt Yoshimi Kudo and Basiscape did a great job remixing these tracks, as well as creating new music in the style of 13 Sentinels. Each track lasts on average around three minutes and forty seconds with some being as long as nearly six minutes. If you're a fan of electronic music or already liked 13 Sentinels, this is a great value for $9.66 through Apple Music where previews of each track can be played as well. Unfortunately, if you want a physical copy, you must tread through Japanese websites and possibly use a forwarding service. 

(Amazon Affiliate Link)